Frequently Asked Questions
The Maine Coon is the largest domesticated cat breed and one of the oldest natural breeds in North America. Their origin is surrounded by mystery and myths. One myth claims Maine Coons are descendants of Viking ship cats. They are large, social cats and have a reputation as "the gentle giant." They are recognized by their long stocky bodies, big fluffy tails, strong box-shaped muzzles, and large lynx-tipped ears.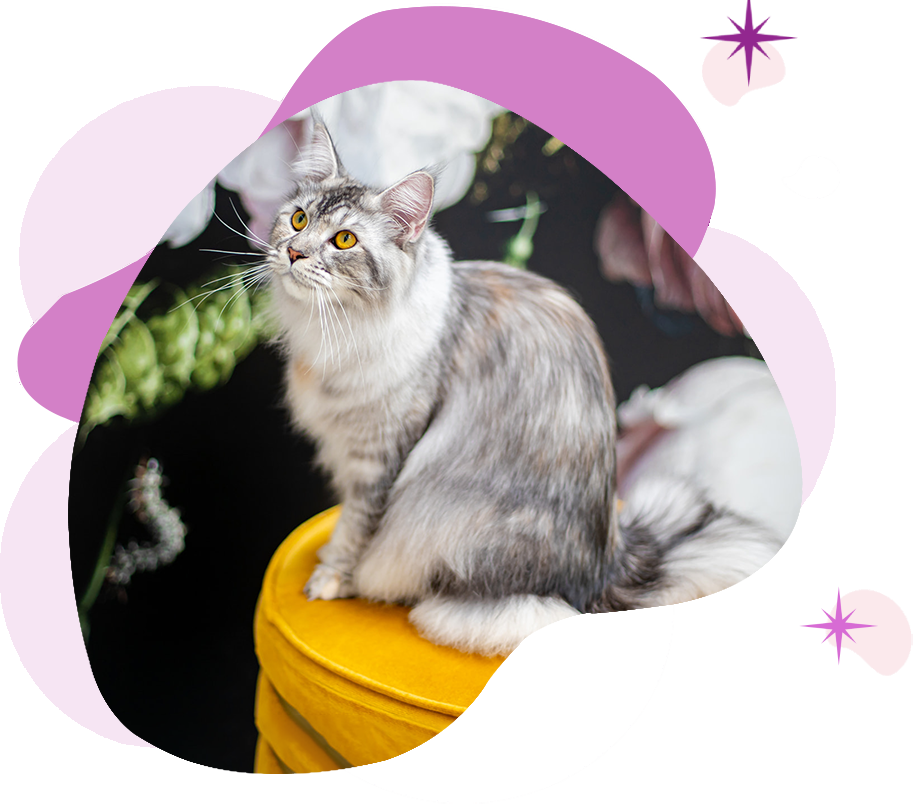 There are many diseases and dangers that come along with allowing your Maine Coon outside, which is why we don't suggest it. Some examples are cars, wild animals, feral cats, poisonous plants, FIV, and FeLV. Please read the following article to learn more. https://www.americanhumane.org/fact-sheet/indoor-cats-vs-outdoor-cats/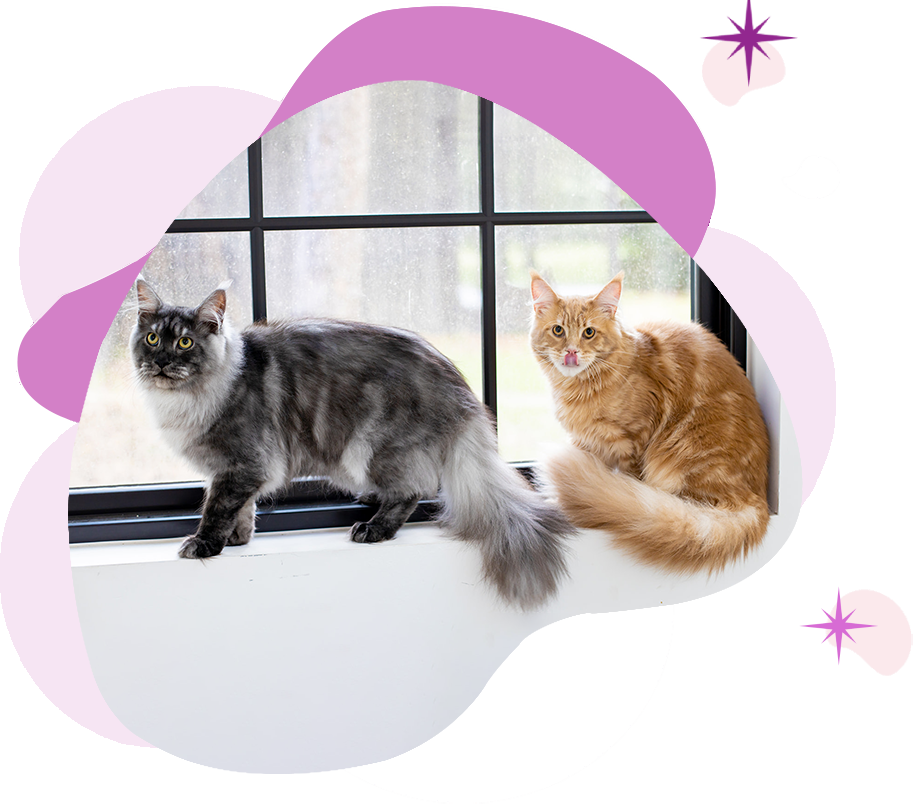 Our Maine Coons are very fluffy. So, while many websites may only suggest brushing once a week, we firmly believe daily brushing is necessary to maintain the coat and keep matts away. We use a greyhound dog comb all over. We use a slicker about once or twice a week on their body if they are really shedding a lot. Never use the slicker on the tail, though. It pulls too much fur out.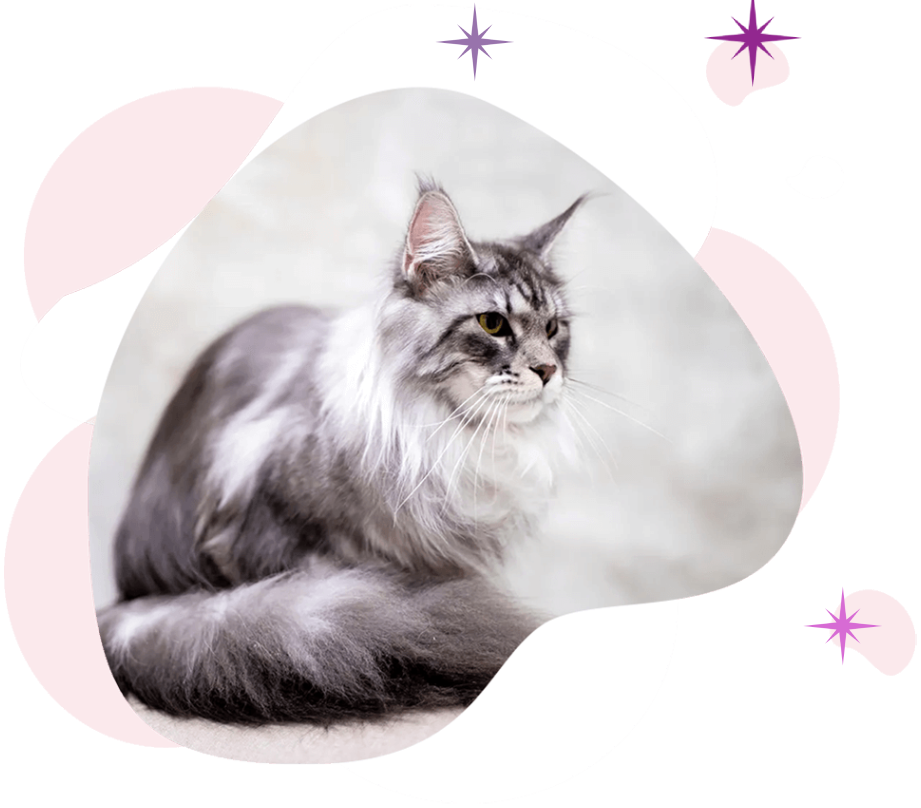 The main difference between males and females is size. While both are large, the males are larger than the females. Many say that males are more affectionate and cuddly. However, We don't agree. We would in no way say that our females are any less affectionate towards us than our males. For example, we have one female (Hera) that follows us around, meowing at us to pet her, talk to her, and love her. As long as they are properly socialized, the loving, affectionate, laid-back personality we expect from a Maine Coon is present in both genders, not just the boys.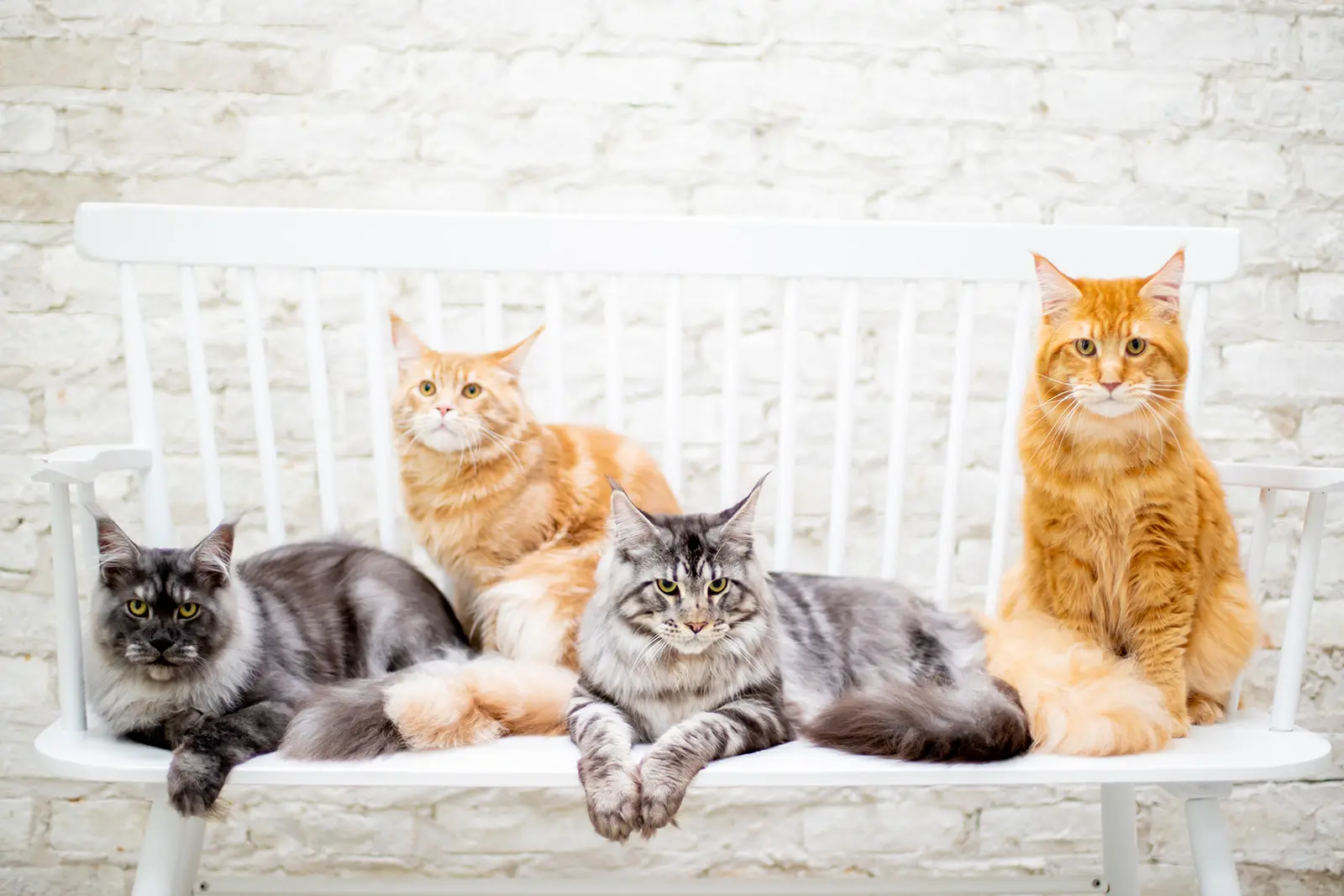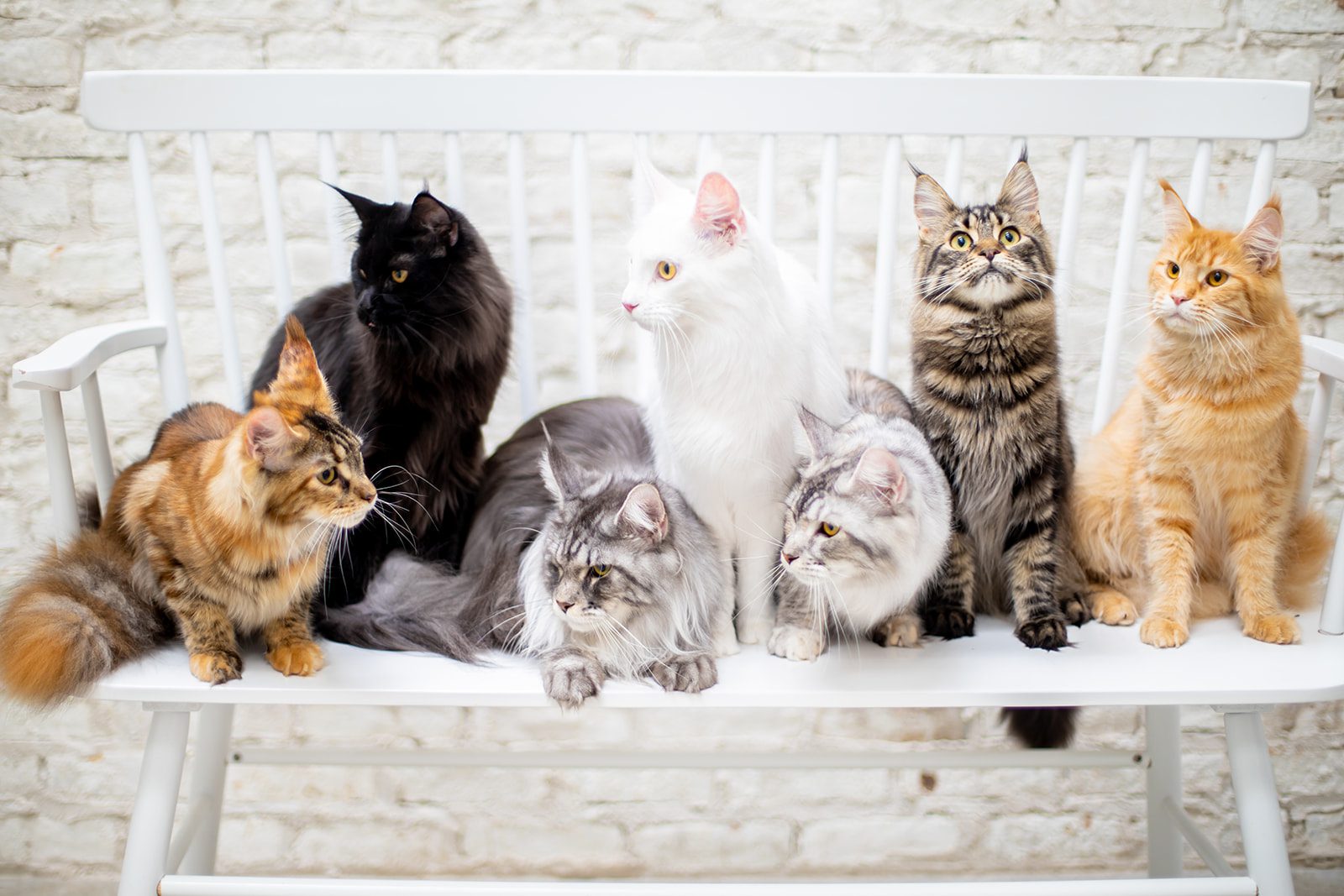 Polydactyl is used to describe a Maine Coon that is born with extra toes. It is a totally normal phenomenon. In fact, at one point, it is believed about 40% of Maine Coons were polydactyl. It is believed this trait allowed them a better ability to catch prey in the wild.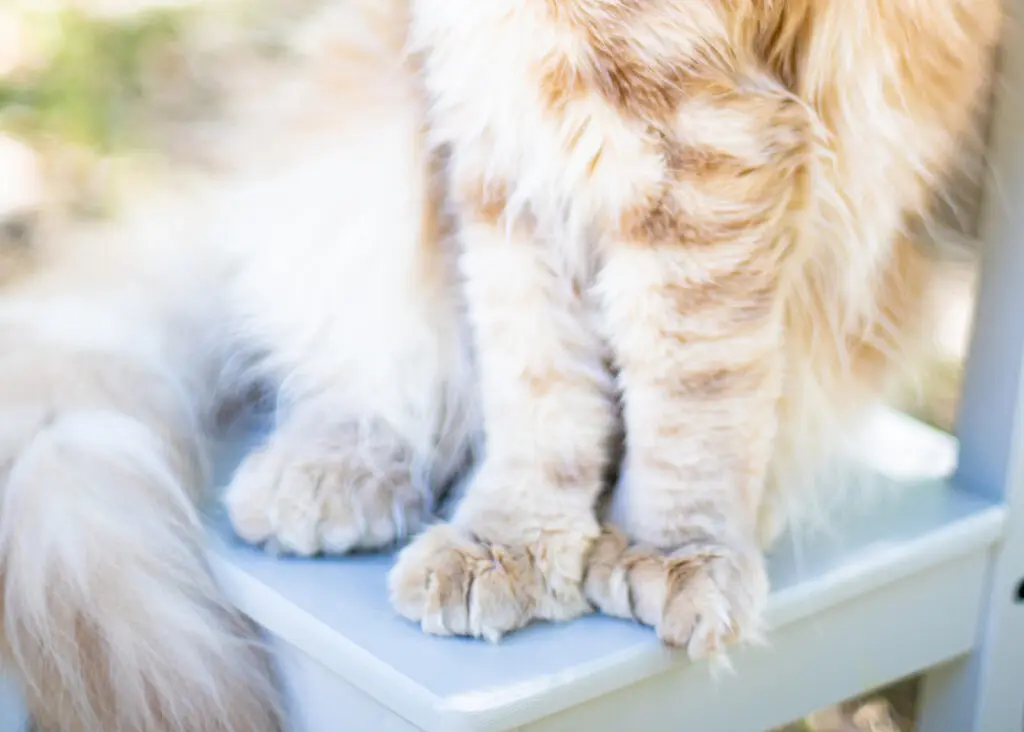 Yes. Maine Coons absolutely get along with children. Of course, like any other cat, there are behaviors that will bother them (tail pulling, ear pulling, whisker pulling), but at their core, they truly love humans. Maine Coons also get along fabulously with most other animals, as long as they are socialized and introduced properly. We have a golden retriever, and the Maine Coons absolutely adore him. We make sure all of our Maine Coon kittens are exposed and used to our dog.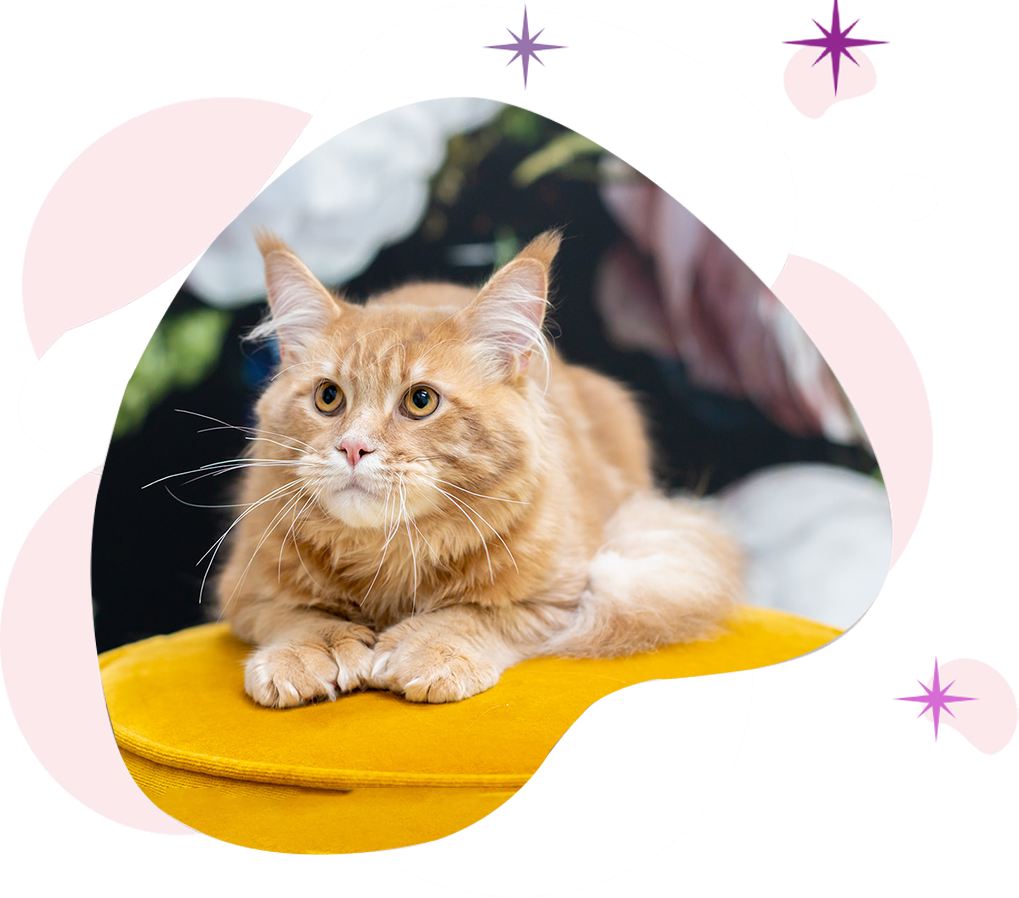 Hypertrophic cardiomyopathy (HCM) is the most common form of heart disease in cats. Despite many breeders working tirelessly to reduce how frequently it occurs, some still slip through. When HCM occurs, the thickness of the heart wall increases abnormally. This thickening causes multiple problems and can, at some stage, prevents normal heart function and heart failure develops. We have taken all the precautions possible to reduce the likelihood of any of our kittens developing HCM. We have all of our breeding cats genetically tested to ensure they are not carriers of HCM. We also have Echocardiograms performed on each of our cats annually to check that the thickness of their heart walls is normal. There is nothing more important to us than the health of our cats and kittens. There is always the possibility that a cat may develop HCM even if they have no genetic pre courses for it.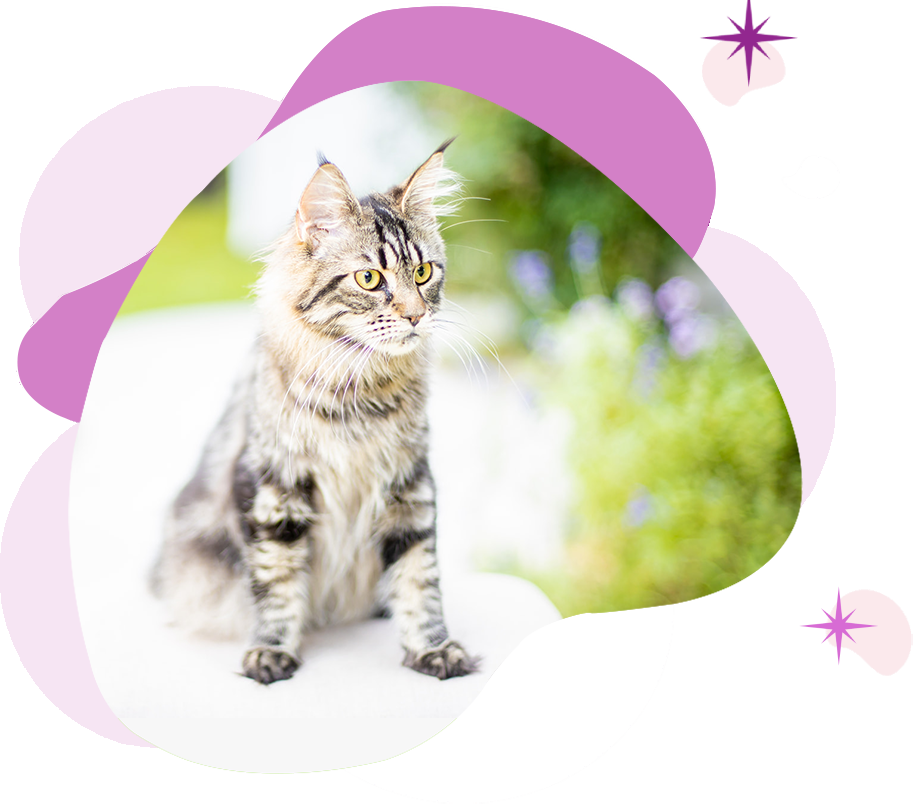 There are many things necessary when bringing a kitten into your home. You will need a cat carrier, food and water bowls, food, litter box(s), litter, toys, a comb, a slicker brush, cat toothpaste, cat toothbrush, and ear cleaner. Some other items we suggest having are a cat tree, a scratching post, cat tunnels, and treats.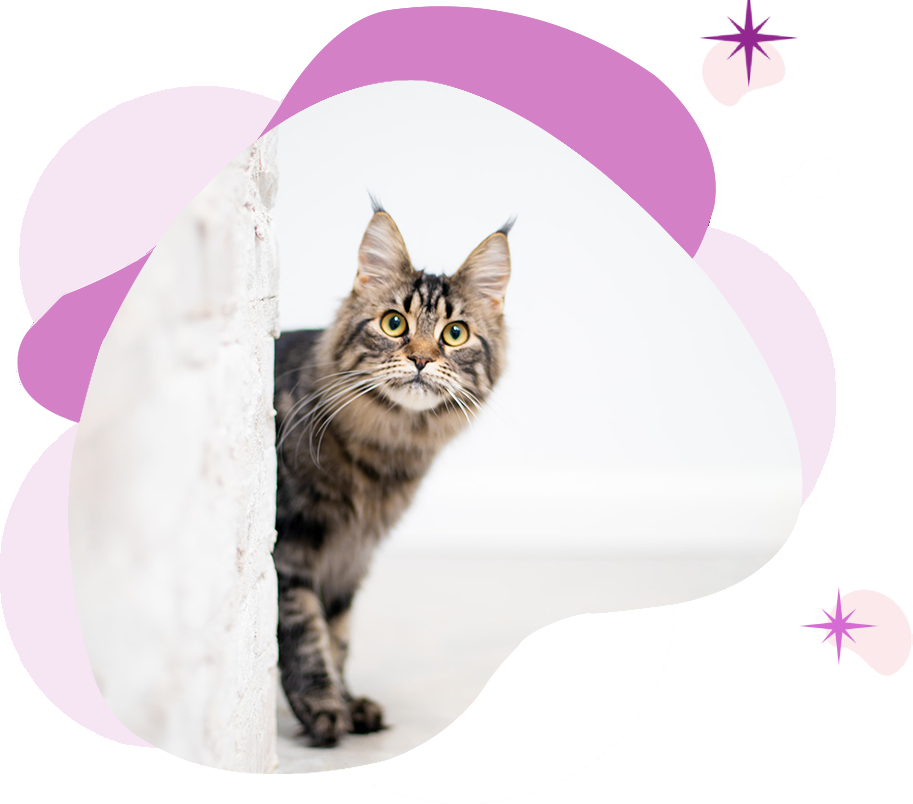 We feed our kittens Purina Mommy and Baby Cat dry and wet food until they leave for their new homes. We suggest you gradually switch them to Purina Maine Coon Kitten Food once they arrive at your home. However, the food you feed your Maine Coon is ultimately up to you.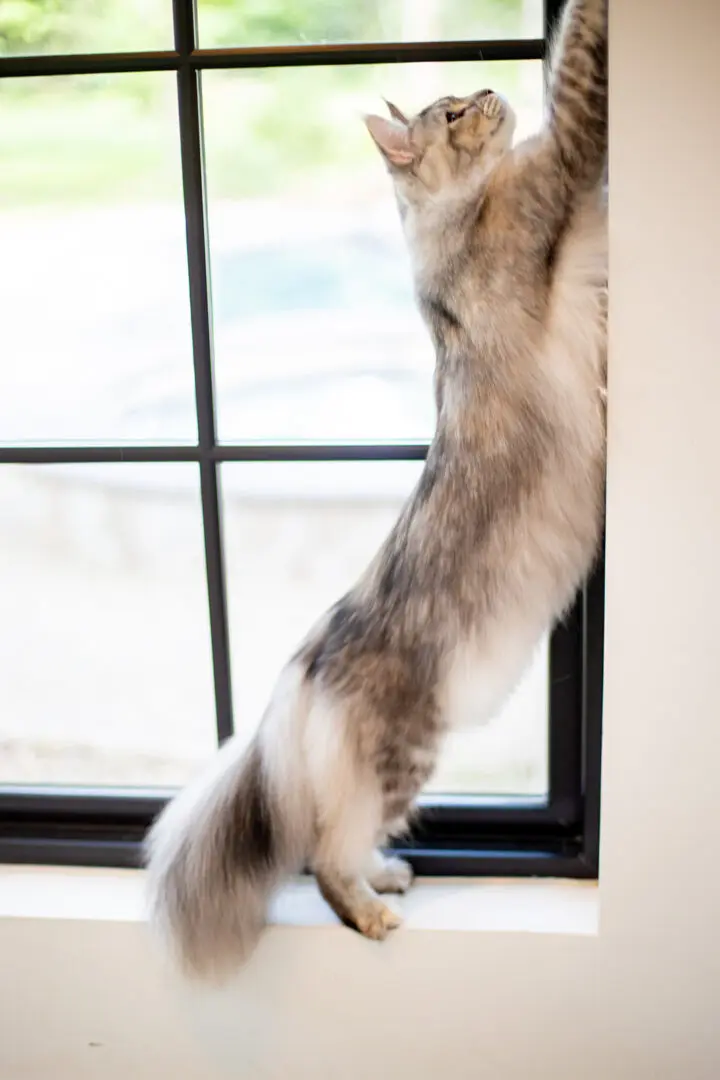 We use the Purina Tidy Cats Breeze system. We have found that it is the cleanest, healthiest system of the many we have tried. There is no dust (which is harmful to breathing), and it's very easy to clean. We suggest purchasing the multi-cat version as it is larger and suits the Maine Coon's size better as they grow. Even if you don't use that particular system, we do suggest using pellets because that is what our kittens are used to.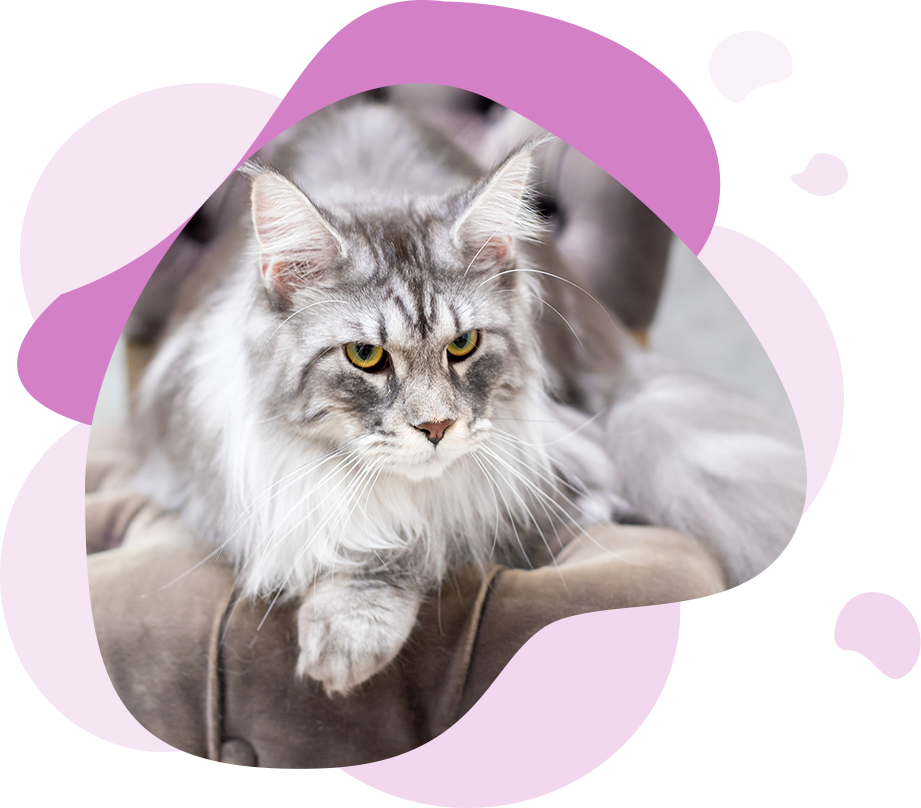 We suggest the Purina FortiFlora Symbiotic Action for Felines. It's a powder that you sprinkle over your Maine Coon's food. It's a good pre-biotic and probiotic and has been shown to help fight off viruses. The vet can usually prescribe it for you.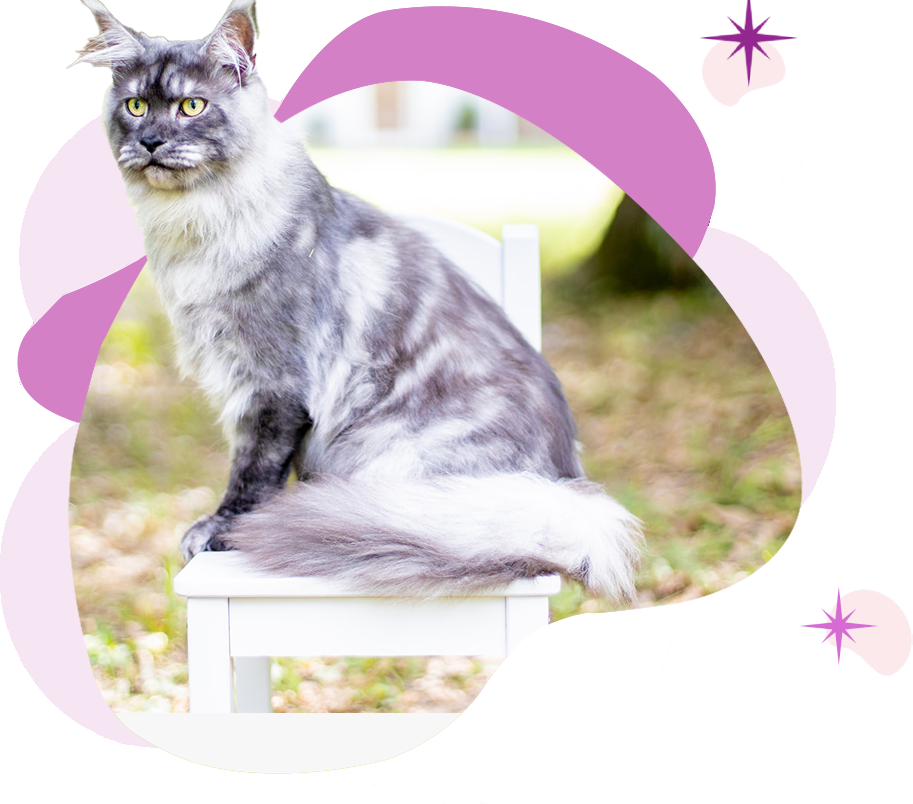 Over stimulation is a very important topic that is not always addressed as often as it should be. It can affect any cat, and not paying attention to when your kitty is overstimulated can lead to problems with your relationship and cause stress for both you and your Maine Coon. Click on the link below to learn more about over stimulation, how to prevent it, and how to deal with it. https://www.ddfl.org/resources/overstimulated-cats/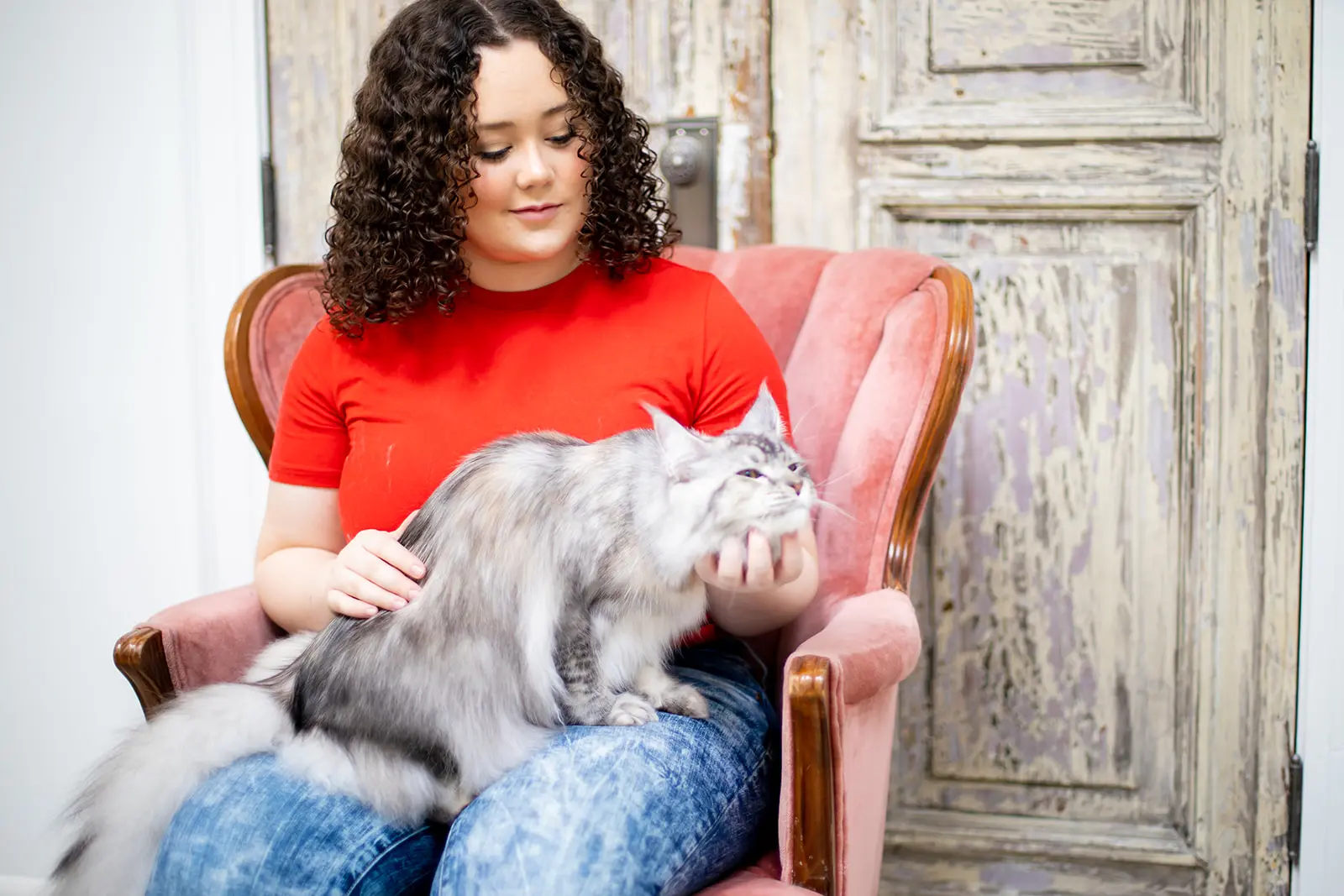 It's important to remember that while Maine Coons may have 'dog-like' personalities, they are cats. They may not enjoy rough belly scratches. If you want to prevent any biting behavior, you should only ever play with your Maine Coon with toys and not your hands. This ensures that they only associate biting and attacking with toys.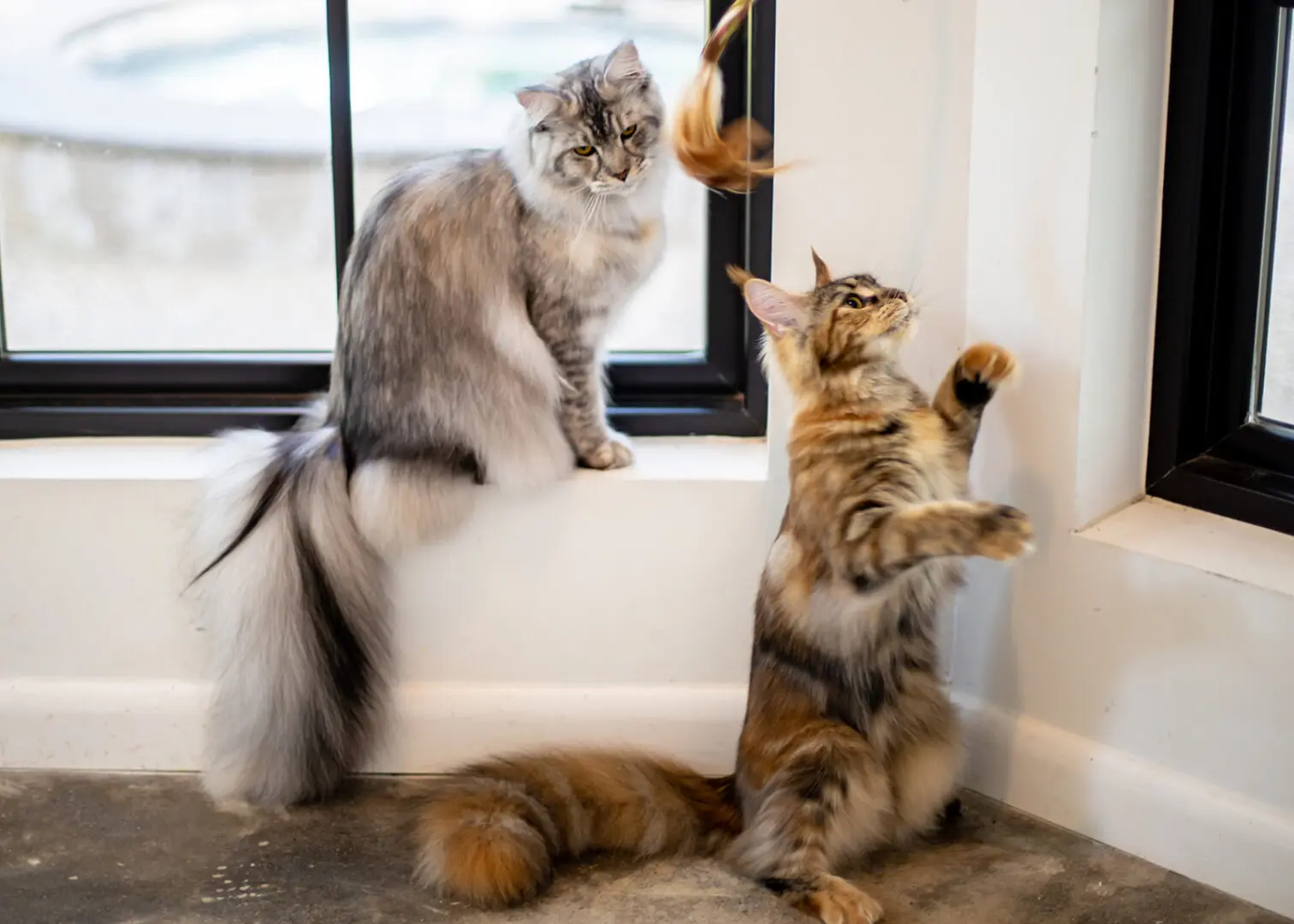 There are several things you need to do in order to ensure your Maine Coon kitten's health. You will need to brush their teeth and clean their ears once a week. The better you take care of your kitten's teeth at this young age, the better their teeth will be later in life. It is important to take your kitten to the vet regularly. We suggest taking your kitten at least within the first week of bringing them home.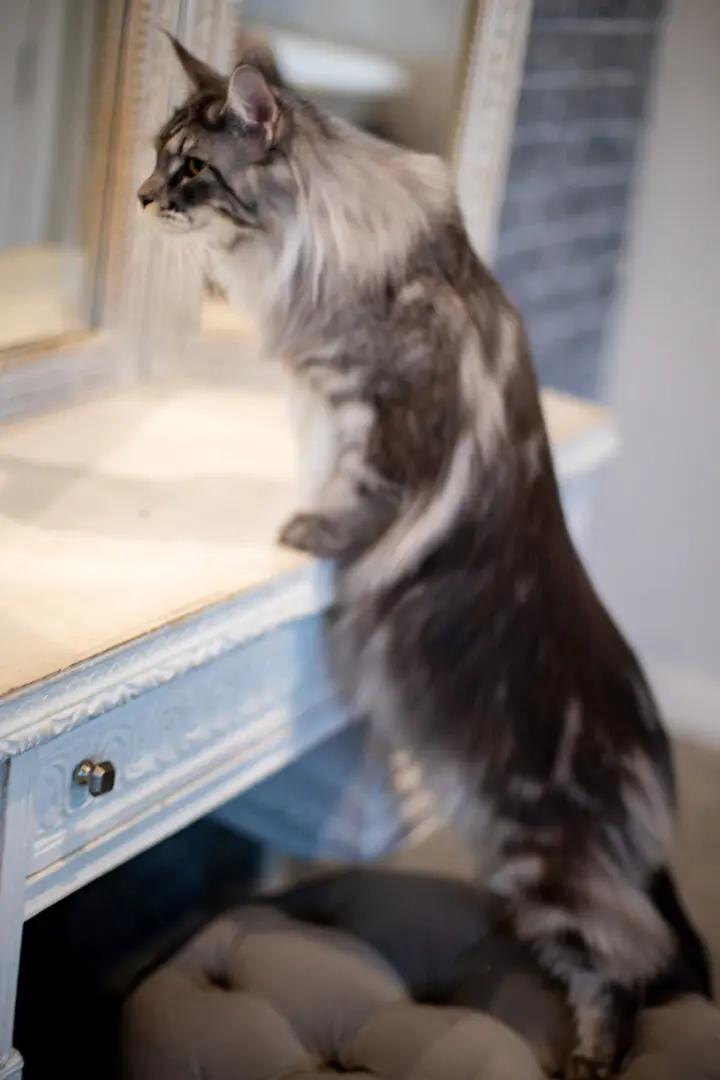 Our kittens go to their new homes spayed/neutered. The procedure is performed at around 12 weeks. The healing process is very short and easy at that age.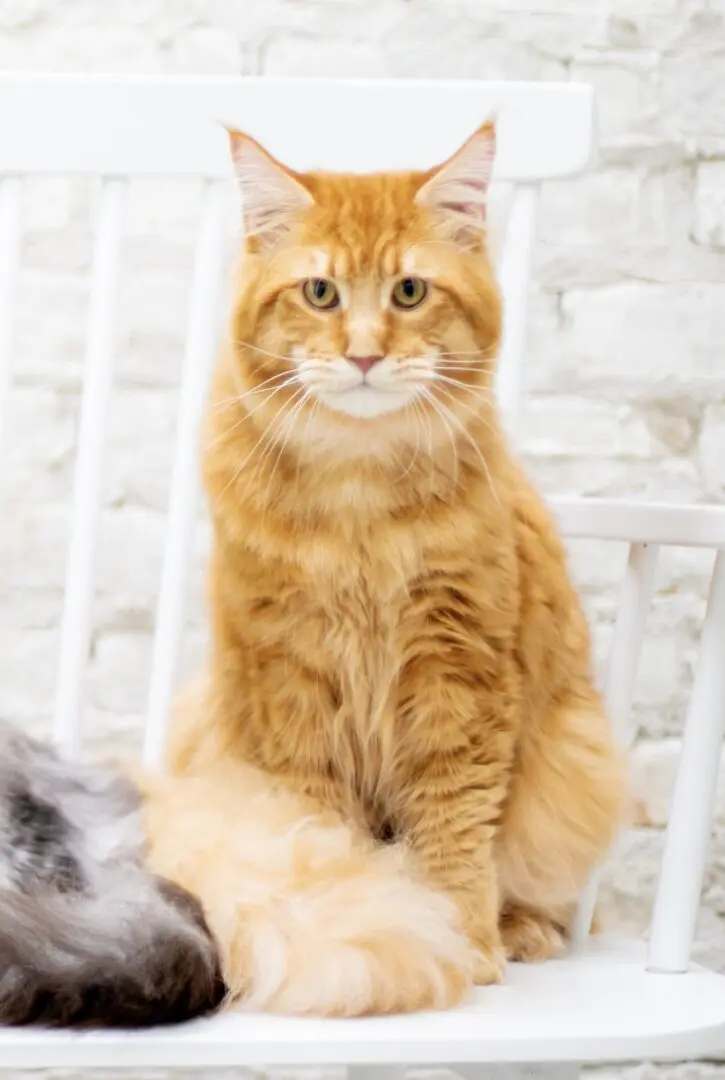 Your Maine Coon kitten may be somewhat nervous when you bring them home. Try putting them in just one room for the first couple of days. This will give you the opportunity to bond with them before letting them out into the rest of the house. Make sure they know where the litter box is. If they go explore and hide at first, that's normal. They will come out when they are comfortable. You can also try shaking the food bowl. Petting your kitten a little bit while they're eating will allow them to associate you with something good. Waving a toy around and playing with them is a great way for your kitten to relax in their new environment as well.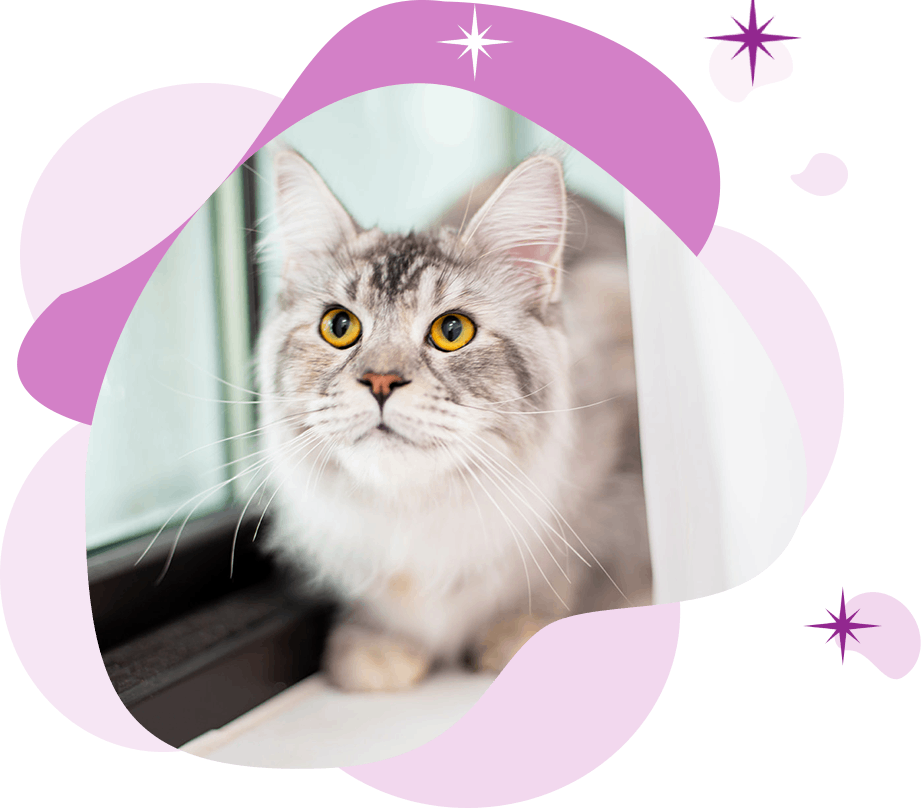 We suggest that if you have other animals in your house, you quarantine your kitten in a separate room in the house for two weeks. This is just a precaution. They should also be seen by your regular vet within the first week. It's also not uncommon for the stress and change of environment to cause them to have diarrhea or lack of appetite despite nothing being clinically wrong. This will pass once they are used to their new home.