Welcome to the Mythic Maine Coons testimonials! On this page you will find what our kitten families have to say about their experience with us. You will also see pictures of their kitten during his or her time with us as well as photos their families have sent us of them in their new homes. We hope you can become a part of the Mythic Maine Coons family soon!
Bowser (Formerly Chronos)
Male - Brown Mackerel Tabby [HOME WITH Tyler in Texas]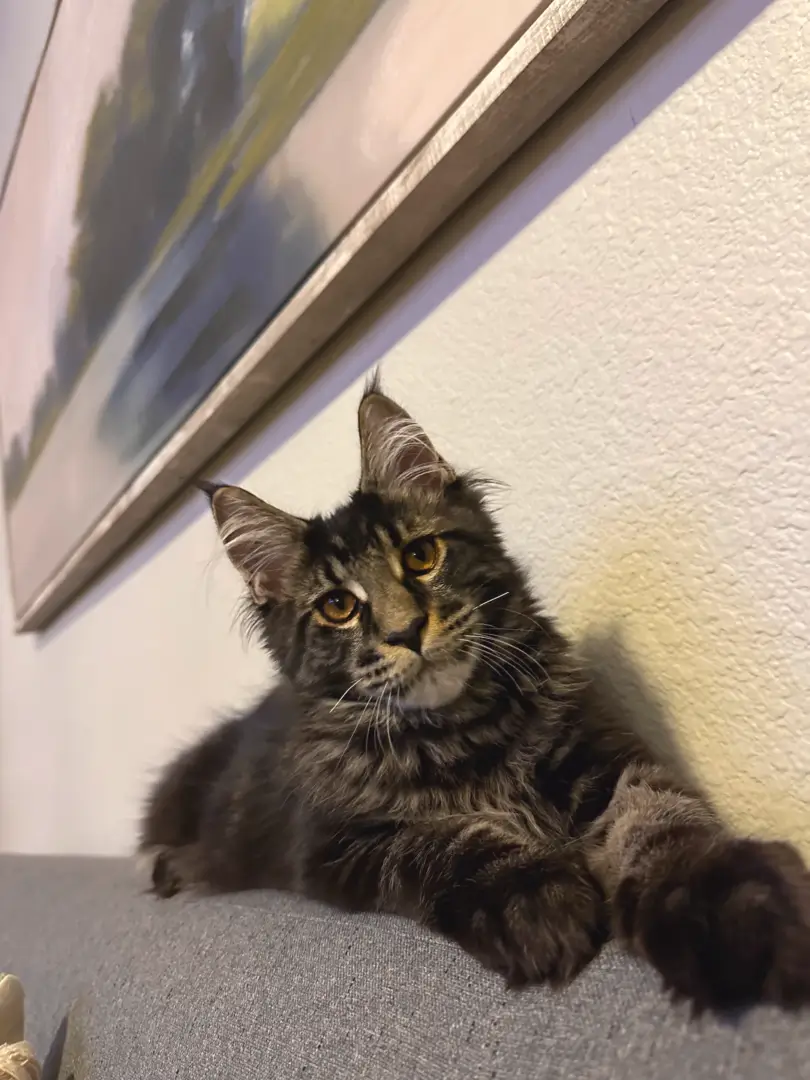 Tyler Robinson
Texas
"If you want an authentic purebred and pedigreed Maine Coon - they are the real deal. I've not seen any other Maine Coon breeders in the South Regions - possibly the entire U.S. - come close to the caliber of Mythic Maine Coons! Friendly, Passionate, and Professional from the very beginning, during the waiting period, and after the go-home date! They truly care about the health and quality of life of the Kings, Queens and Kittens from the time they're born and even after they have left their breeder home to their forever homes. Fast and thorough communication, beautiful pictures of the kittens every step of the way, Go-Home packages, the cats even get a "show-style groom and prep" before you pickup your new kitten - and their brand has a very pleasant and professional online presence. I've wanted a Maine Coon for nearly 15 years and finally got my 1st one - I could not have had a better experience than the one I've had with Mythic Maine Coons. 10 out 10 , 5 Stars, A+ ...when I'm ready for my second Maine Coon, it's a no-brainer that I'll be reaching out to them again!"
Ivy (Formerly Artemis)
Female - Blue Silver Classic Tabby [HOME WITH Piper & Tom in Texas]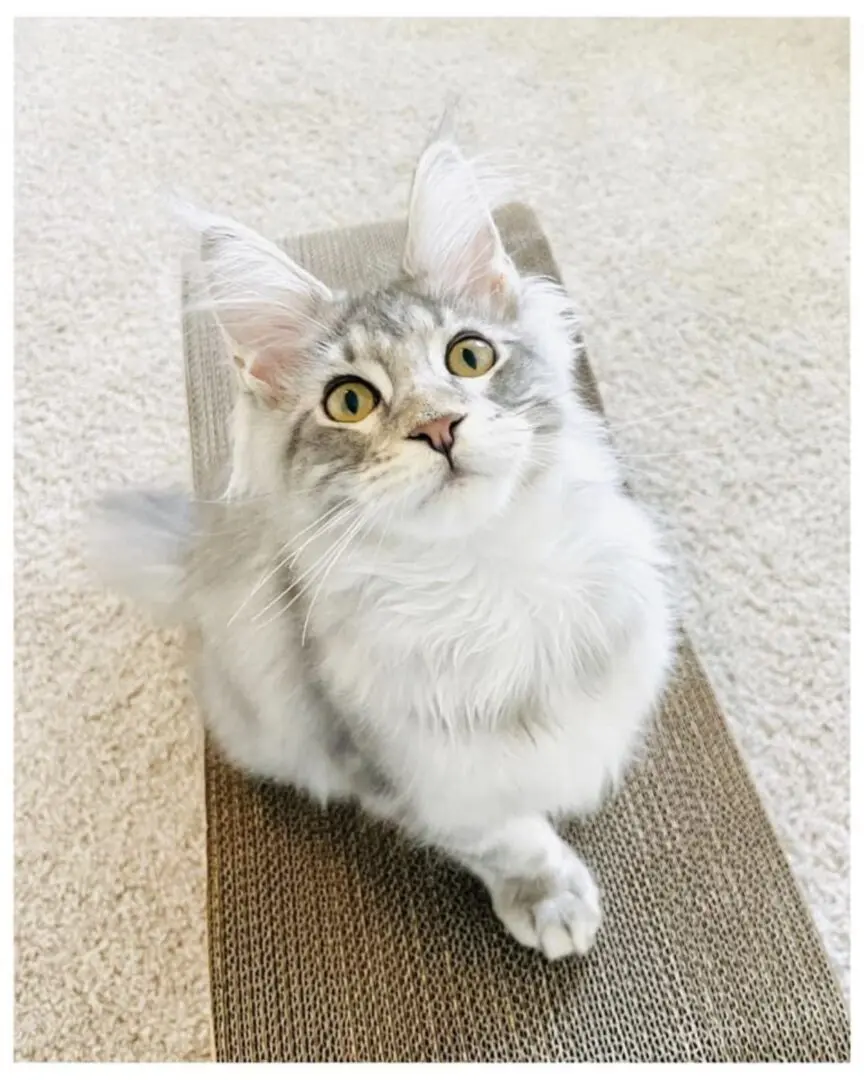 Piper Fisk & Tom Walsh
Texas
"We LOVE Artemis!!! I did TONS of research before purchasing a kitten to make sure I could trust where they came from and how they were raised in their first few months. I came across Mythic Maine Coons and fell in love with their story and how much love + care they seemed to give to their young kittens…. and I was 100% right! Mythic Maine Coons did an absolutely wonderful job raising Artemis from a new born kitten to now. She's soooo sweet! She loves going to the vet, being brushed, meeting new guests, being picked up and hugged, her paws being touched, playing in water, and so much more. The socialization they give to their kittens at such a young age is fabulous and such a game changer. She has had no issues with the litter box at all and always scratches her scratching post. We are literally amazed at how well behaved she is. I highly HIGHLY recommend these kind people if you want a sweet and well behaved kitten. We are so happy with our lovely Artemis. ❤️"
Midas (Formerly Epimetheus)
Male - Brown Mackerel Tabby [HOME WITH Alexandrea in Florida]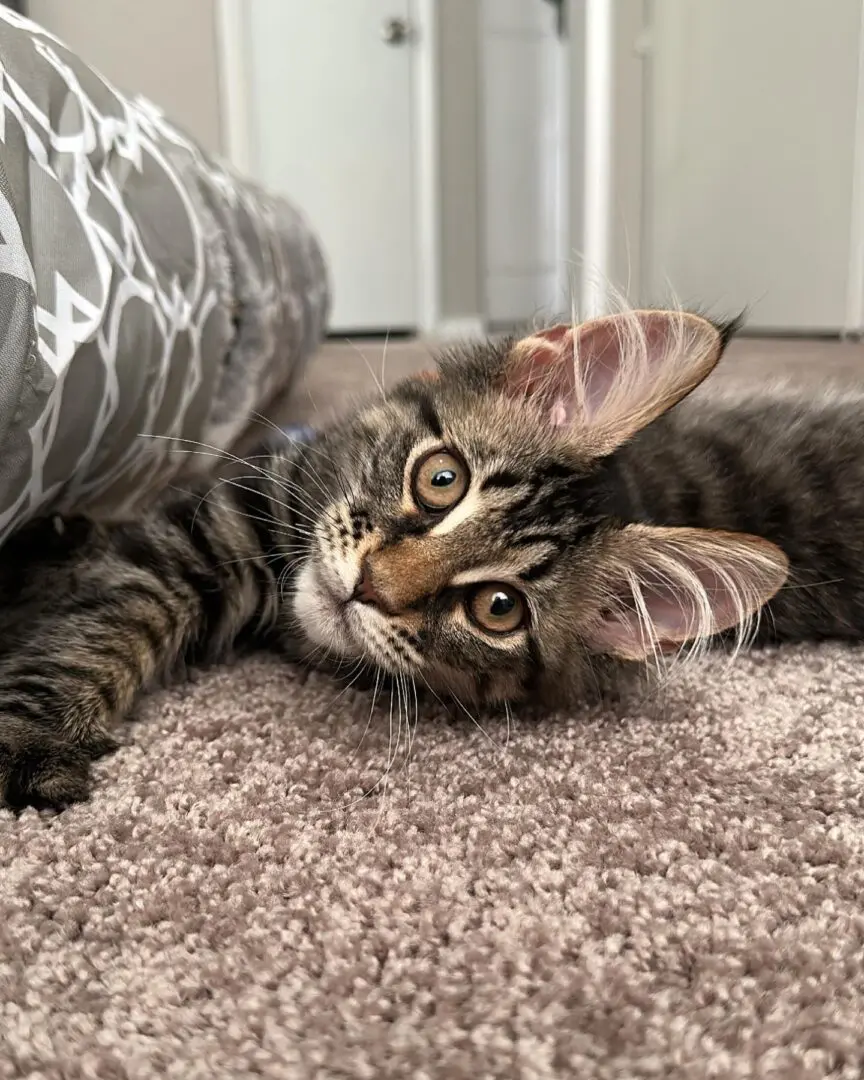 Alexandrea Hitchcock
Florida
"Huge thank you to Melody and Nicole at Mythic Maine Coons for an amazing and seamless adoption experience. They were super communicative from the start and always very friendly. They even delivered my Maine coon from Texas to Florida which was amazing! My Maine coon adapted very well to his new home and is very playful, social, and loving. If you're looking to adopt, you should check them out. I'm hoping to adopt from them again down the road so my MC has a friend."
Bear (Formerly Brontes)
Male - Creme Mackerel Tabby [HOME WITH Taylor in Nebraska]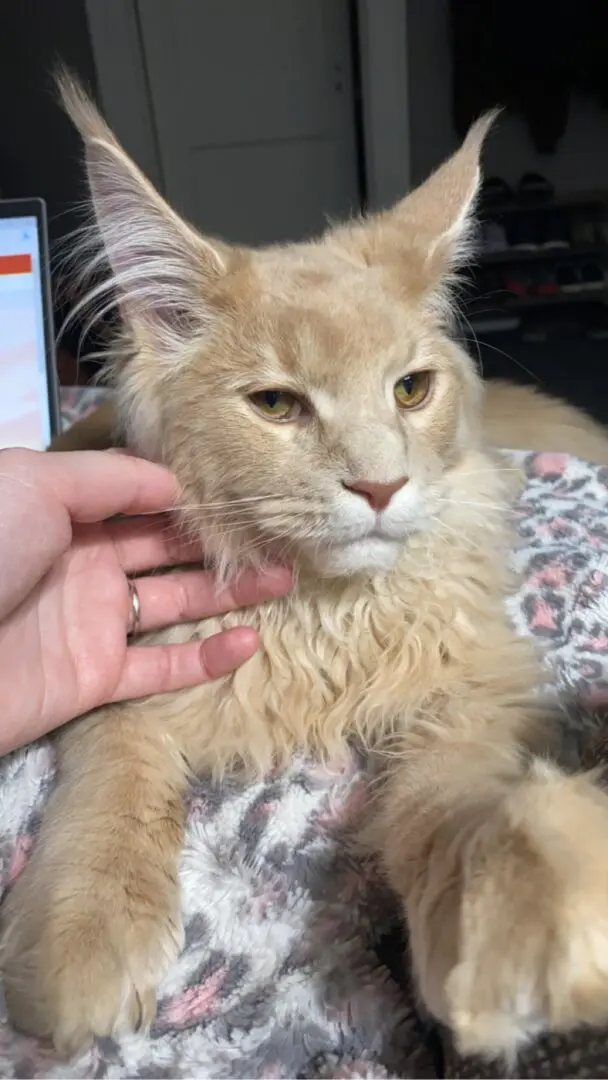 Taylor Nutt
Nebraska
"Nicole and Melody were very responsive early on and throughout the process. They made sure we had everything we needed for our trip down from Nebraska to pick our kitten up. They sent us home with several things to make the transition to home smoother. Brontes (now Bear) did so well on the drive home. He snuggled and wanted to explore the car. He's very curious! Bear's now 6 months old and there's never a dull moment. He has lots of energy and everything is a toy. He loves water and doesn't mind having his teeth brushed, ears cleaned, or nails trimmed. He's snuggly at times, but generally is on a mission to find his toys or play with his sister (another cat). He's indifferent to our two Shiba Inu's but as he gets bigger, he's more interested in them. We love his little waddle runs and his cute meows. At 5 months he was already 10 pounds, so we're excited to see how big he gets! He completes our family so well and we're so happy we got him from Mythic Maine Coons!"
King (Formerly Endymion)
Male - Brown Mackerel Tabby [HOME WITH Amity in Texas]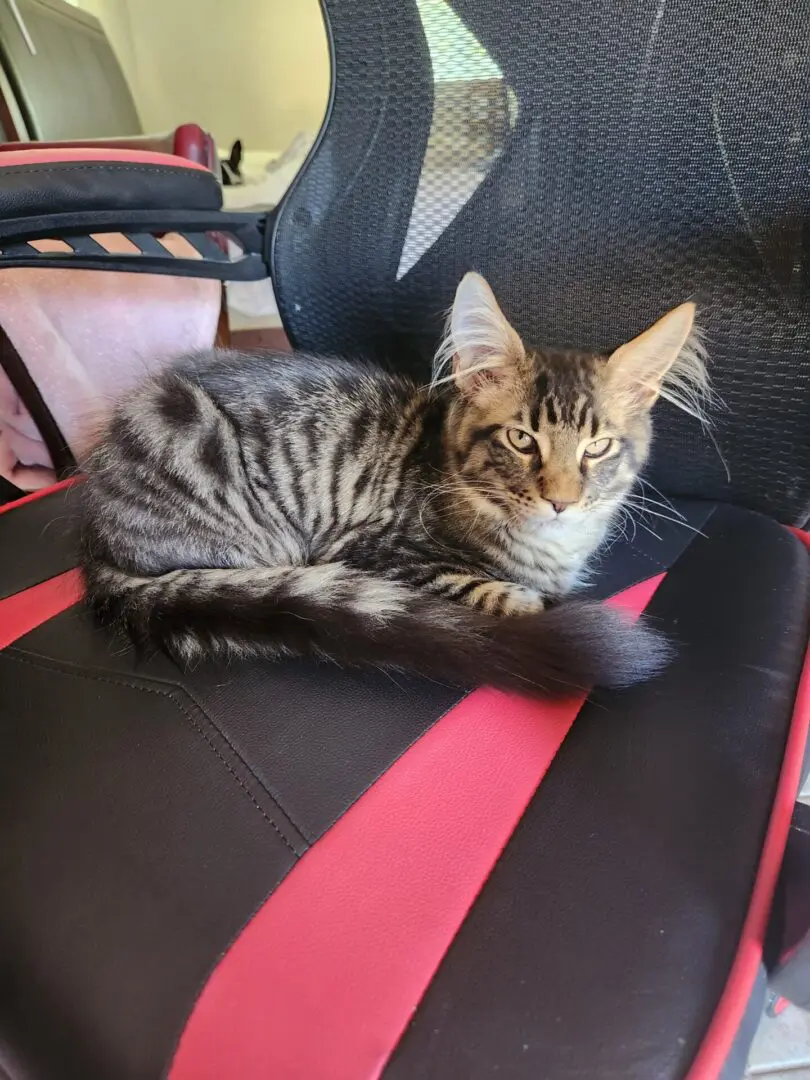 Amity
Texas
"Mythic Maine Coons is the real deal! I couldn't ask for a better experience. King is such a loving little boy. I was a little worried with the first ride home, but he did amazing. Already super sweet and gets along well with other animals and kids. Couldn't ask for a better cat. I can't wait to see how much he grows, his personality is already big and definitely runs the house."
Kasey (Formerly Damon)
Male - Black Silver Tabby [HOME WITH Johnny and Dixie in Texas]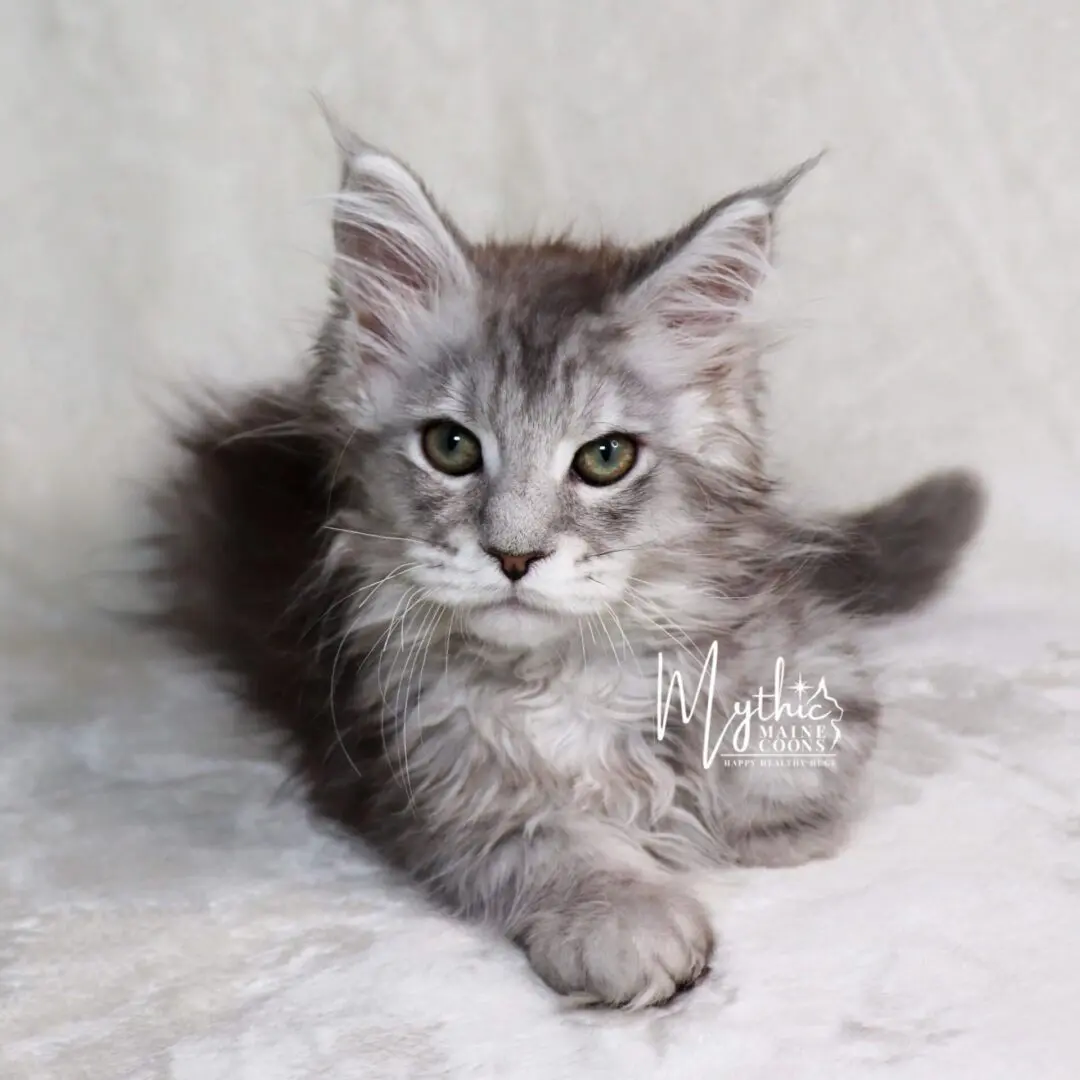 Johnny and Dixie Lackey
Texas
"Mythic Maine Coons are extremely Passionate about their Maine Coon Babies. I did a lot of research on breeders in Texas and found them to be very Knowledgeable, Professional, and passionate about their Maine Coon Cats and Kittens. They were friendly and easy to work with from beginning to end of the adoption process. We are so happy with our lovely Mythic Maine Coon Kitten!"
Argus Greyson & Boreas Amour
Males - Black Smoke & Creme Mackerel Tabby [HOME WITH Cherri in Arizona]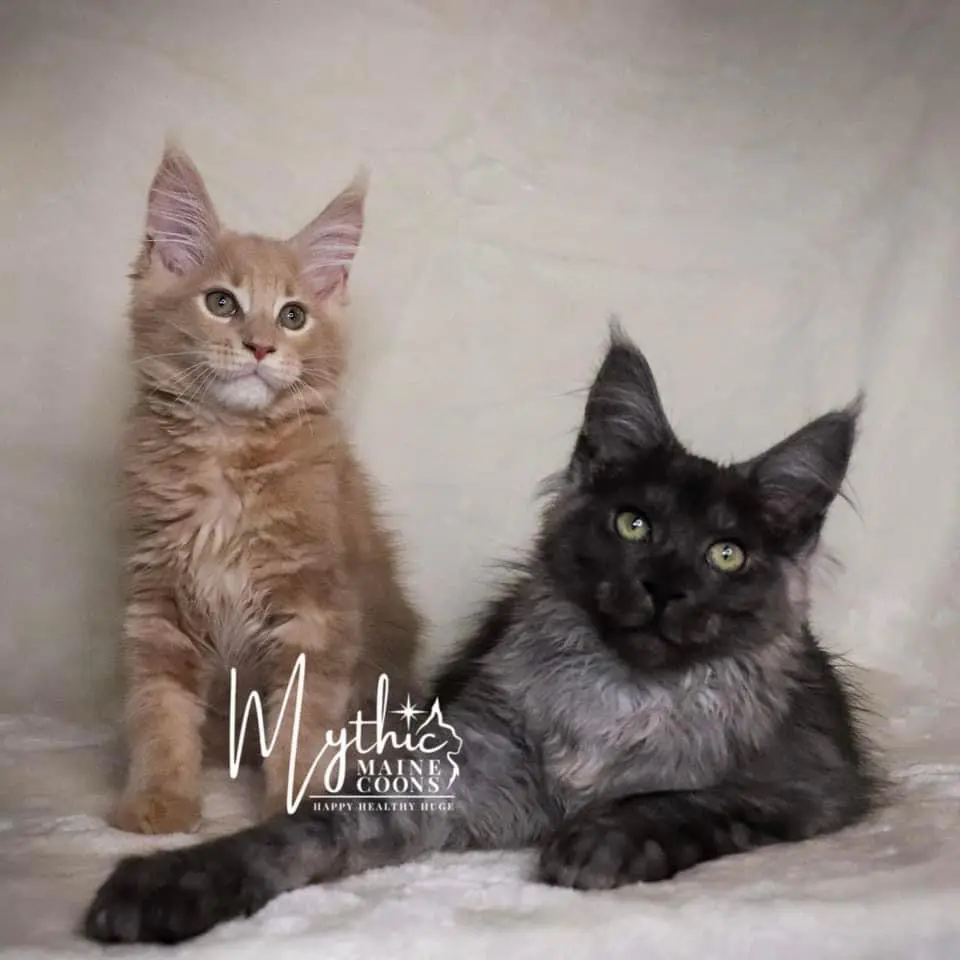 Cherri Oskins
Arizona
"Mythic Maine Coons is an amazing cattery! The owners are professional, knowledgeable and personable. I felt like I knew my boys before I even met them. They were amazing at communication! I loved receiving pictures of my boys. Their example has made me a better fur mommy!"
Zeus (Formerly Dias)
Male - Brown Tabby [HOME WITH Carolyn in Texas]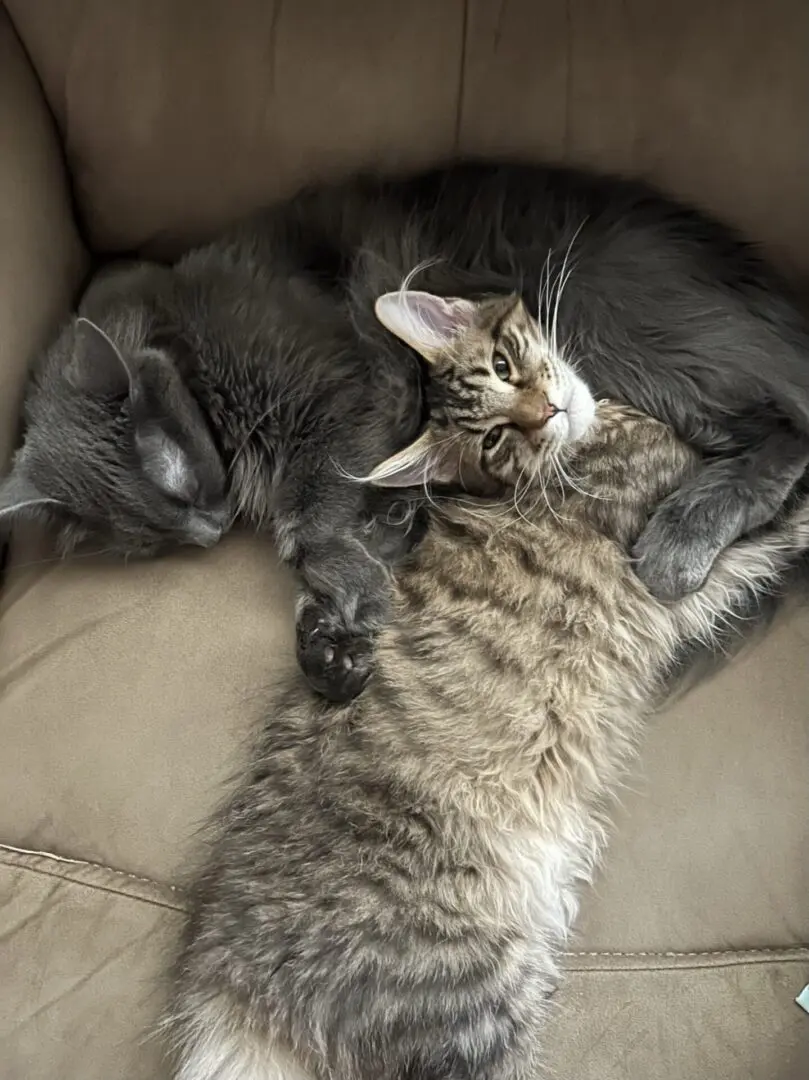 Carolyn Read
Texas
"Mythic Maine Coons was wonderful to work with. I was able to select an available kitten without being on the waitlist. Once my application was accepted, I was provided paperwork, photos and answers to all of my questions. The final pickup was super easy and so much fun to bring home our new addition."
Zeus (Formerly Dionysus)
Male - Blue Ticked Tabby [HOME WITH Joshua in Louisiana]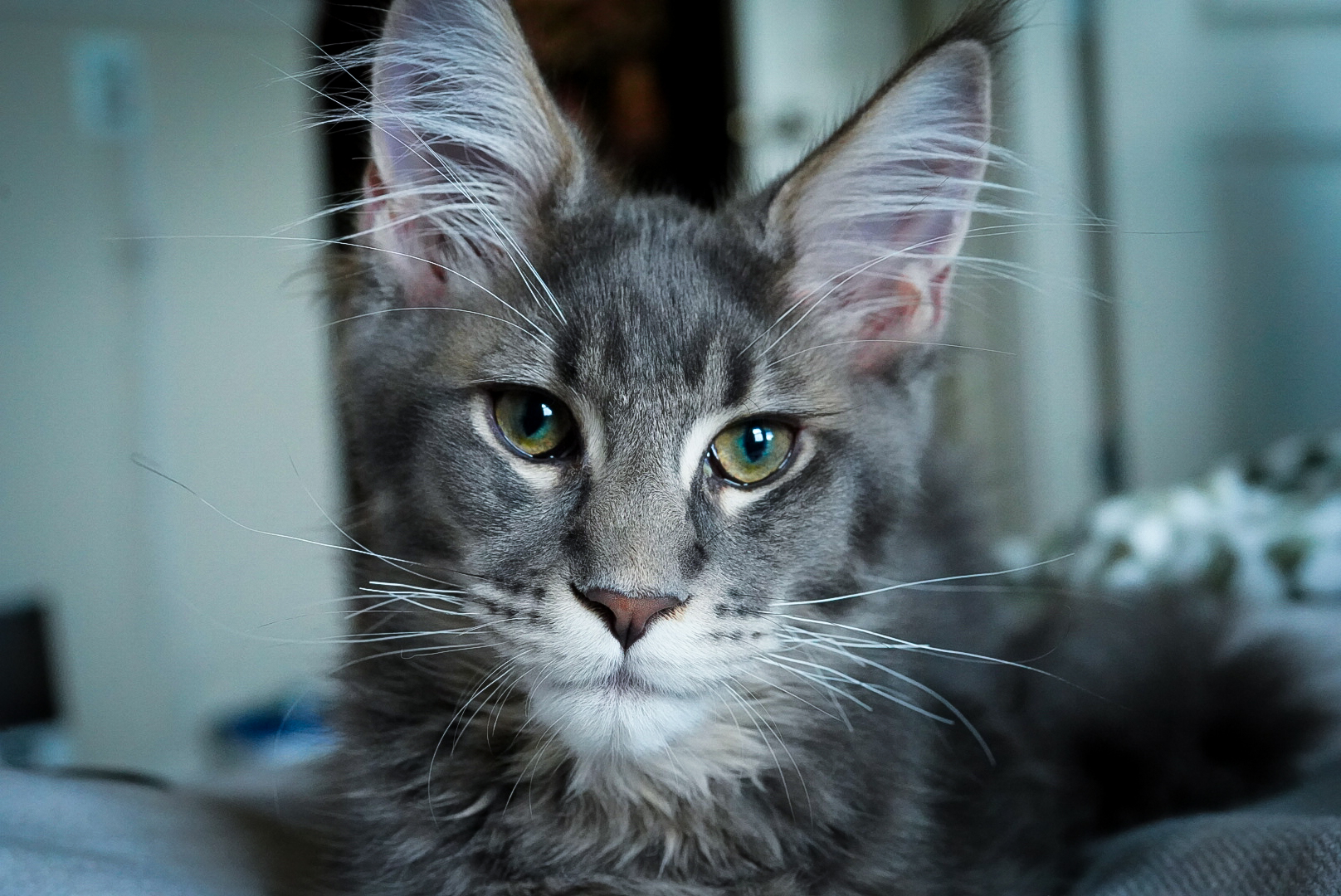 Joshua Raschke
Louisiana
"My experience was great, Dionysus is very sweet and I could tell how well he was taken care of. You guys stayed really professional and made the adoption process as smooth as possible."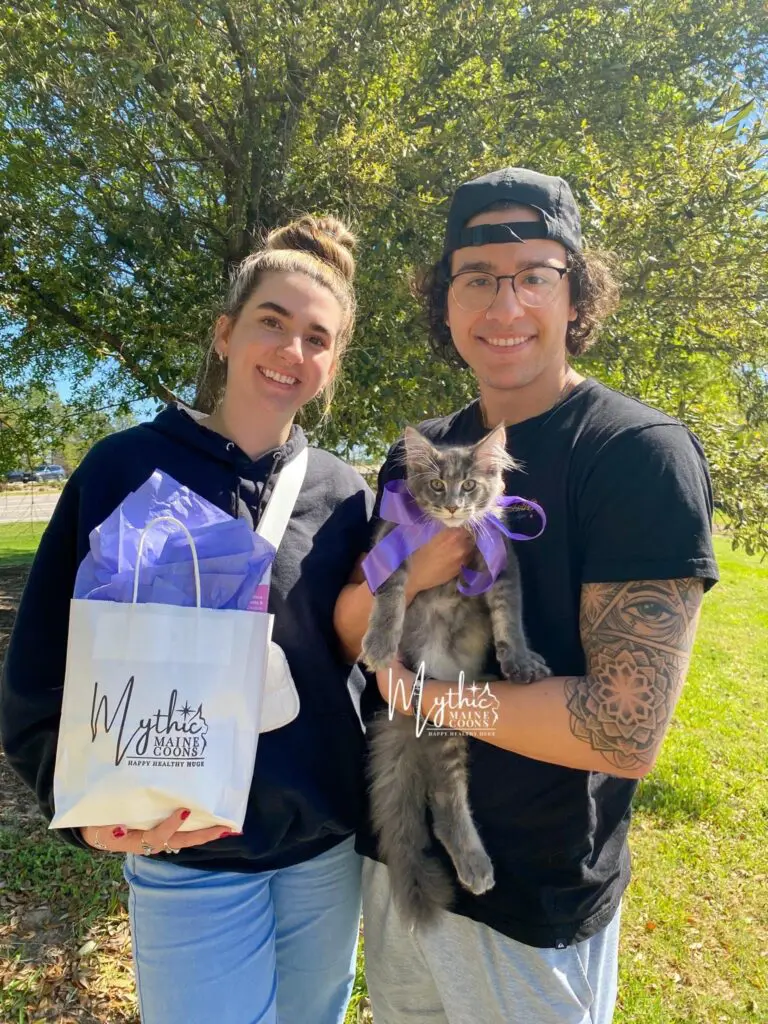 Luna (Formerly Amphitrite)
Female - Solid Blue [HOME WITH Hannah in Oklahoma]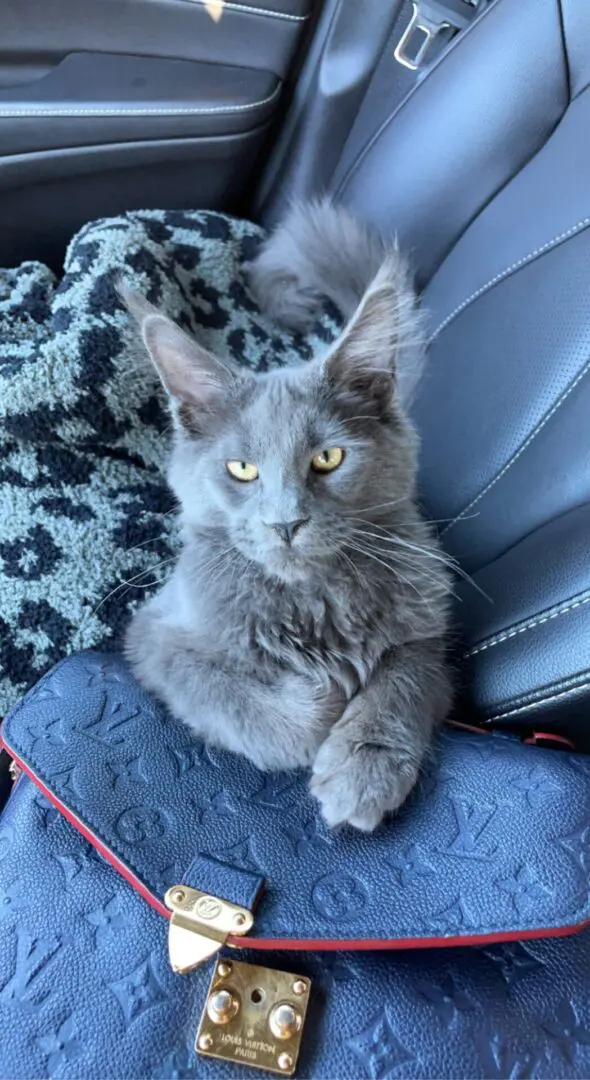 Hannah Croley
Oklahoma
"I highly recommend doing business with Mythic Maine Coons. We had the best experience getting our sweet baby. They were quick in responding, kind and so informative. We are already looking at getting a second kitten from them!"
Banjo (Formerly Deimos)
Male - Red Silver Tabby [HOME WITH Theresa in Tennessee]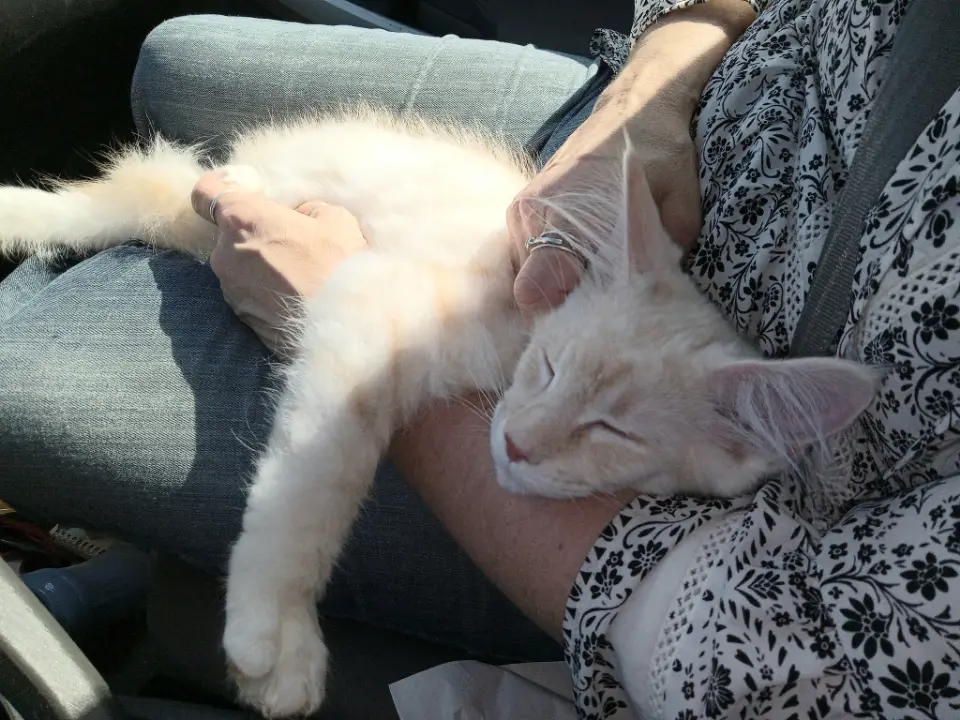 Theresa Reynolds
Tennessee
"Went out of there way to make my experience a positive one."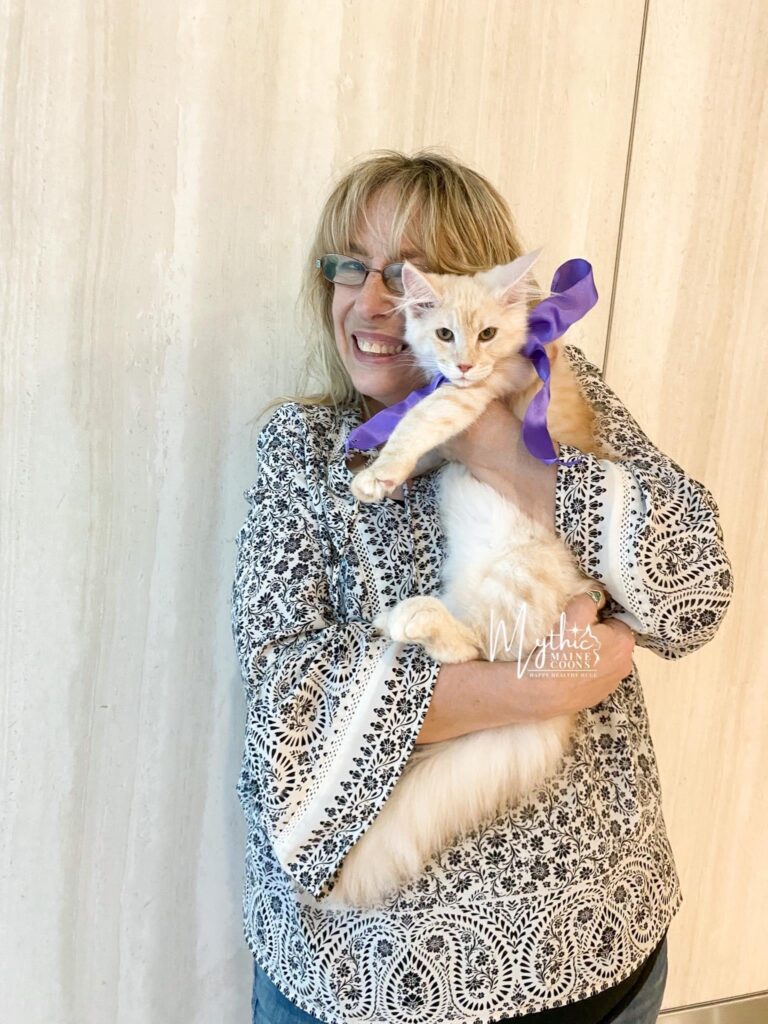 Cleopatra (Formerly Rhea)
Female - Brown Tortie [HOME WITH Lisa in Texas]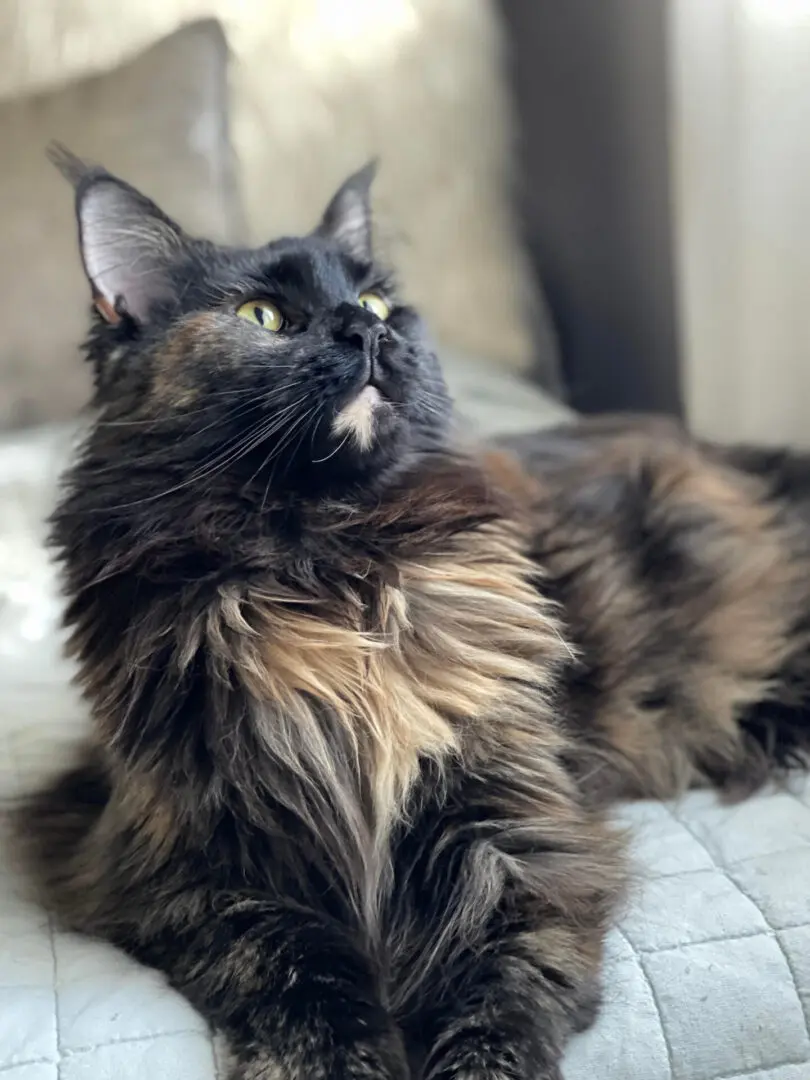 Lisa Mercadante Pickard
Texas
"We love our baby girl. We gave her a new name, Cleopatra, and call her Cleo. She adapted quickly to our family. When she doesn't see us, she will call out with her cute little meow. She loves to be right in the middle of the action. Our dog, Stella tolerates her and Cleo loves to try and get her attention. Cleo will be laying on the couch and she will take her huge paw and try and grab Stella as she walks by. Stella got startled at first but I truly think they are becoming best friends. We are so lucky that my friend told us about Mythic Maine Coons. This is my first Maine Coon but it won't be my last and when we are ready to grow, our family wouldn't get one from another breeder. You have gorgeous cats!"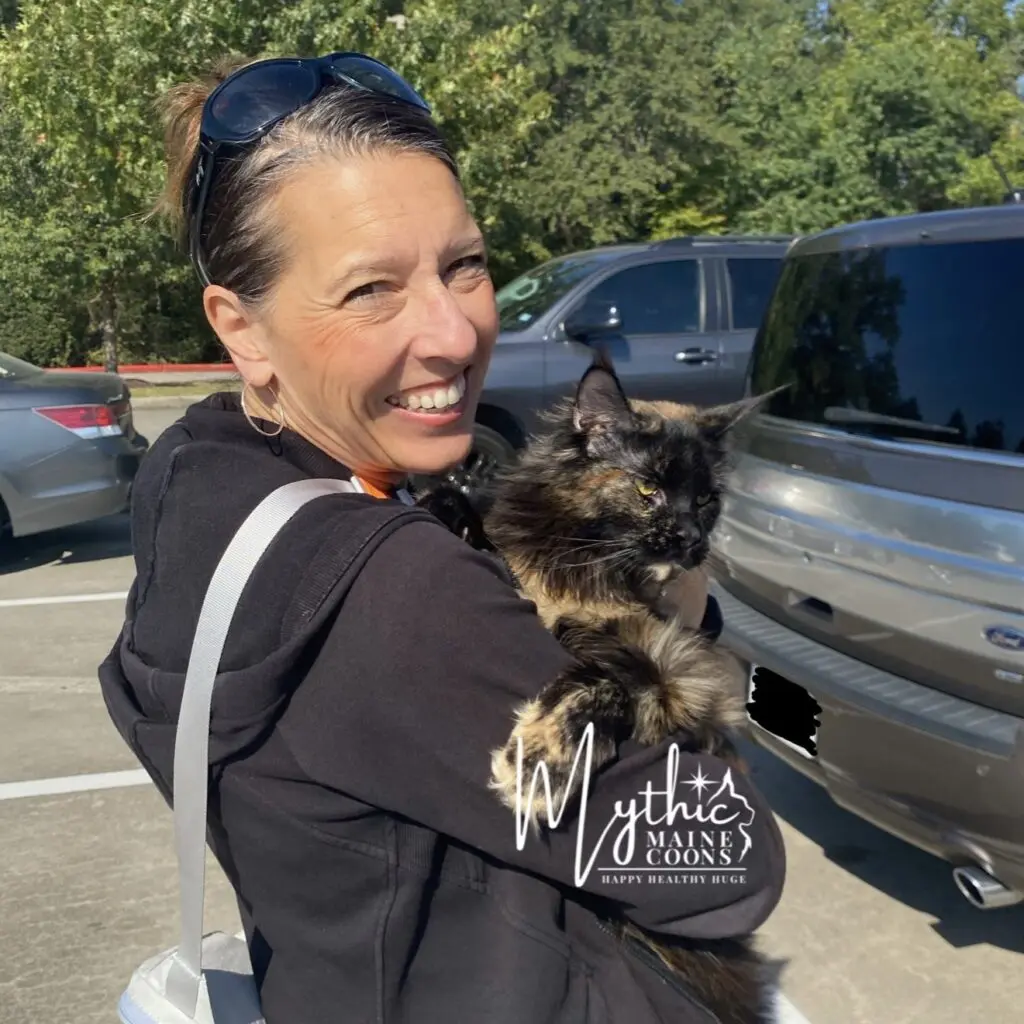 Aphrodite
Female - Blue Silver Tabby [HOME WITH Journey in Texas]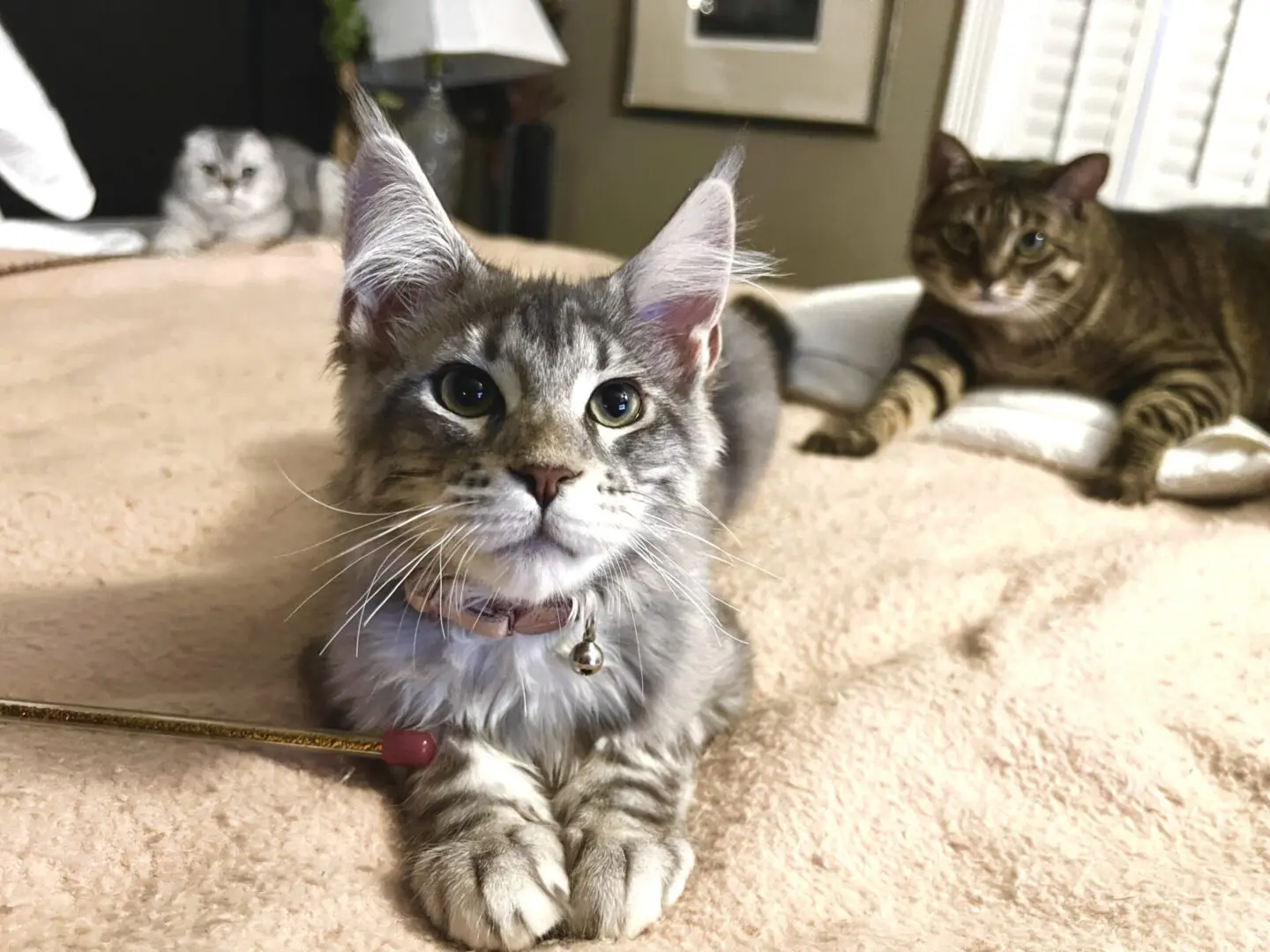 Journey Harris
Texas
"Mythic Maine Coons no doubt prizes the care of their cats and kittens. The overall experience was overwhelmingly positive as the breeders helped answer any and all questions, giving multiple updates on the kittens to make the wait feel less long. My kitten fit right into the household with no problems, adjusting just like that with such a sweet demeanor."

Iris
Female - Solid White [HOME WITH Lori in Texas]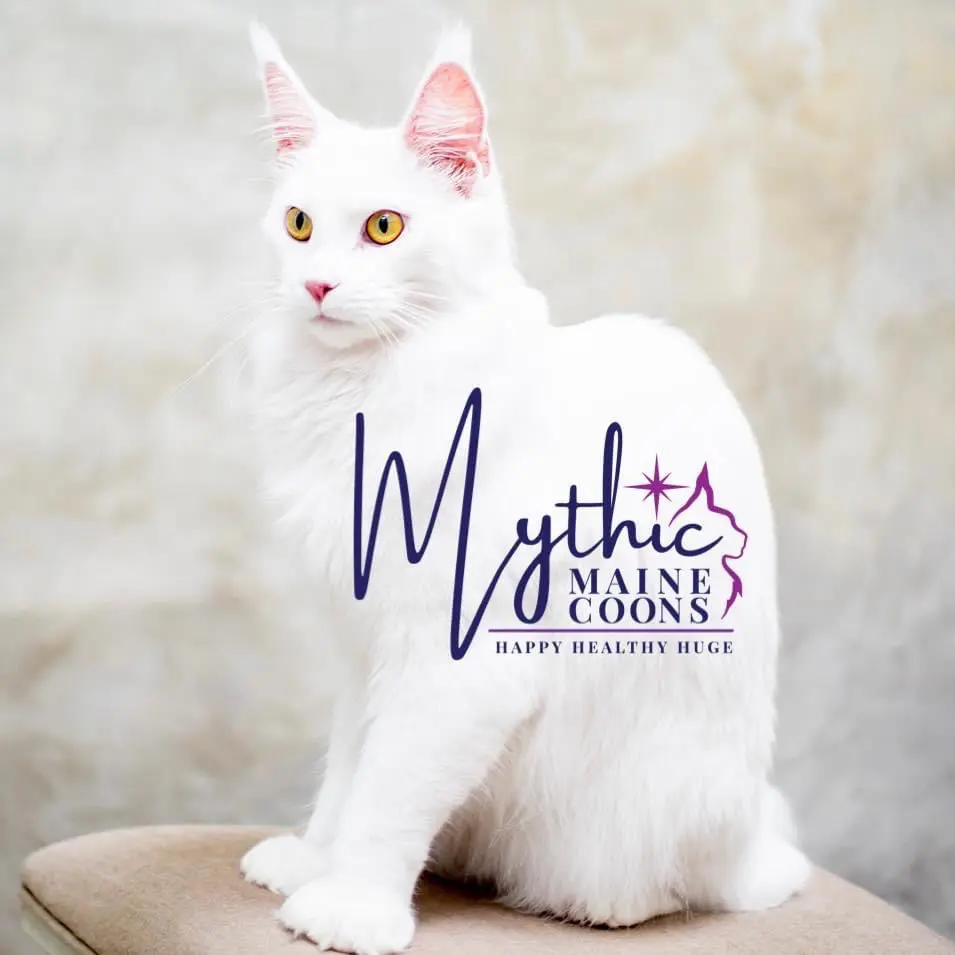 Lori Myers
Texas
"We got our lovely, 1 year old Iris from Mythic Main Coons. She had just recently been spayed and we expected a very timid and scared kitty; however, from the first moment we met her, Iris was so trusting and loving. She was clearly well cared for and loved by the breeder. Iris is so well adjusted and beautiful! When we picked her up she was immaculate and clearly in excellent health. I highly recommend using Mythic Maine Coons if you are looking for your own loving, big kitty!"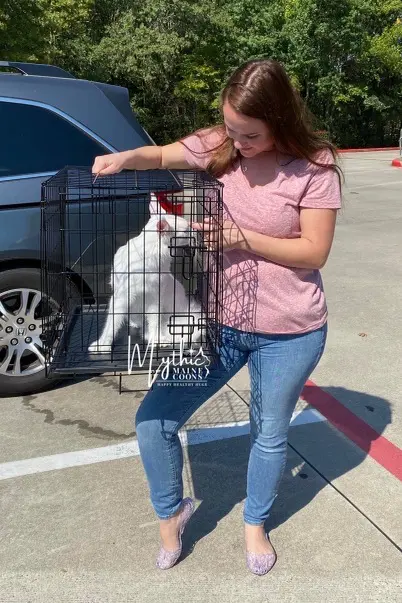 Maggie (Formerly Aphrodite)
Female - Red Mackerel Tabby [HOME WITH Elisabeth in Texas]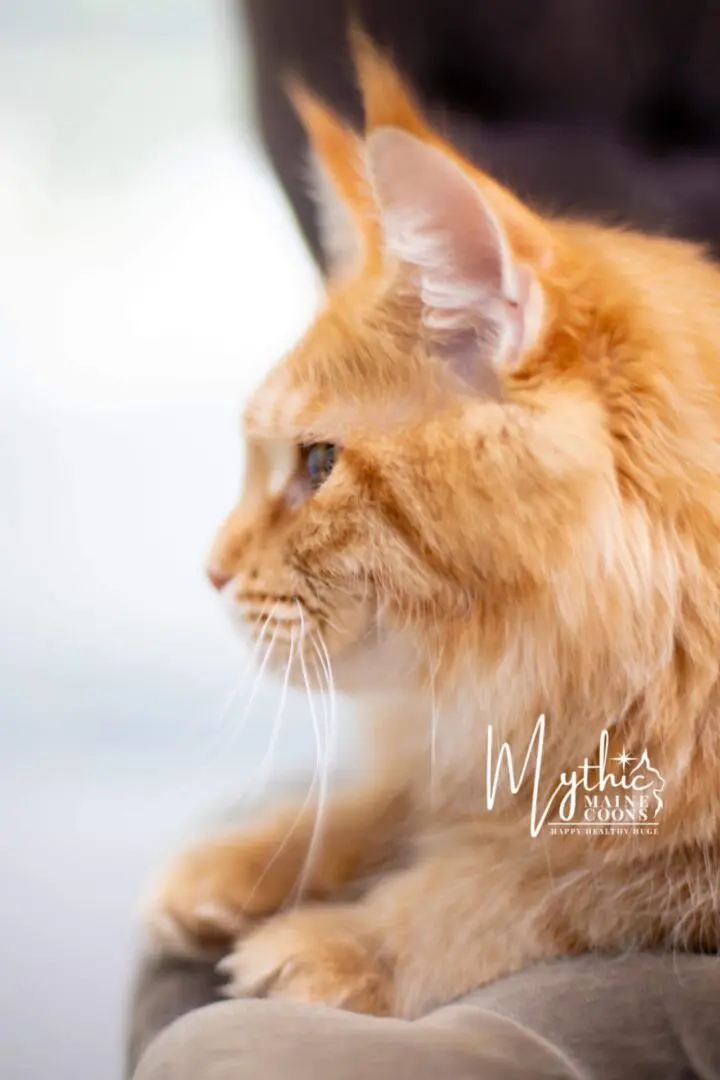 Elisabeth Brodt
Texas
"Our beautiful Maine Coon has been a wonderful addition to our family. She plays fetch, loves her belly rubbed and is always with the family. Our sweet girl is happy, healthy and playful. Our experience with Mythic Maine Coons was fantastic and I highly recommend their services. Thank you Mythic Maine Coons!"