Champion Bloodline
Maine Coon Cat Breeder
____________
 TICA Pedigree
CHAMPION Bloodlines
____________
Maine Coon Kittens For Sale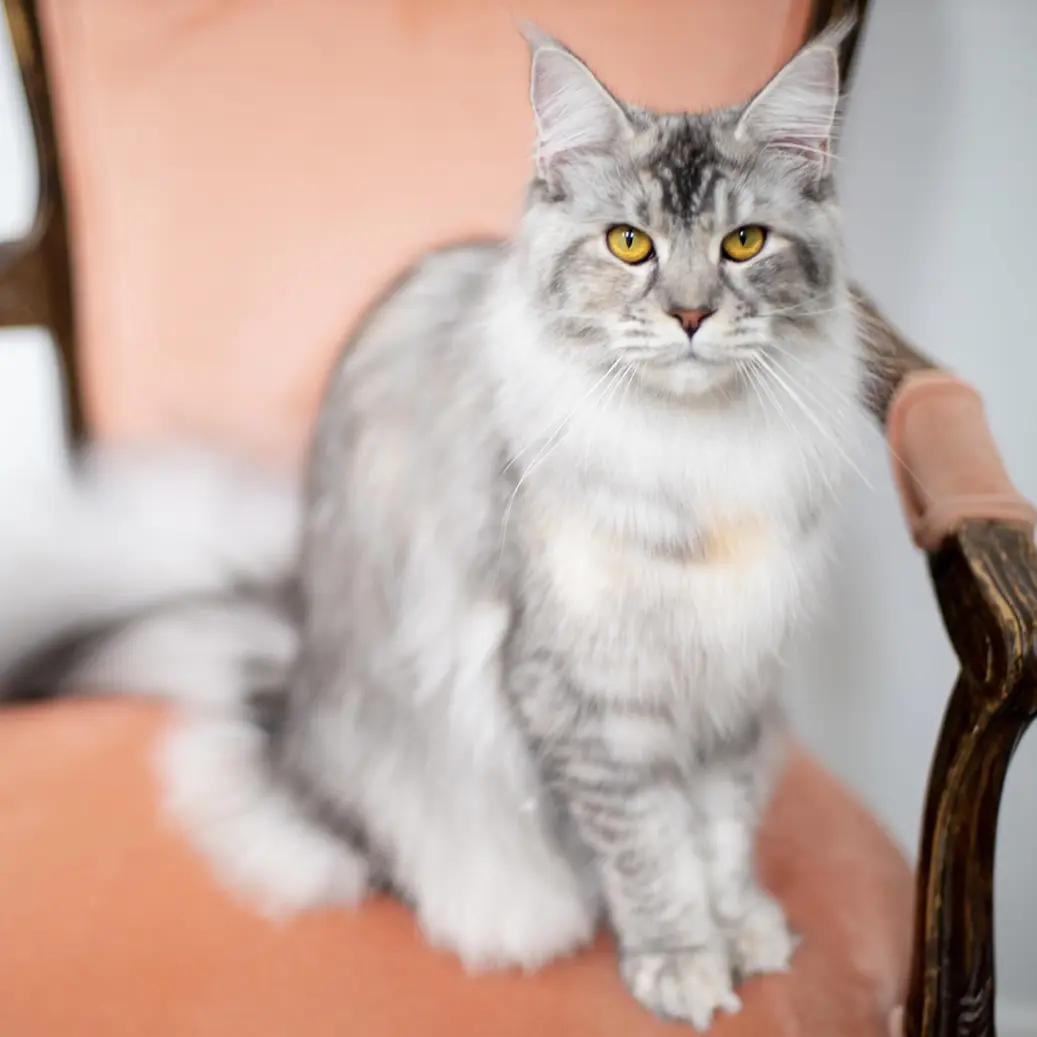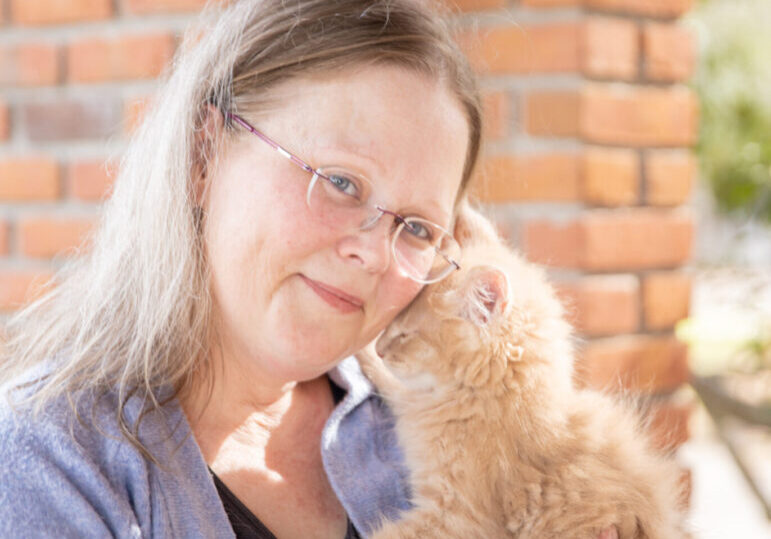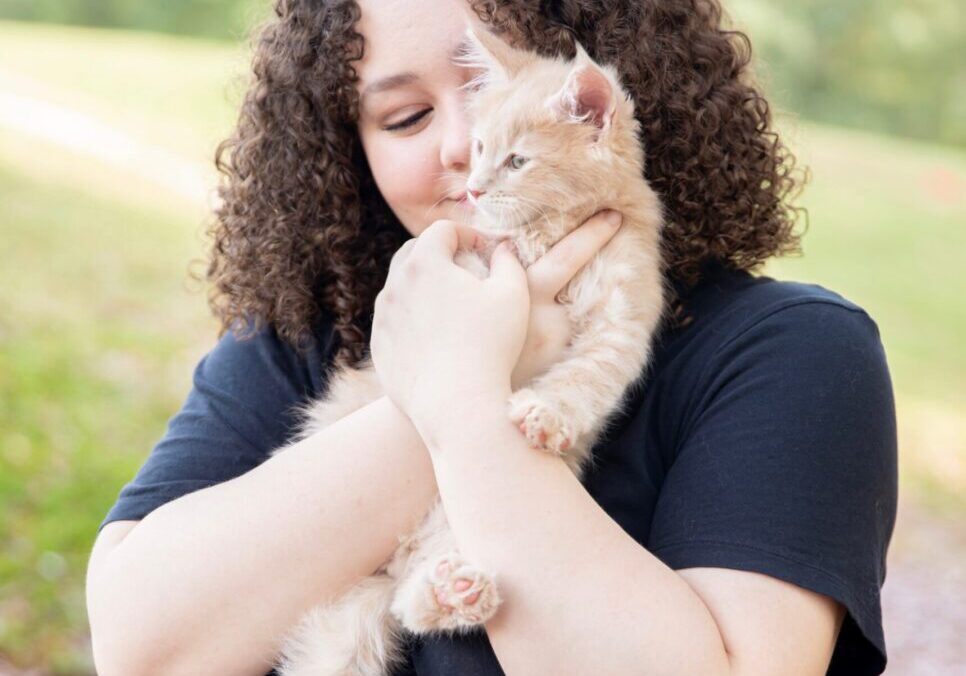 Home of the
Best Maine Coons
BELOW ARE OUR HIGHEST WORLDWIDE AWARD WINNING MAINE COONS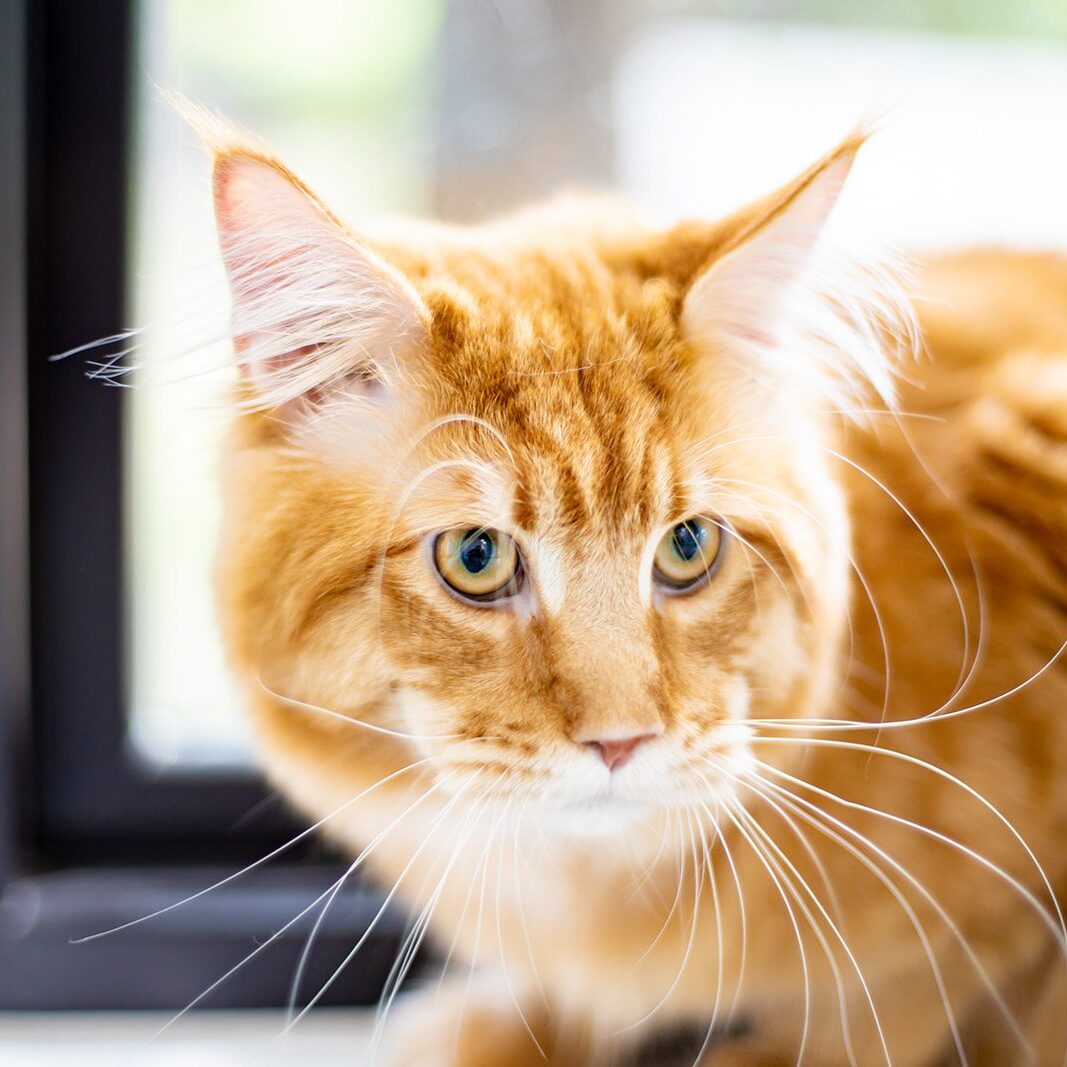 CONGRATULATIONS GOES TO CHAMPION ARES: TICA'S 2022-2023 BEST RED MACKEREL TABBY MAINE COON OF THE YEAR!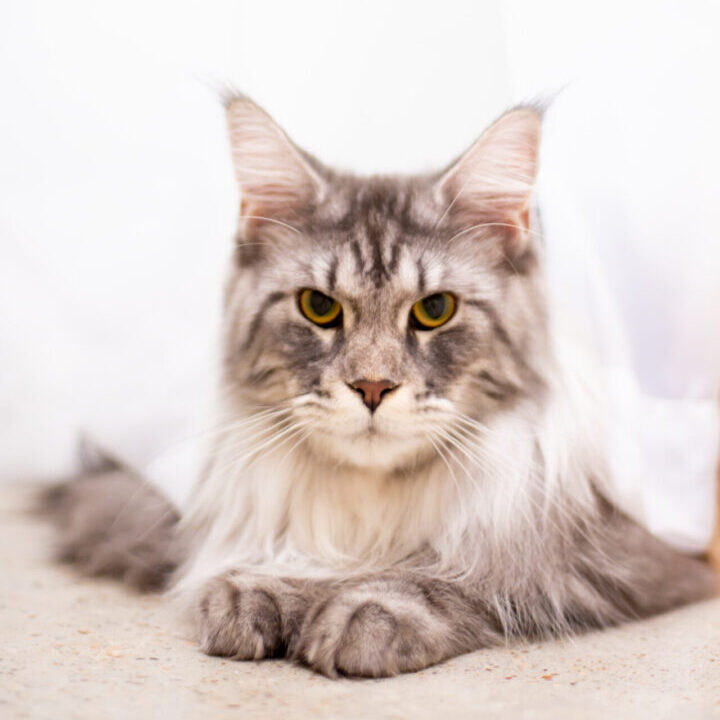 QUADRUPLE GRAND CHAMPION ATHENA IS TICA'S 2022-2023 BEST BLUE SILVER TABBY MAINE COON OF THE YEAR!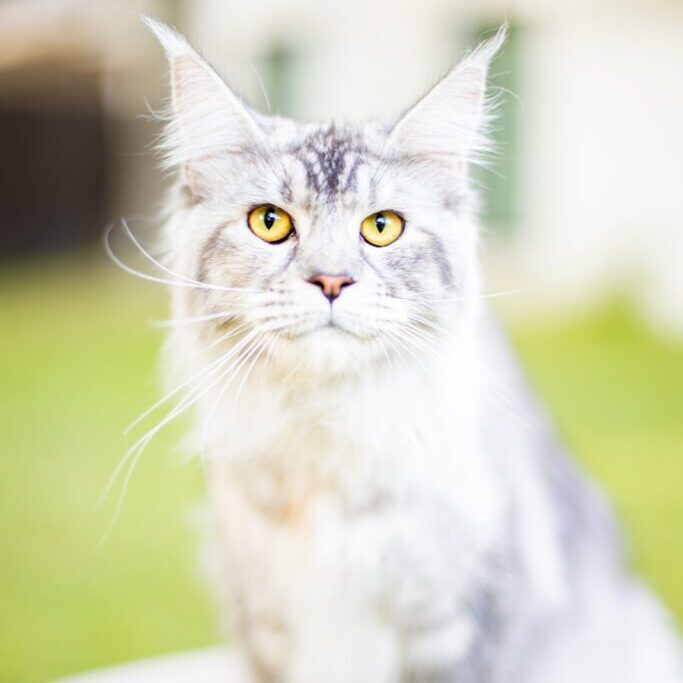 TRIPLE GRAND CHAMPION SELENE IS TICA'S 2022-2023 SECOND-BEST BLACK SILVER TICKED TORBIE MAINE COON OF THE YEAR!
BELOW ARE OUR HIGHEST SOUTH CENTRAL REGIONAL AWARD WINNING MAINE COONS
CHAMPION PERSEPHONE IS TICA'S 2023 SOUTH CENTRAL REGION BEST BROWN (BLACK) CLASSIC TORBIE MAINE COON OF THE YEAR!
CHAMPION ZEUS IS TICA'S 2023 SOUTH CENTRAL REGION SECOND-BEST BLACK SILVER CLASSIC TABBY MAINE COON OF THE YEAR!
CHAMPION HERA IS TICA'S 2023 SOUTH CENTRAL REGION SECOND-BEST BROWN (BLACK) CLASSIC TABBY MAINE COON OF THE YEAR!
GRAND CHAMPION NYX IS TICA'S 2023 SOUTH CENTRAL REGION THIRD-BEST BLACK MAINE COON OF THE YEAR!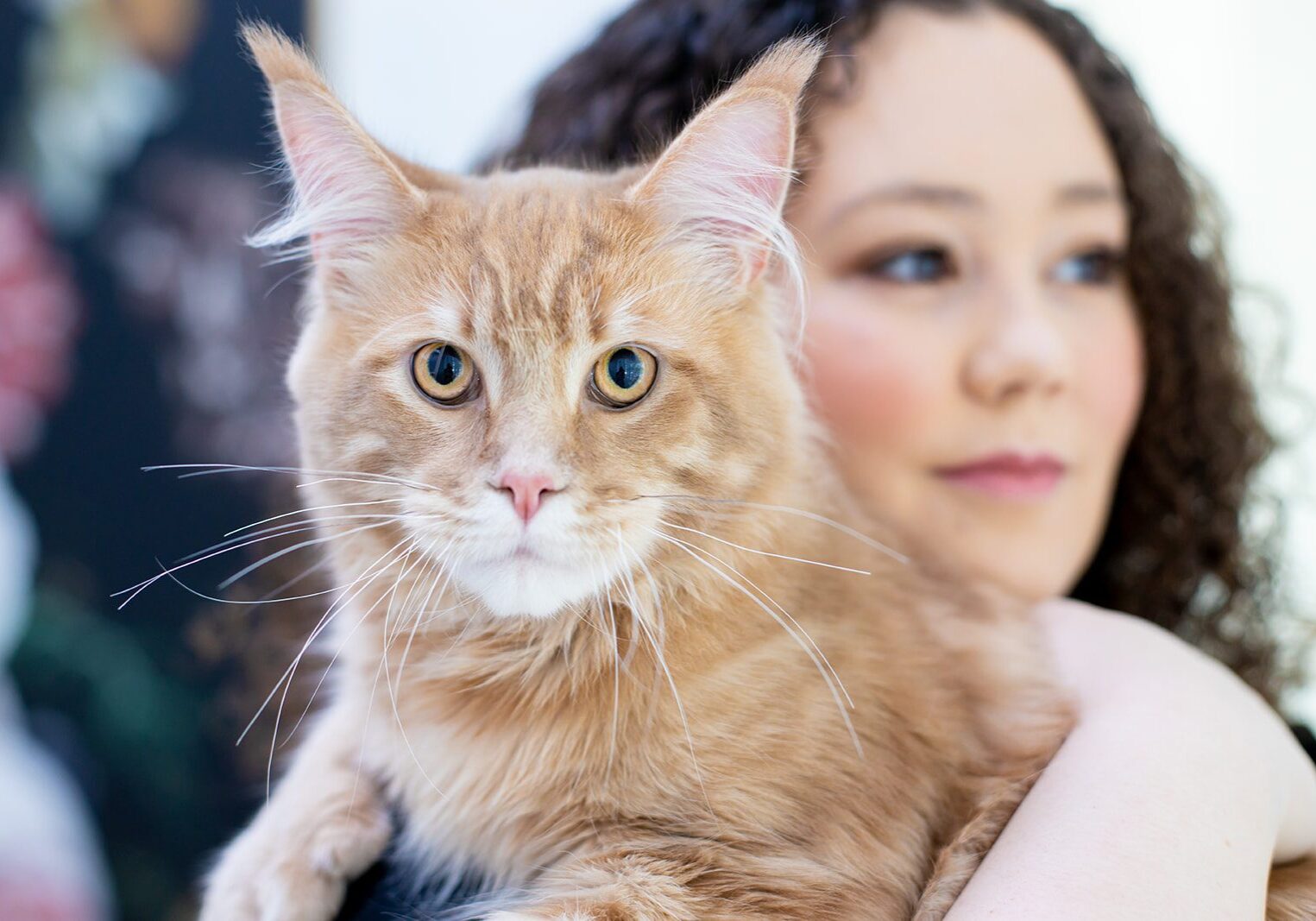 RESPONSIBLE, KNOWLEDGEABLE
Mythic Maine Coons is a closed, family run, well-established cattery.  Our ultimate goal is to make sure our kittens are bred to become the most healthy, beautiful, well-balanced Maine Coons possible. Our Kings and Queens come from Champion bloodlines and every one of our breeding cats have achieved, or are in the process of achieving Champion titles themselves.

Our kittens are raised and socialized underfoot in a healthy, loving family environment. Each kitten is special and treated as a member of the family.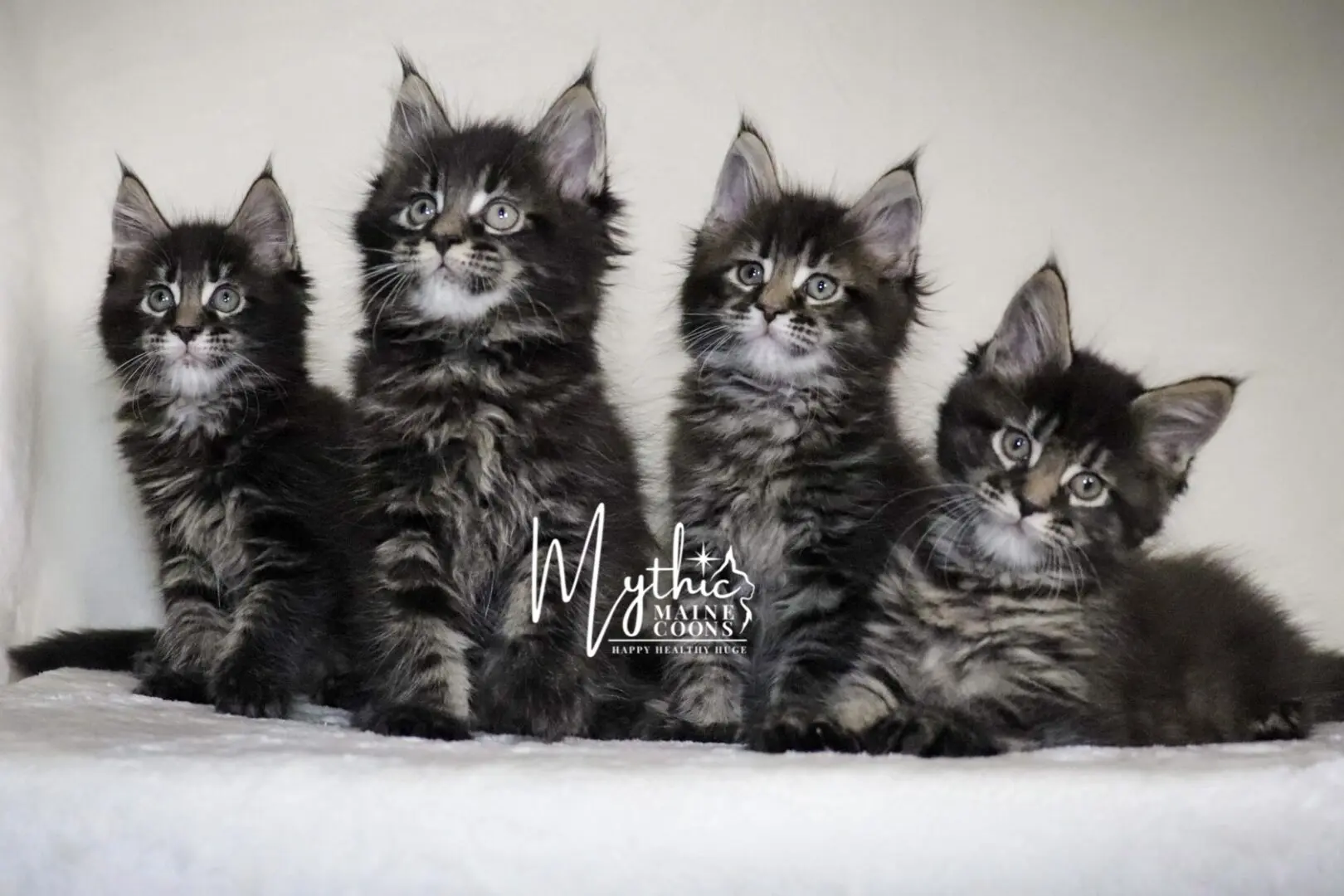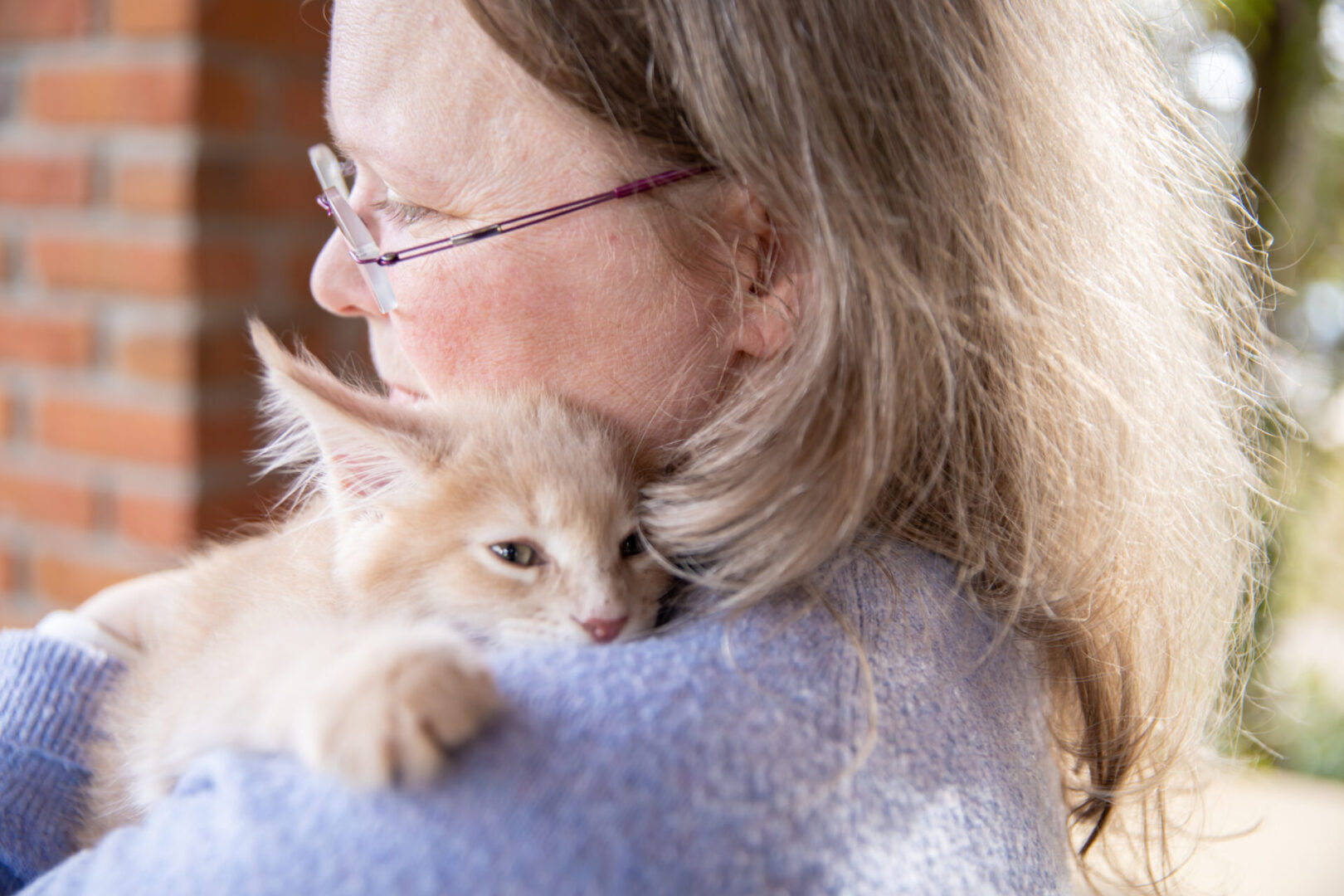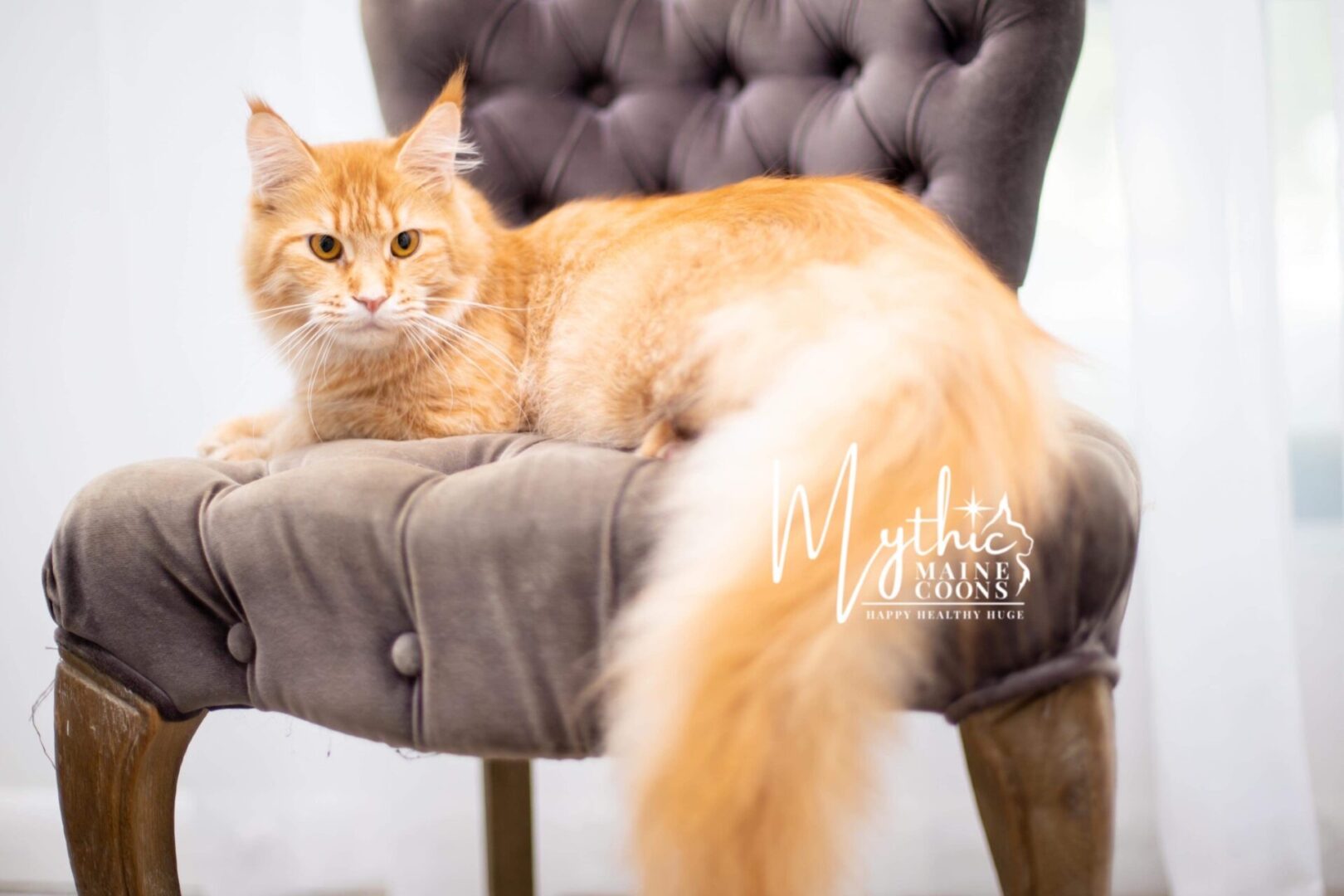 We share our kittens through every developmental stage, from birth to when they leave us for their forever families.
You will receive updates every other week of your young, rapidly growing kitten. We also offer scheduled FaceTime appointments anytime upon request.
This gives our future Mythic Maine Coons forever families the opportunity to see their new family member's growth and bond with them throughout their time with us.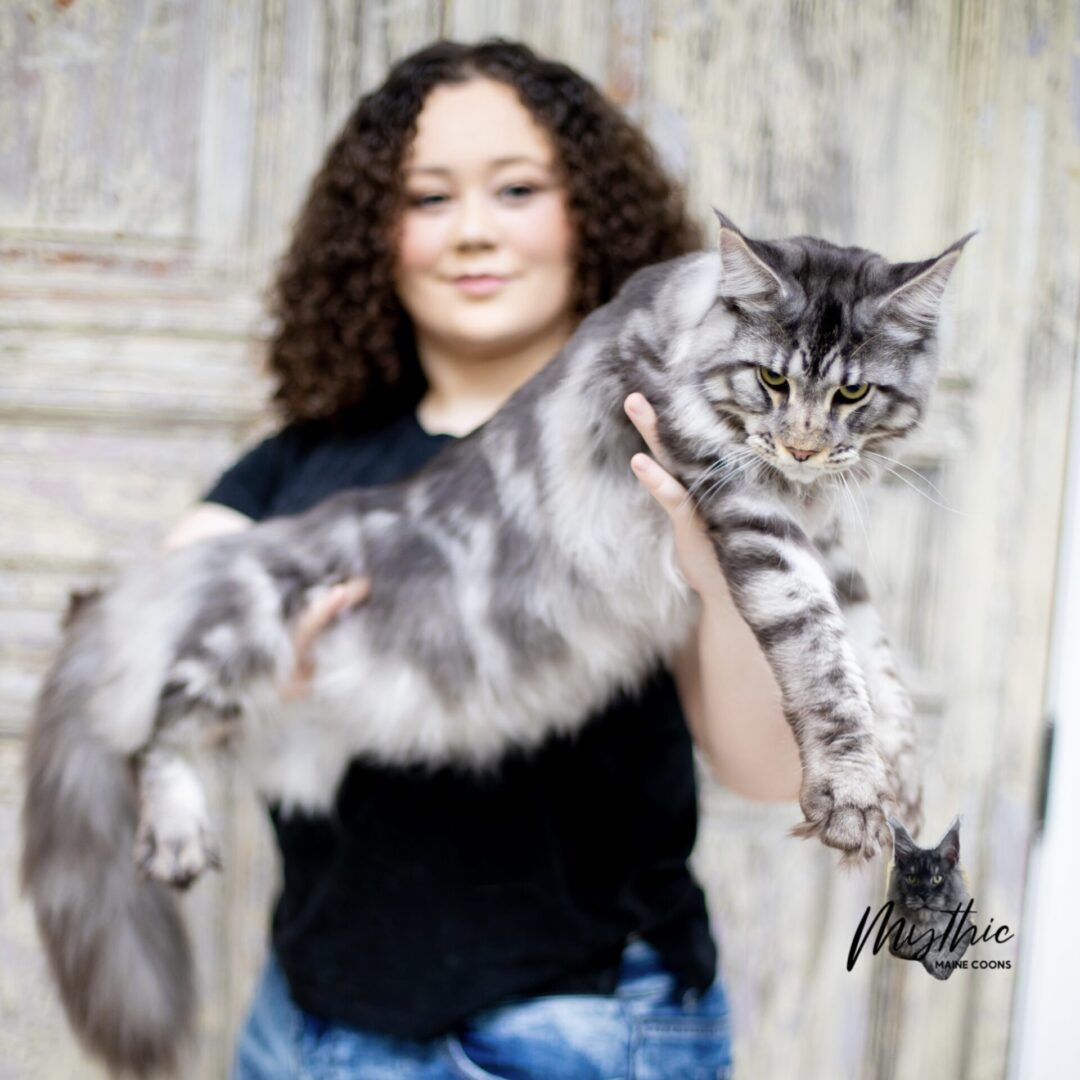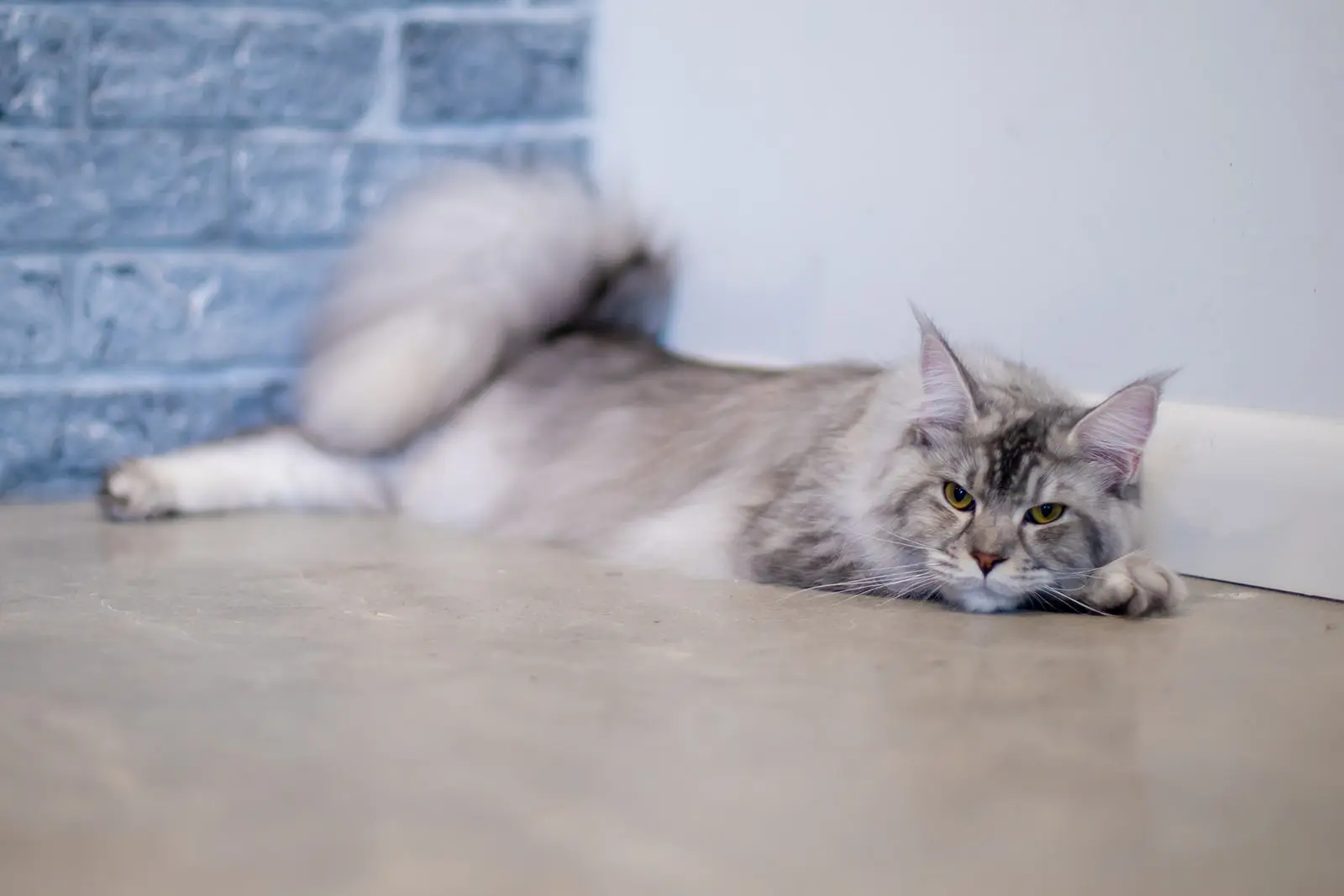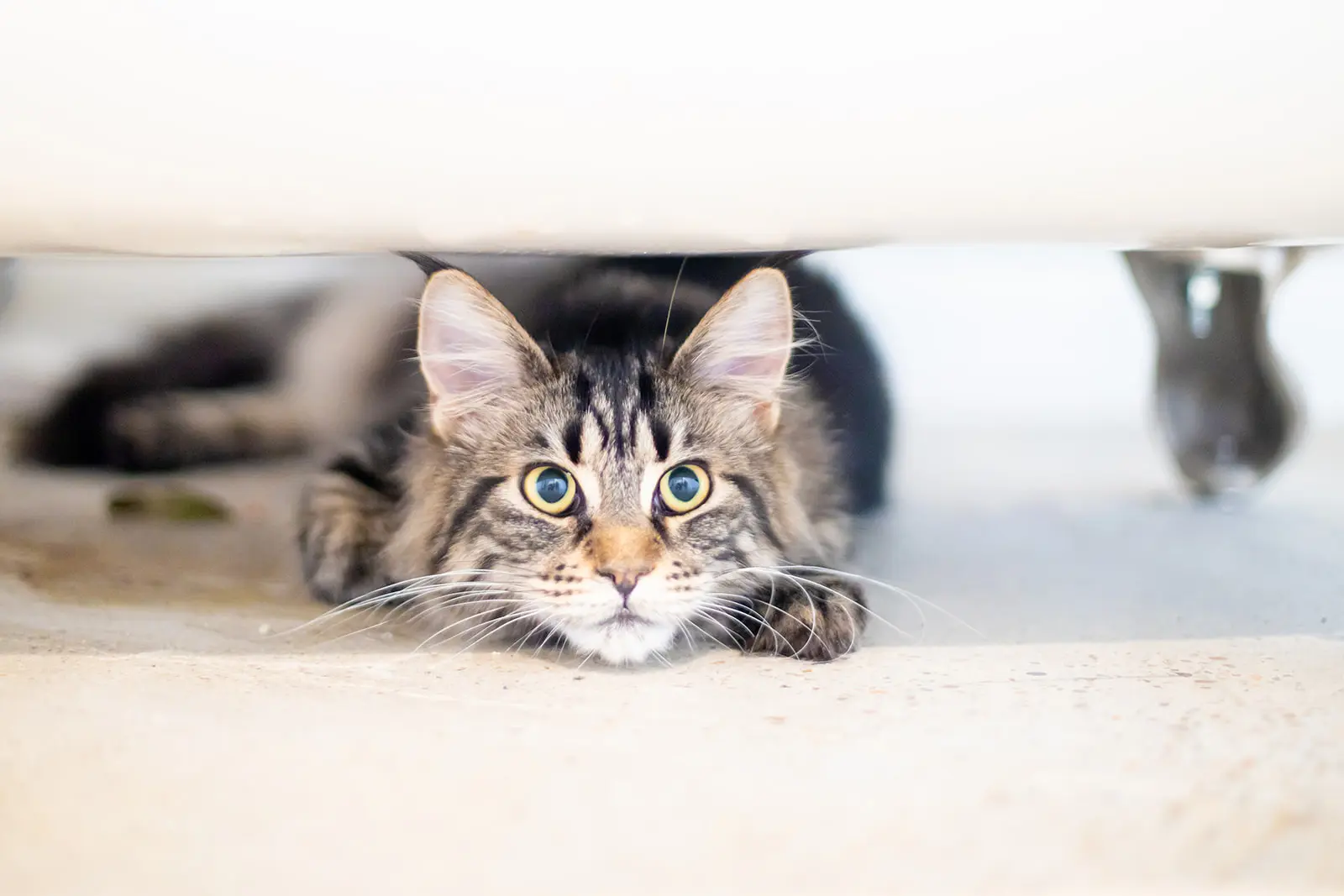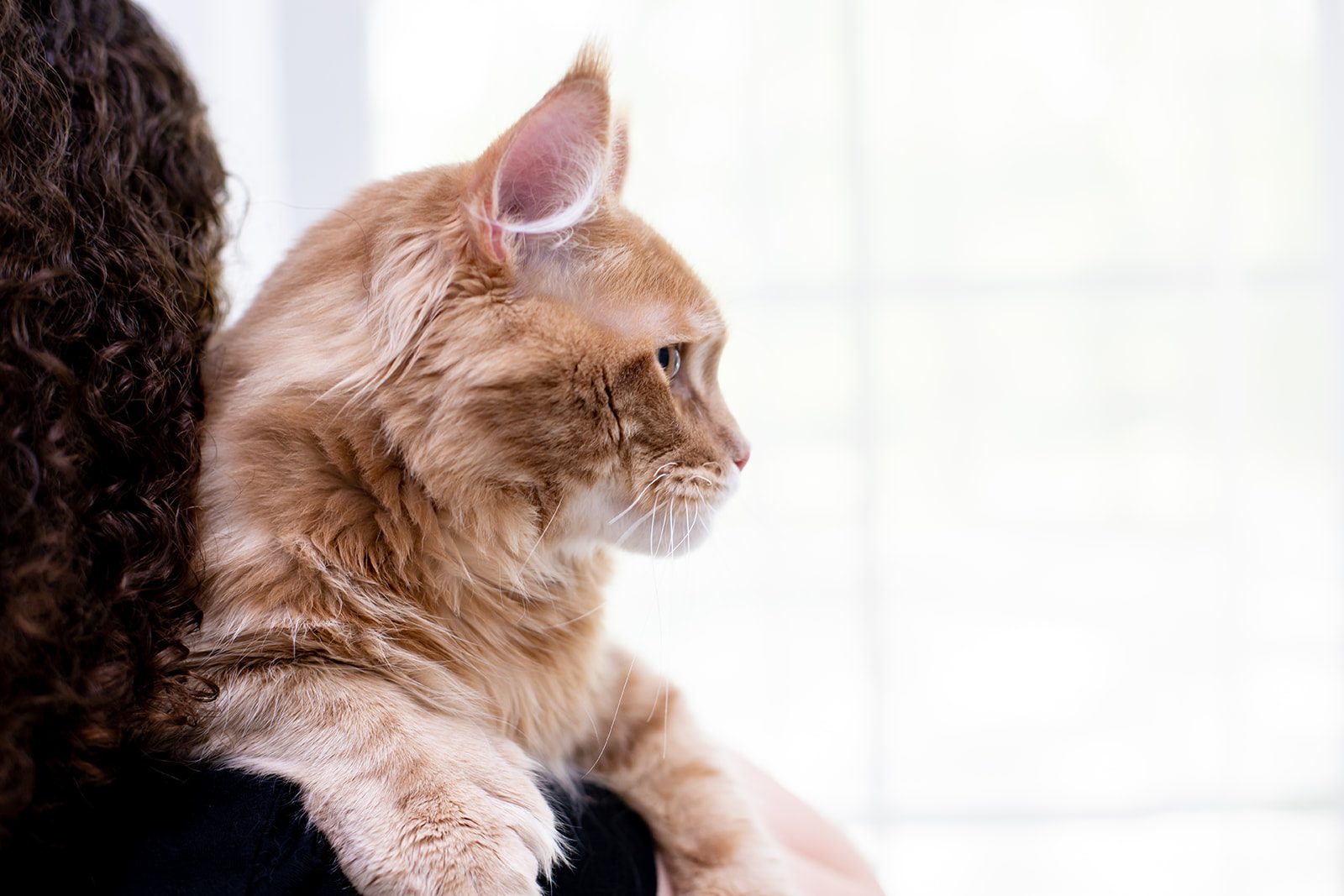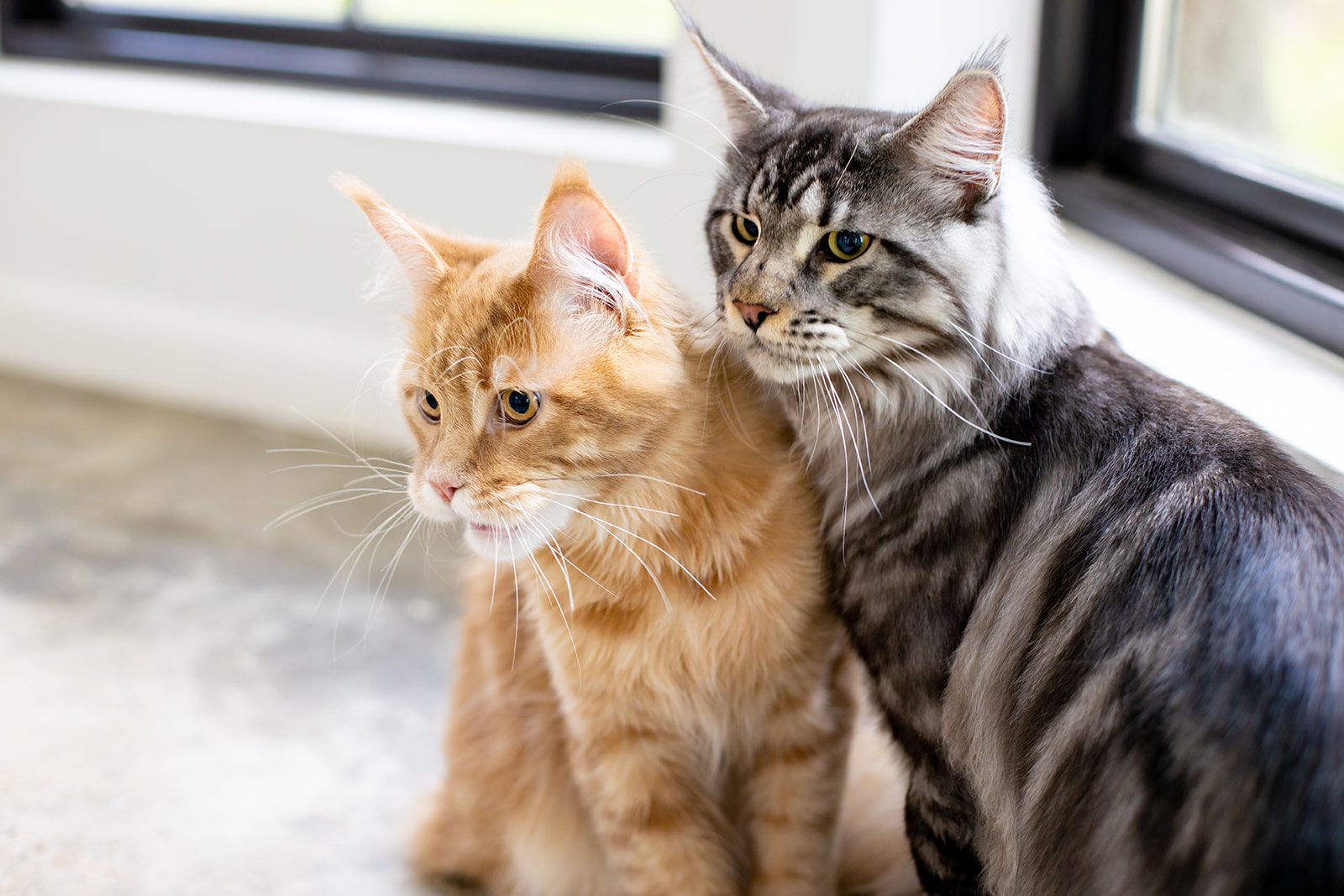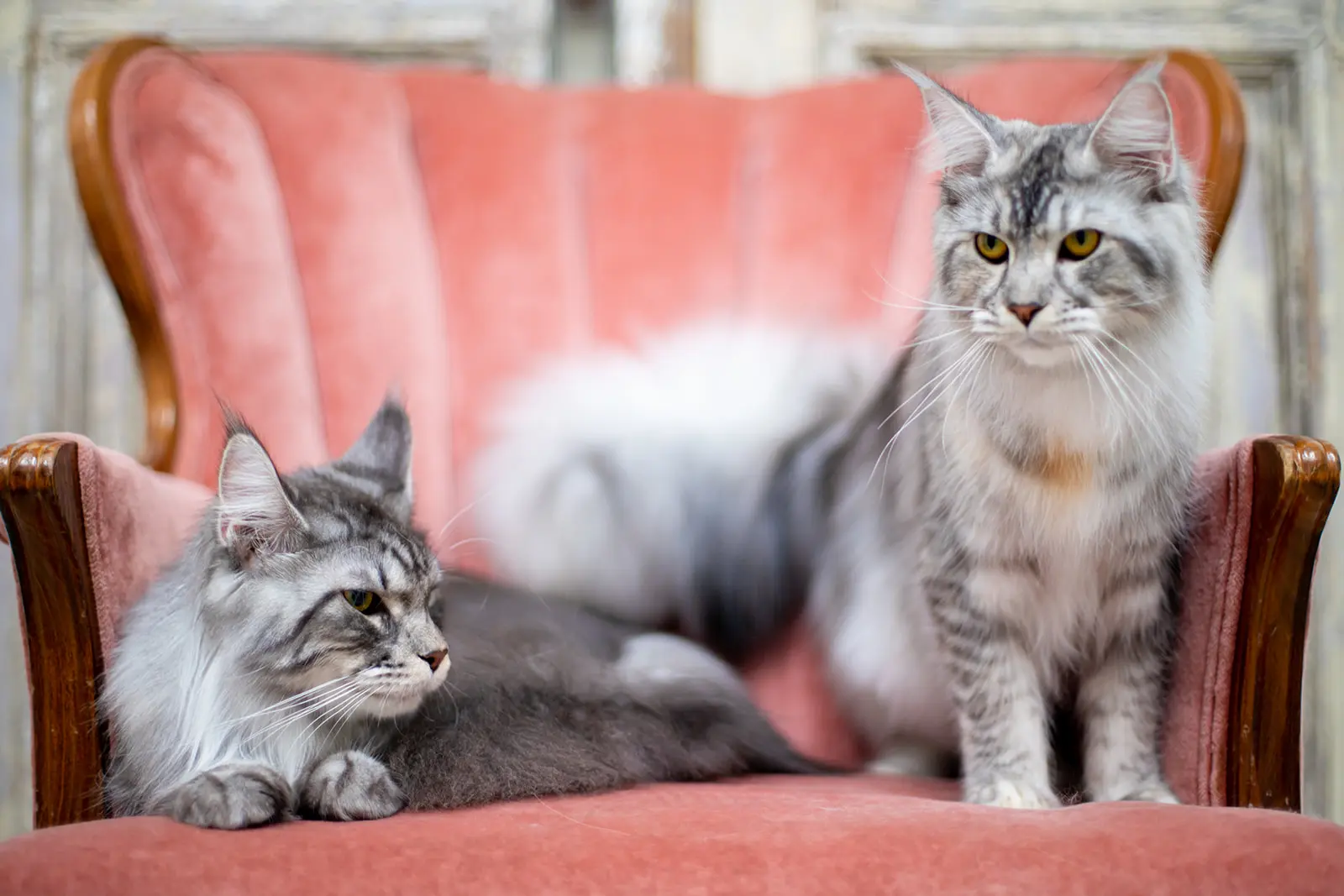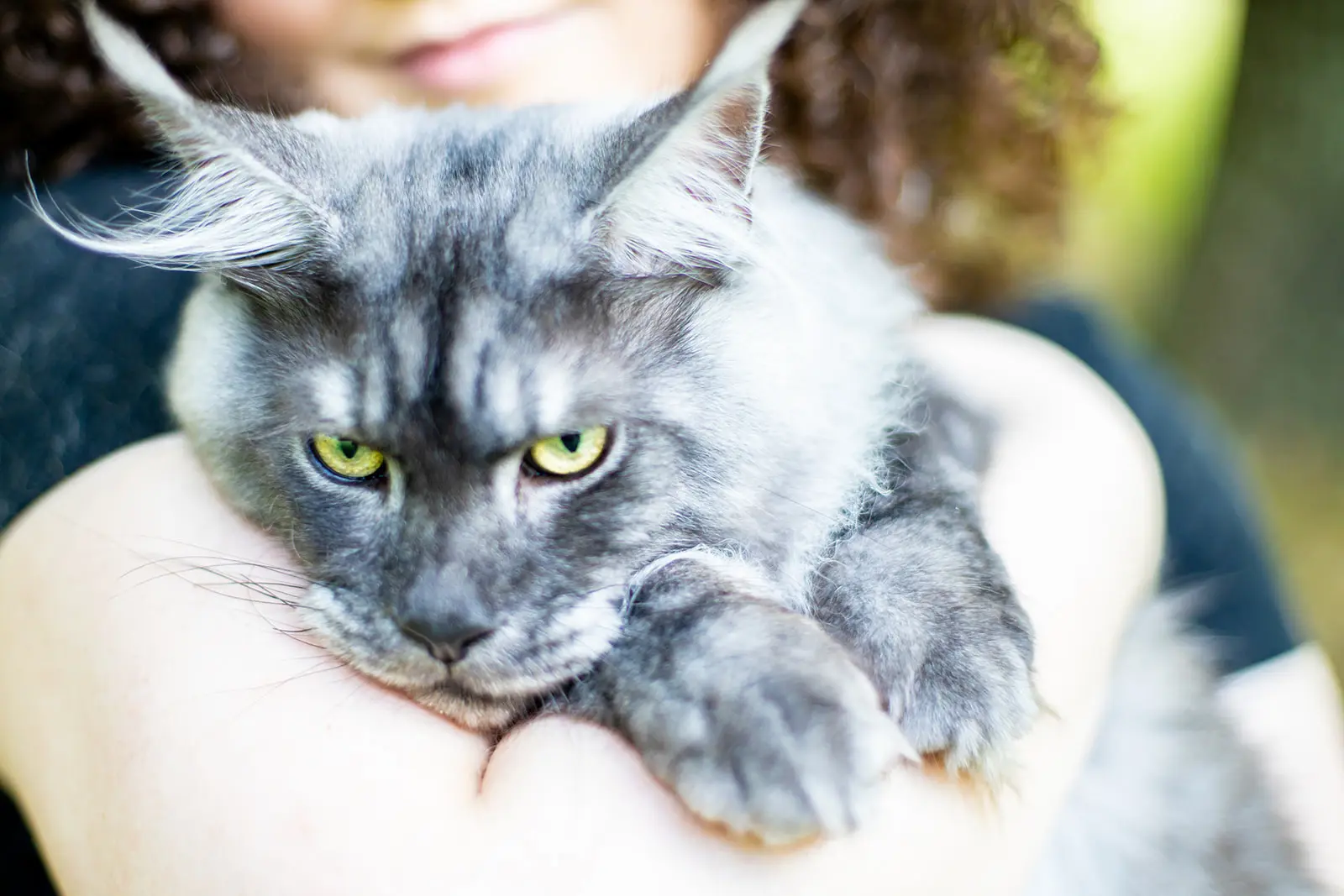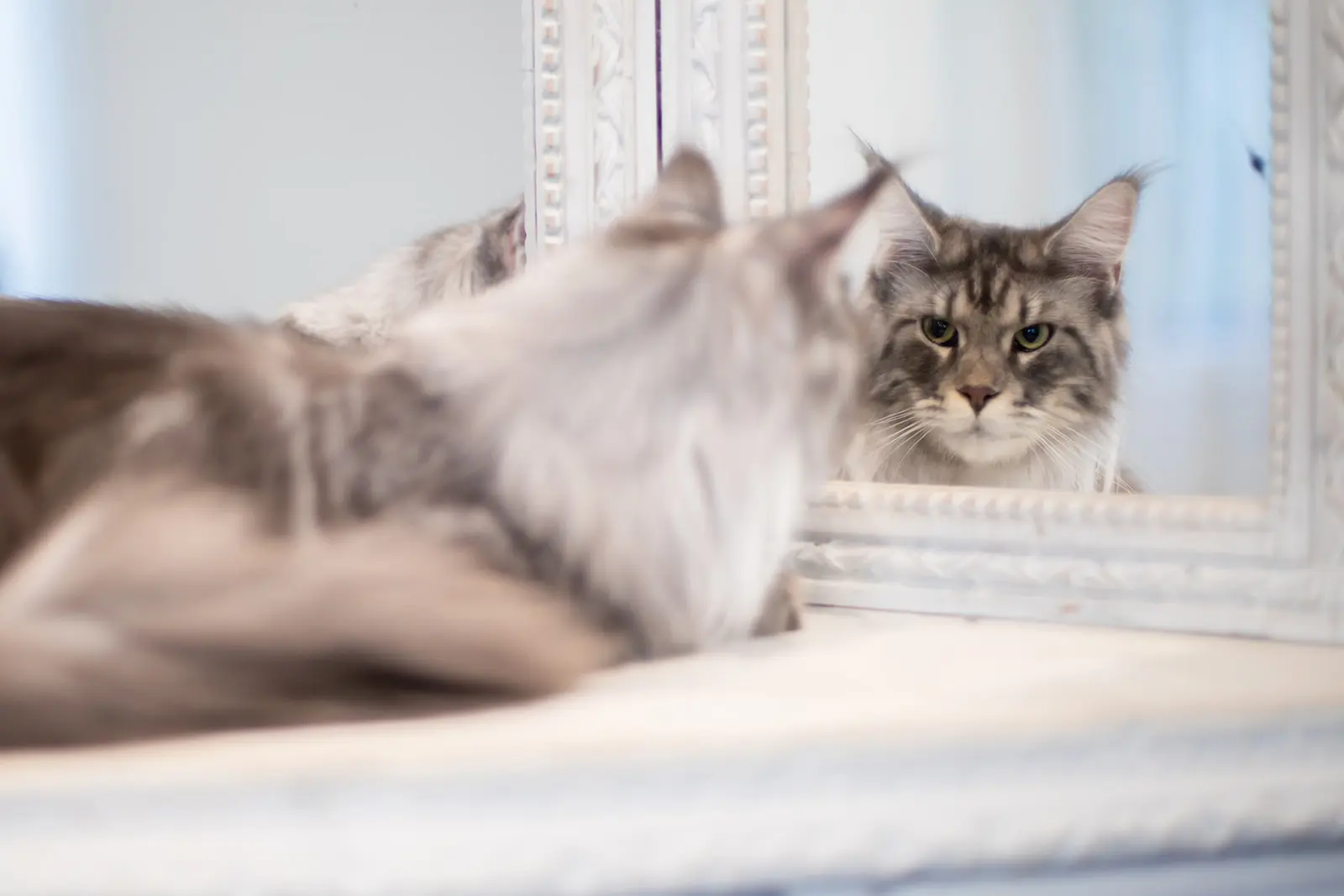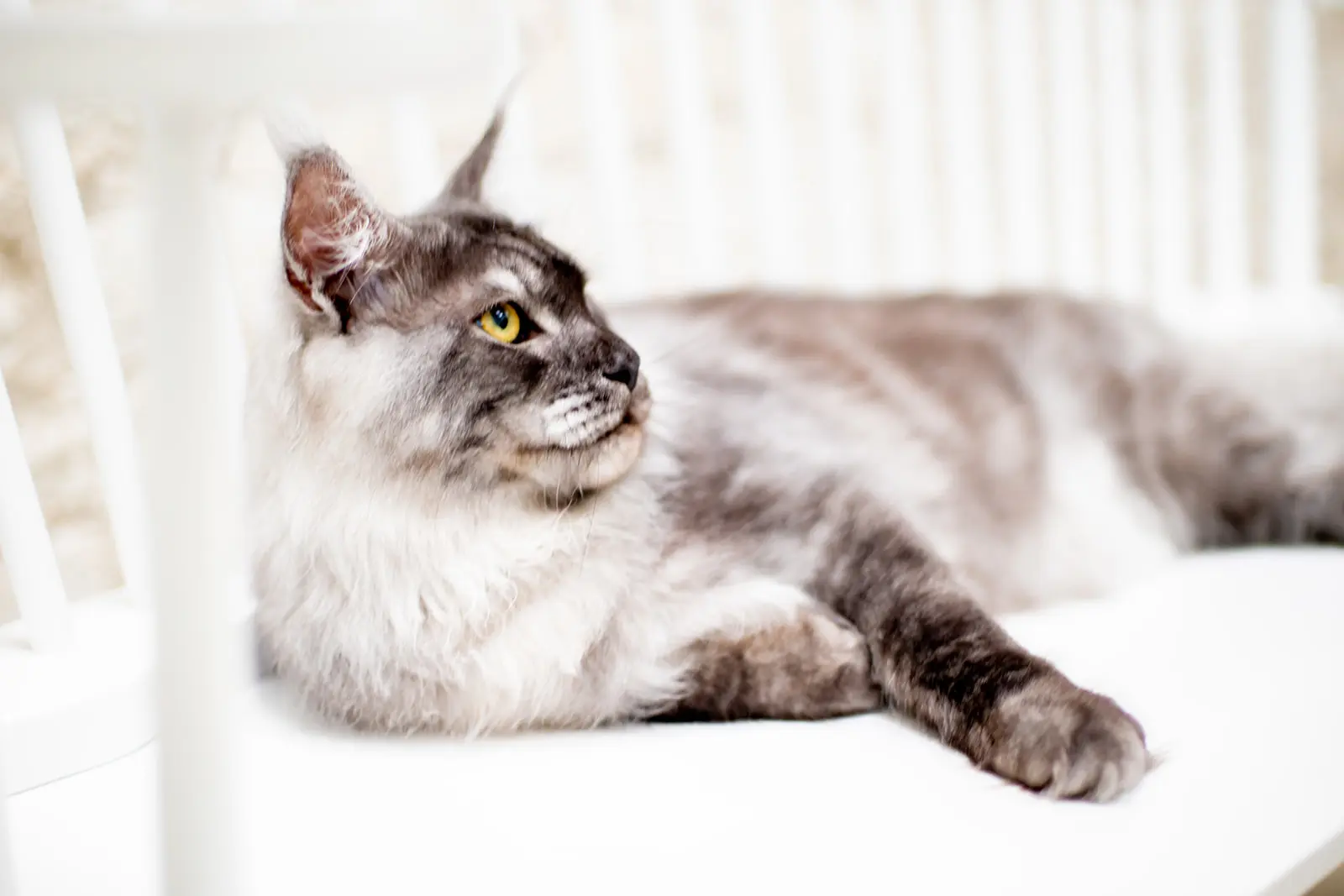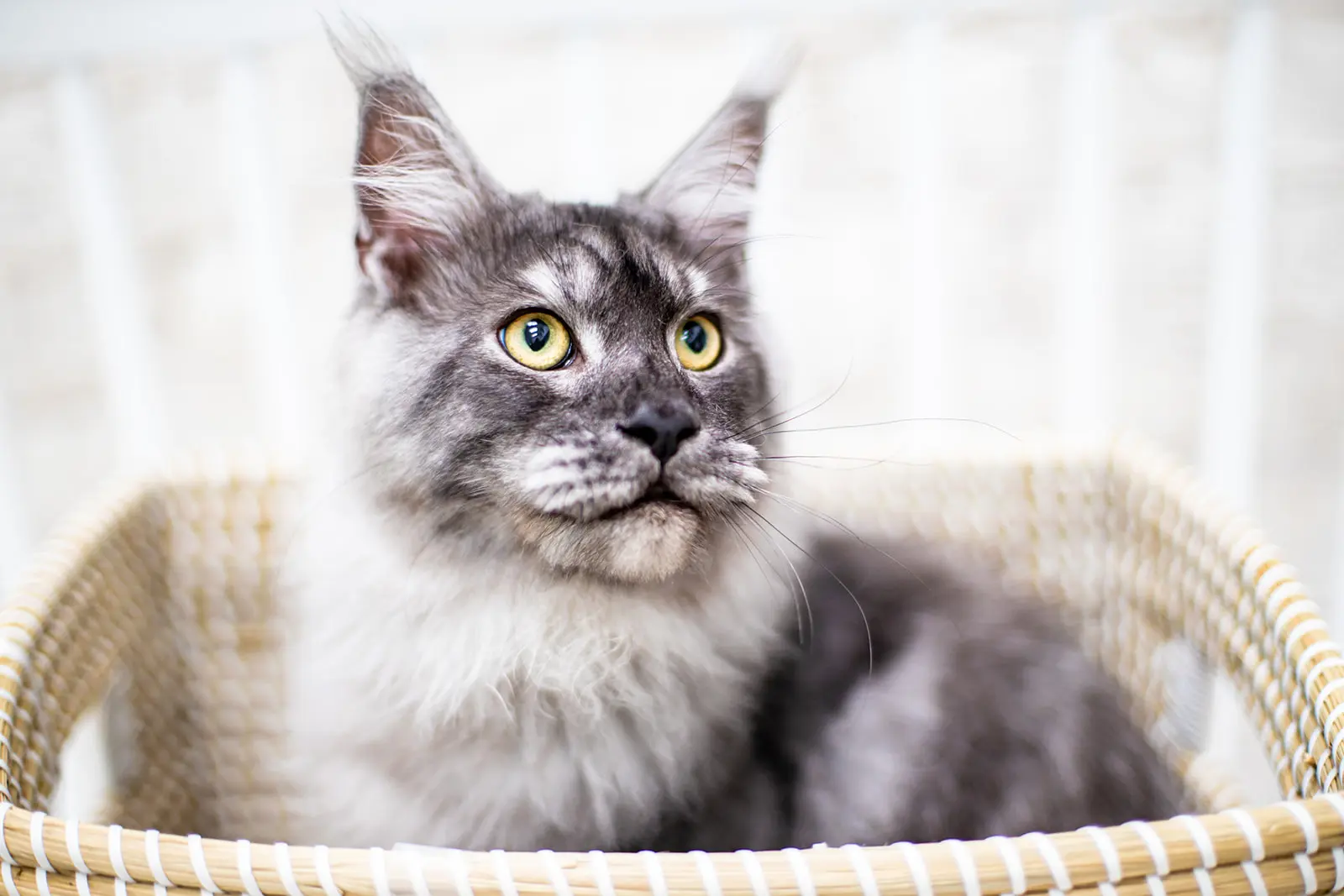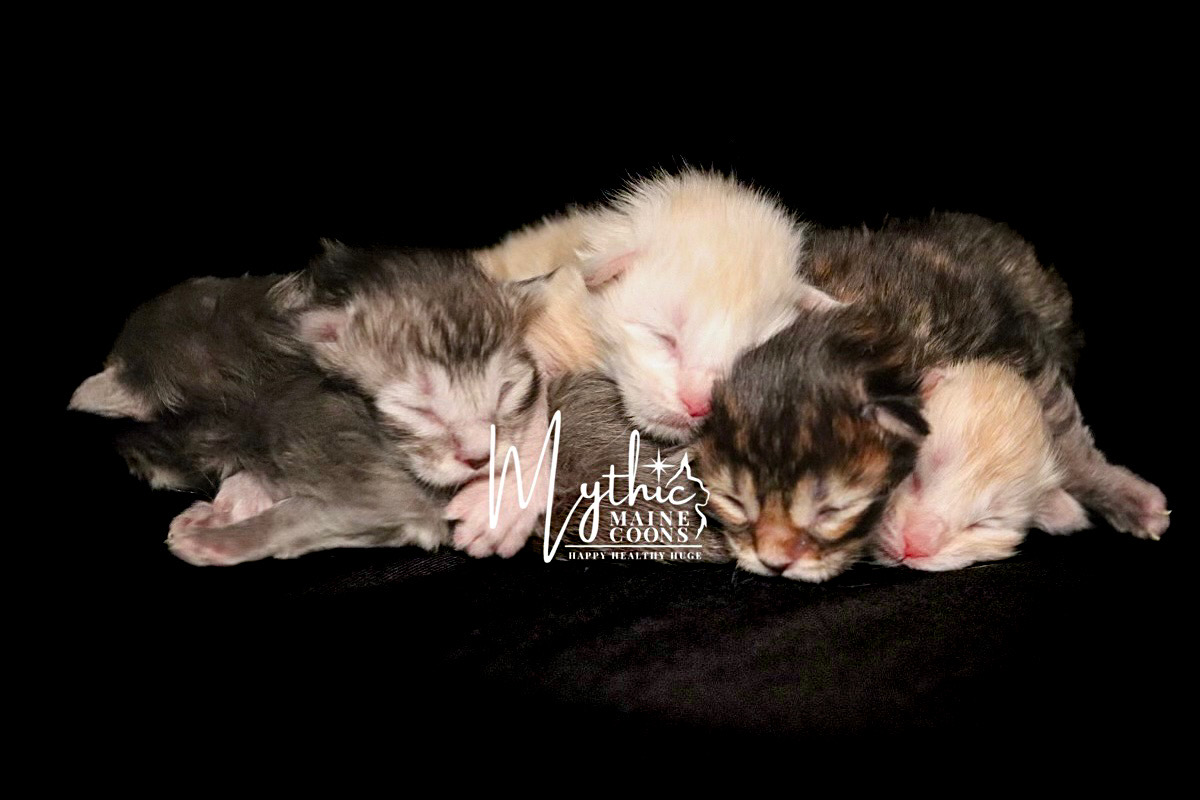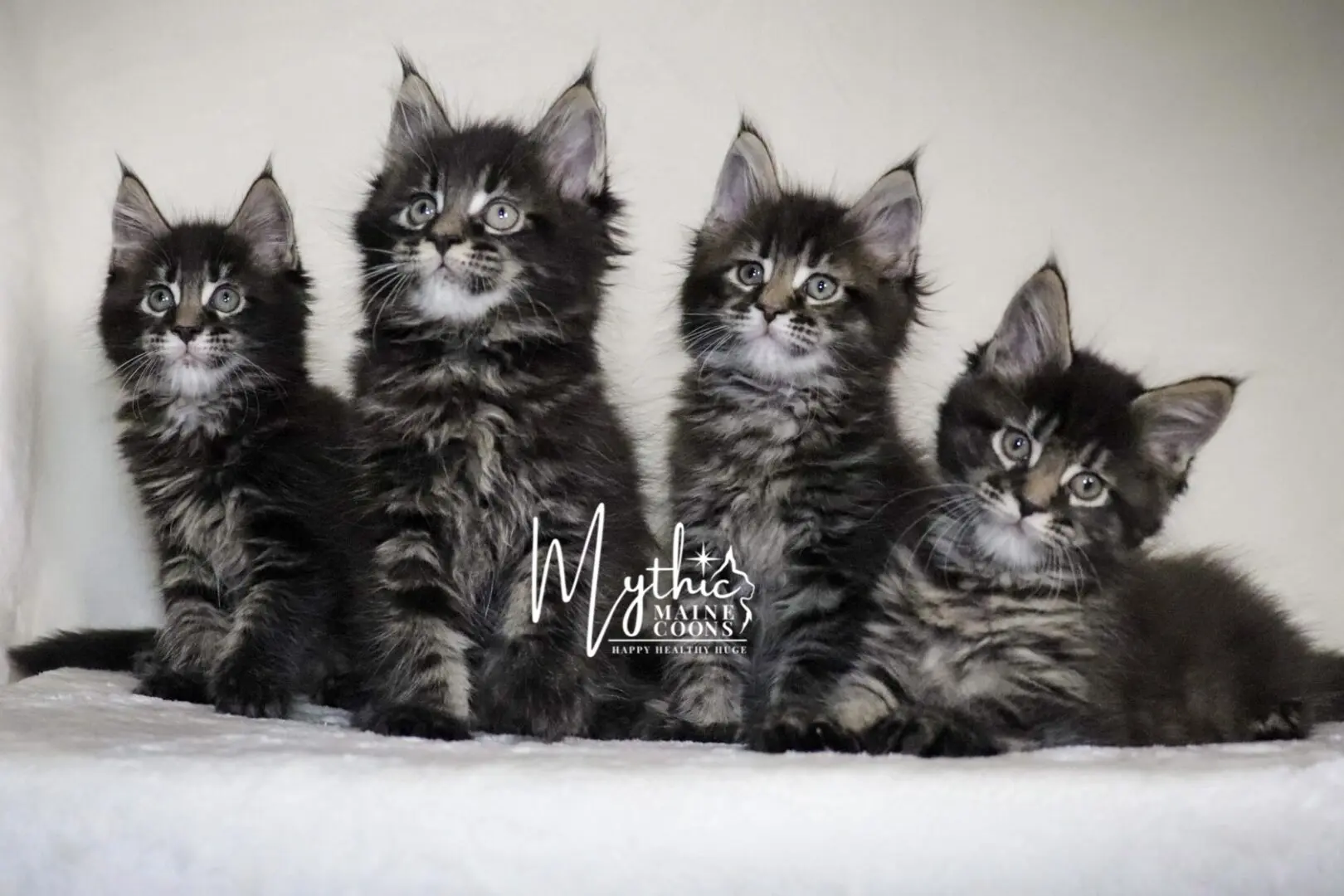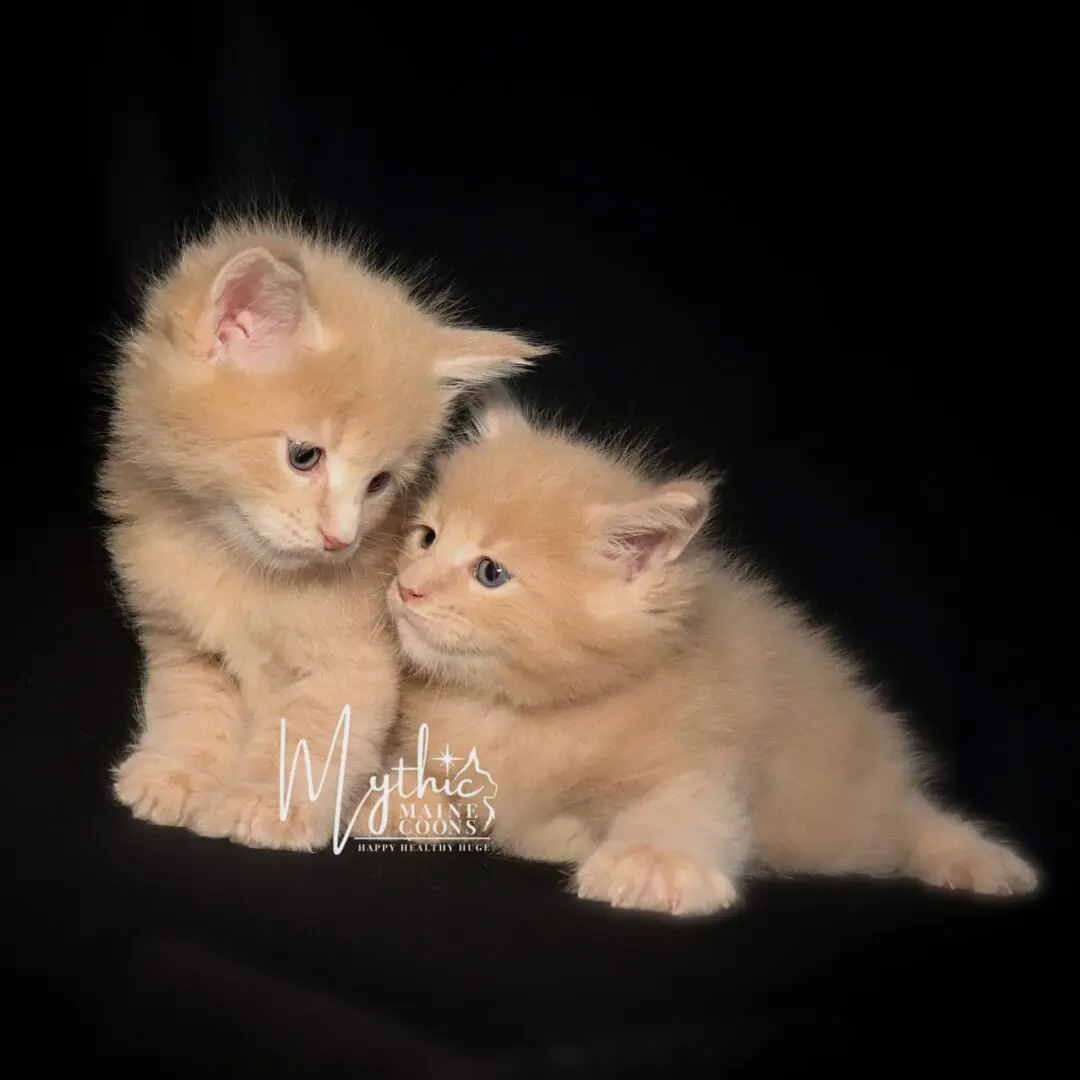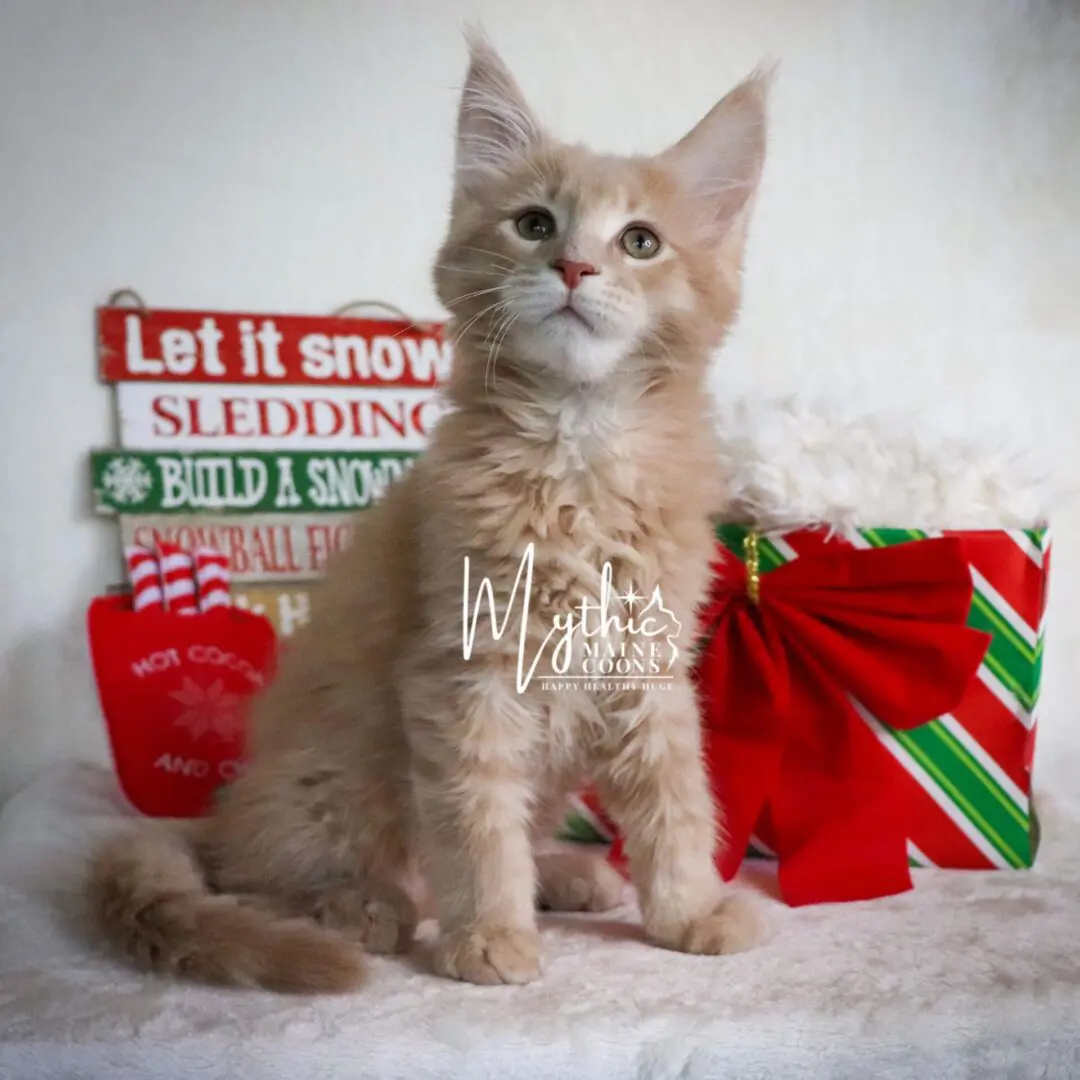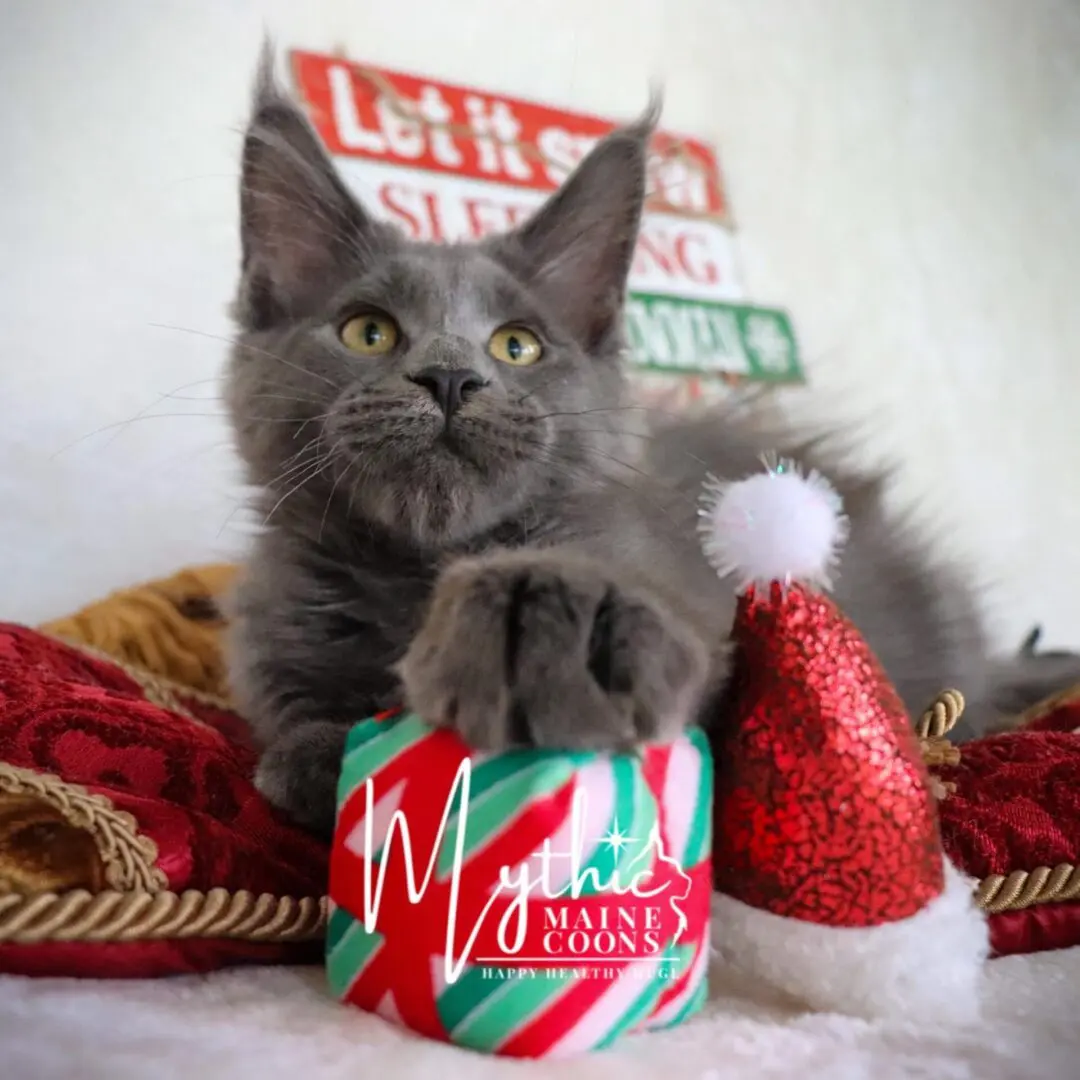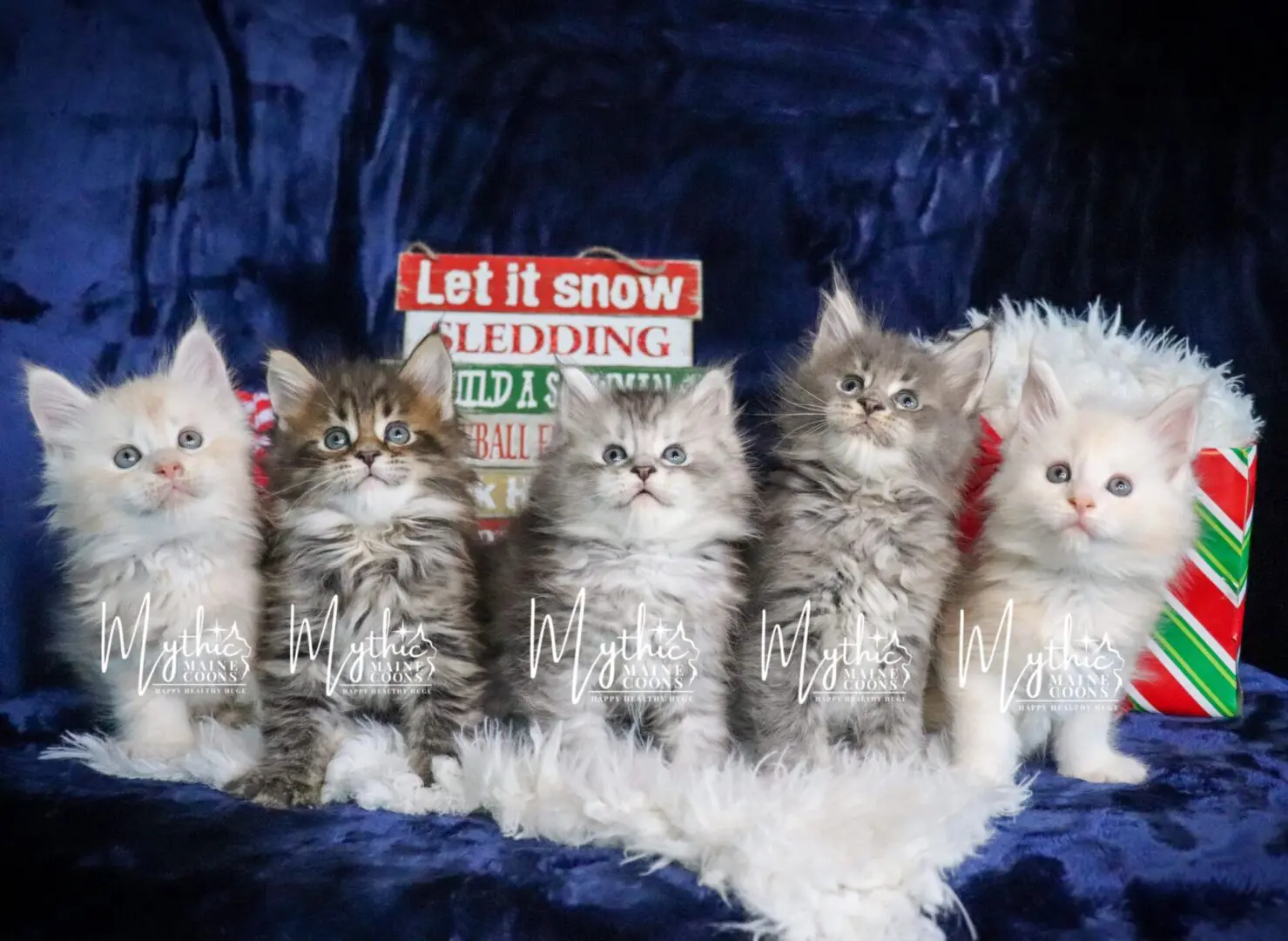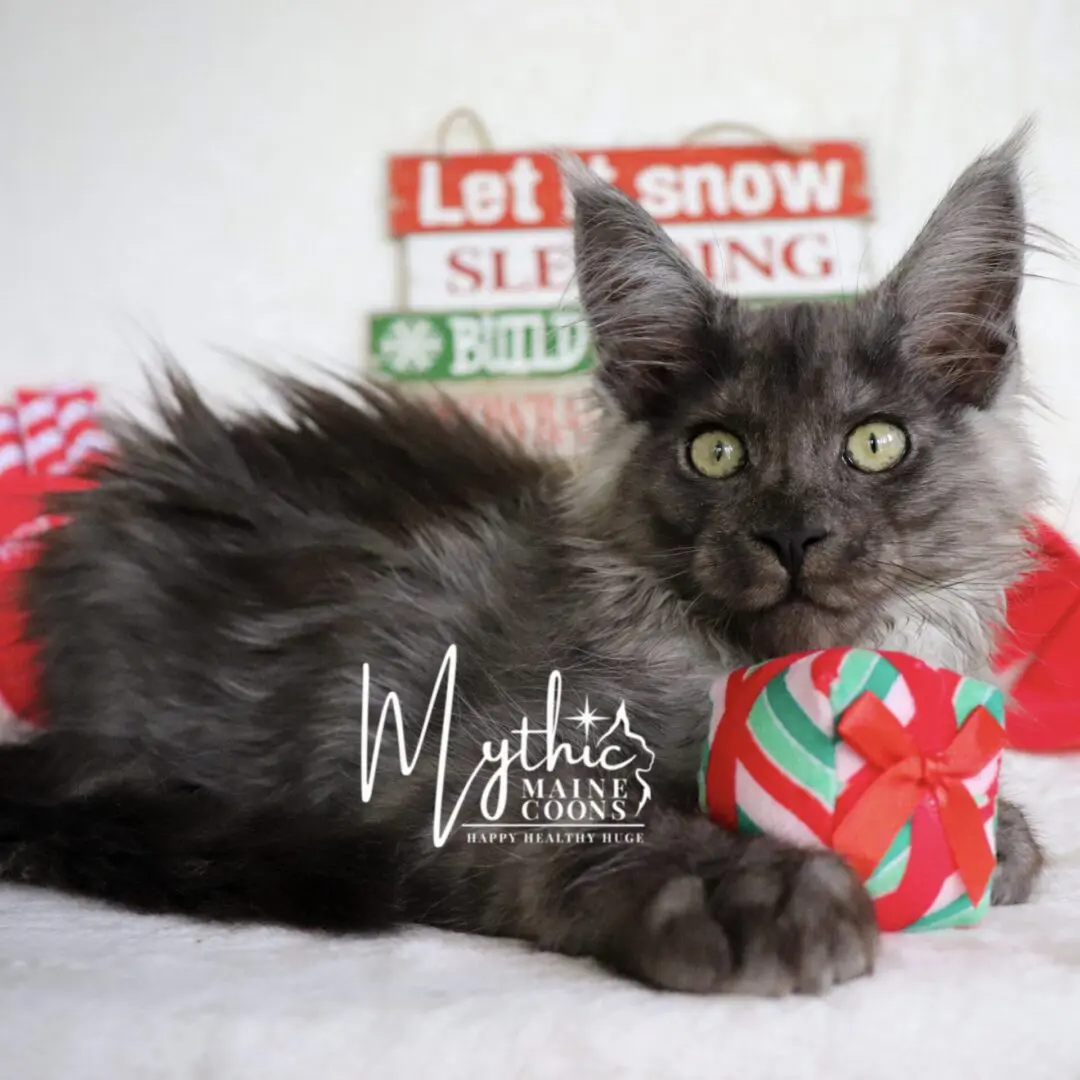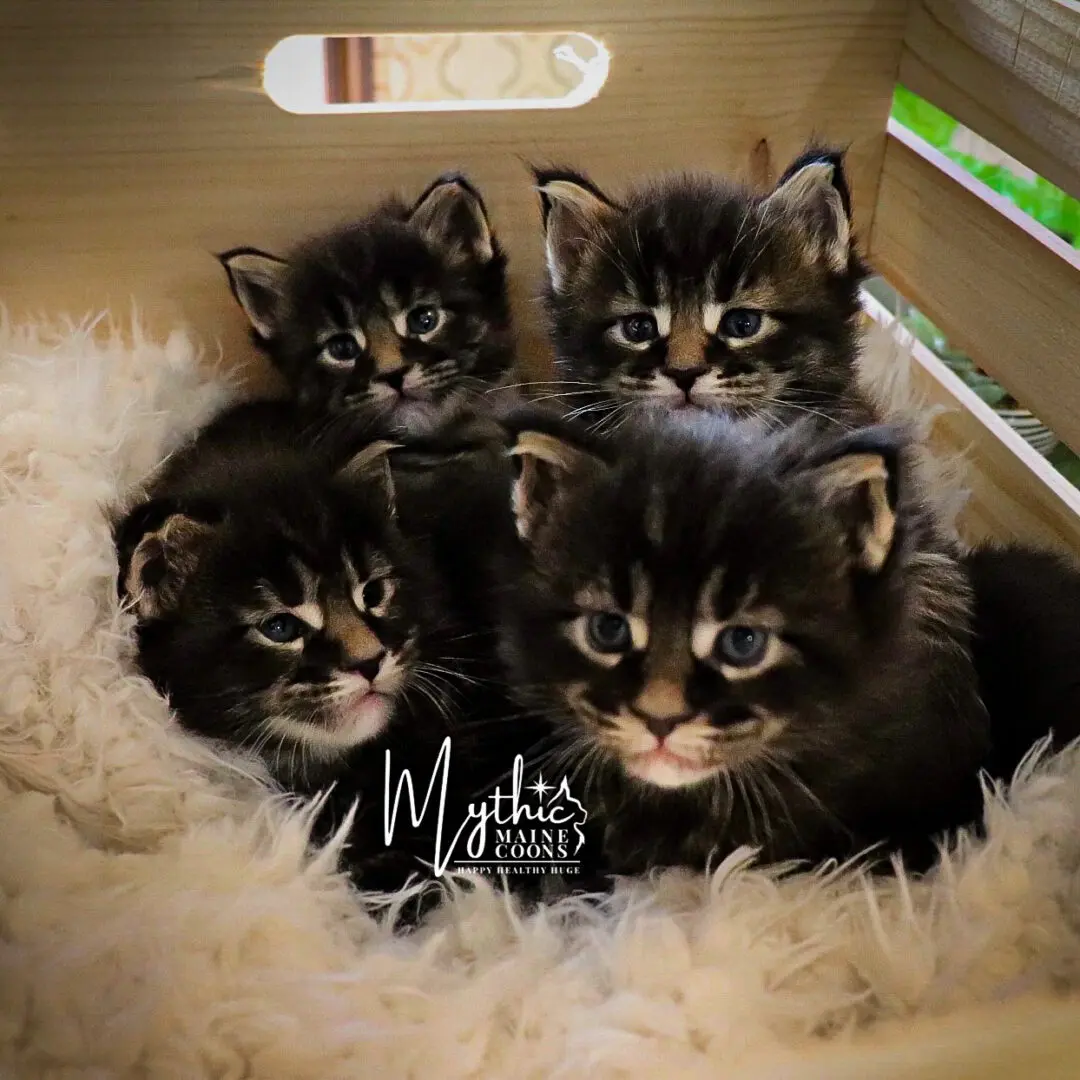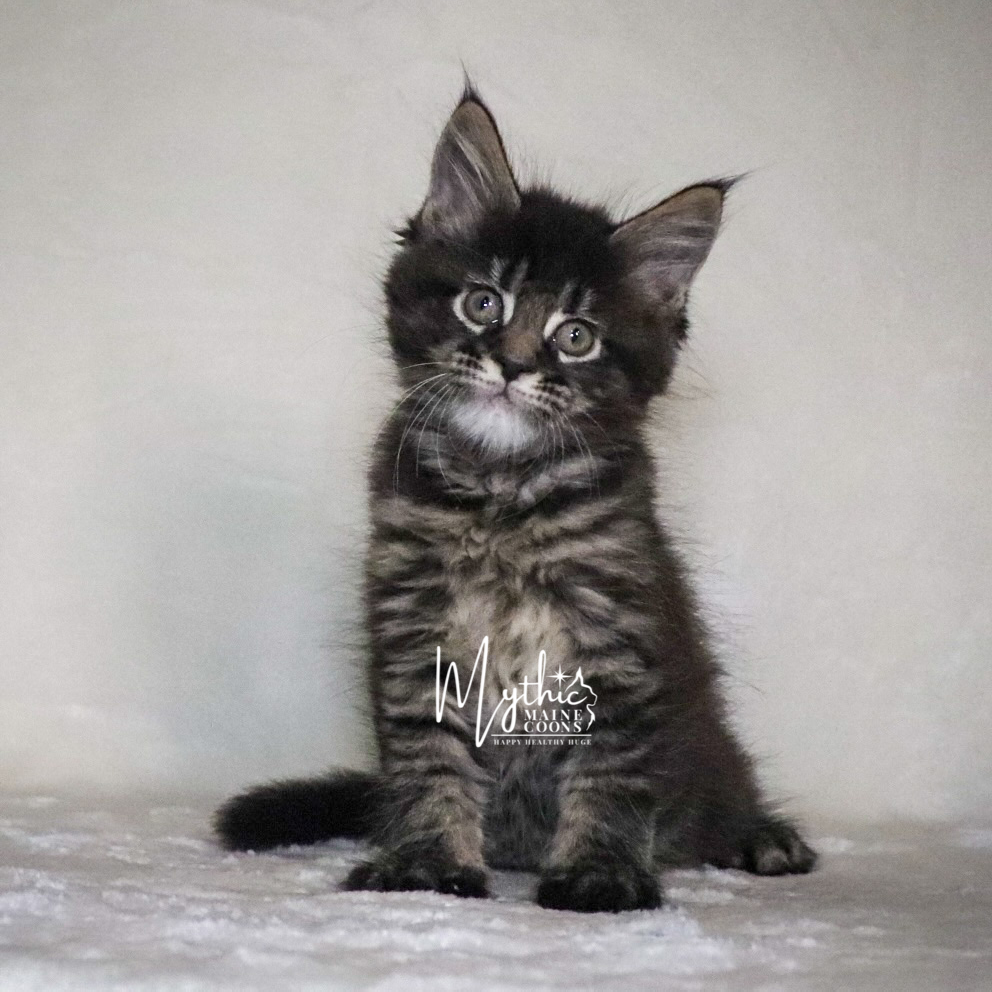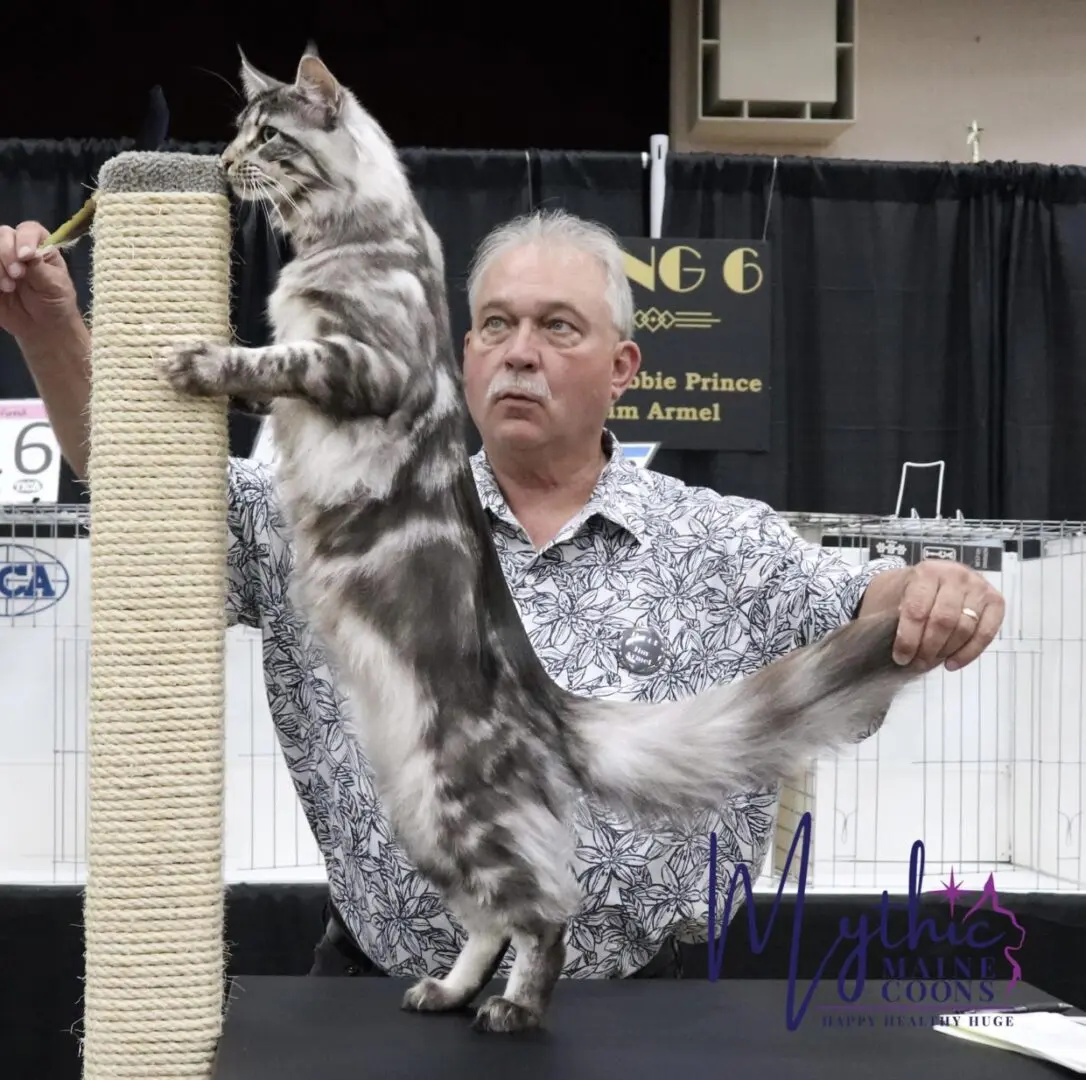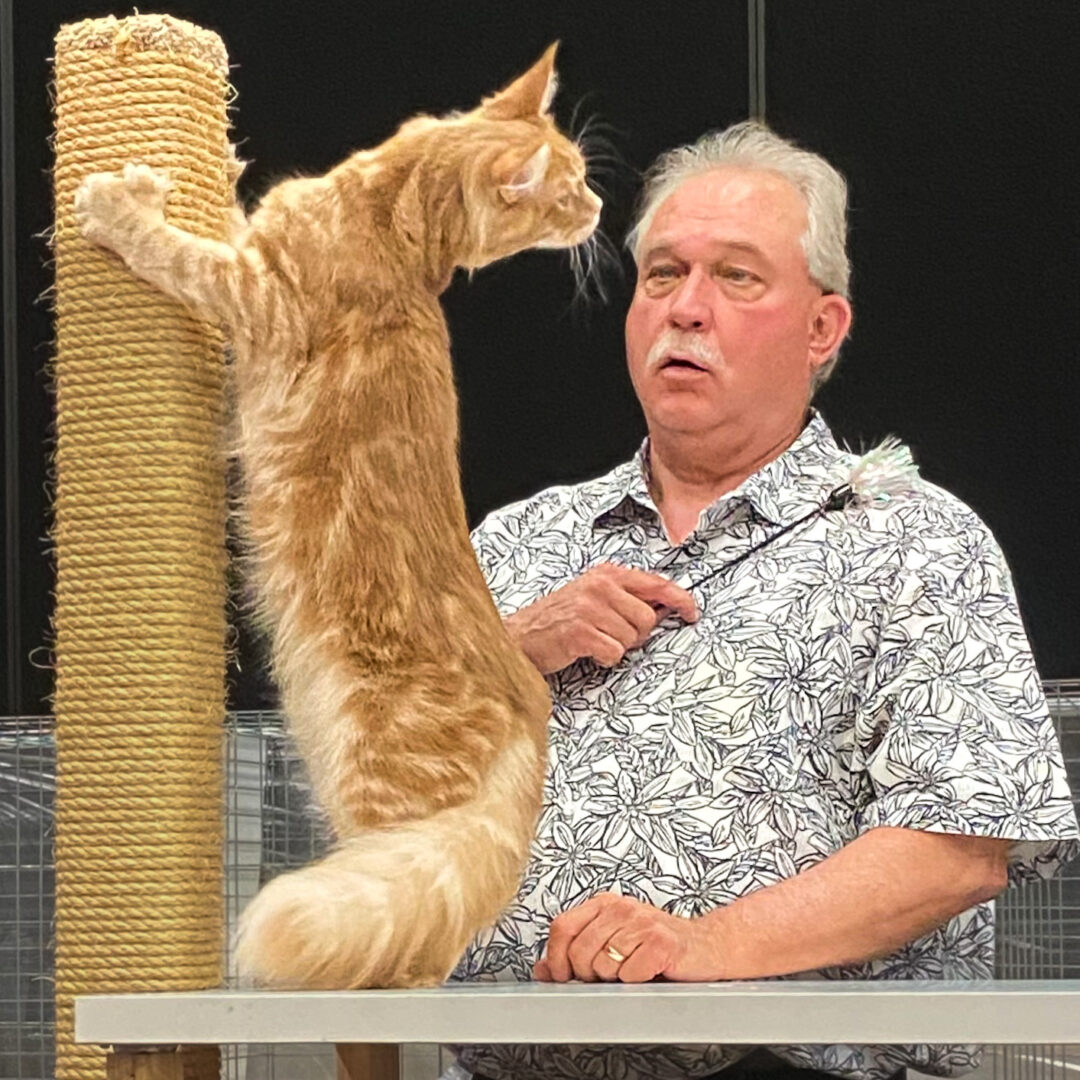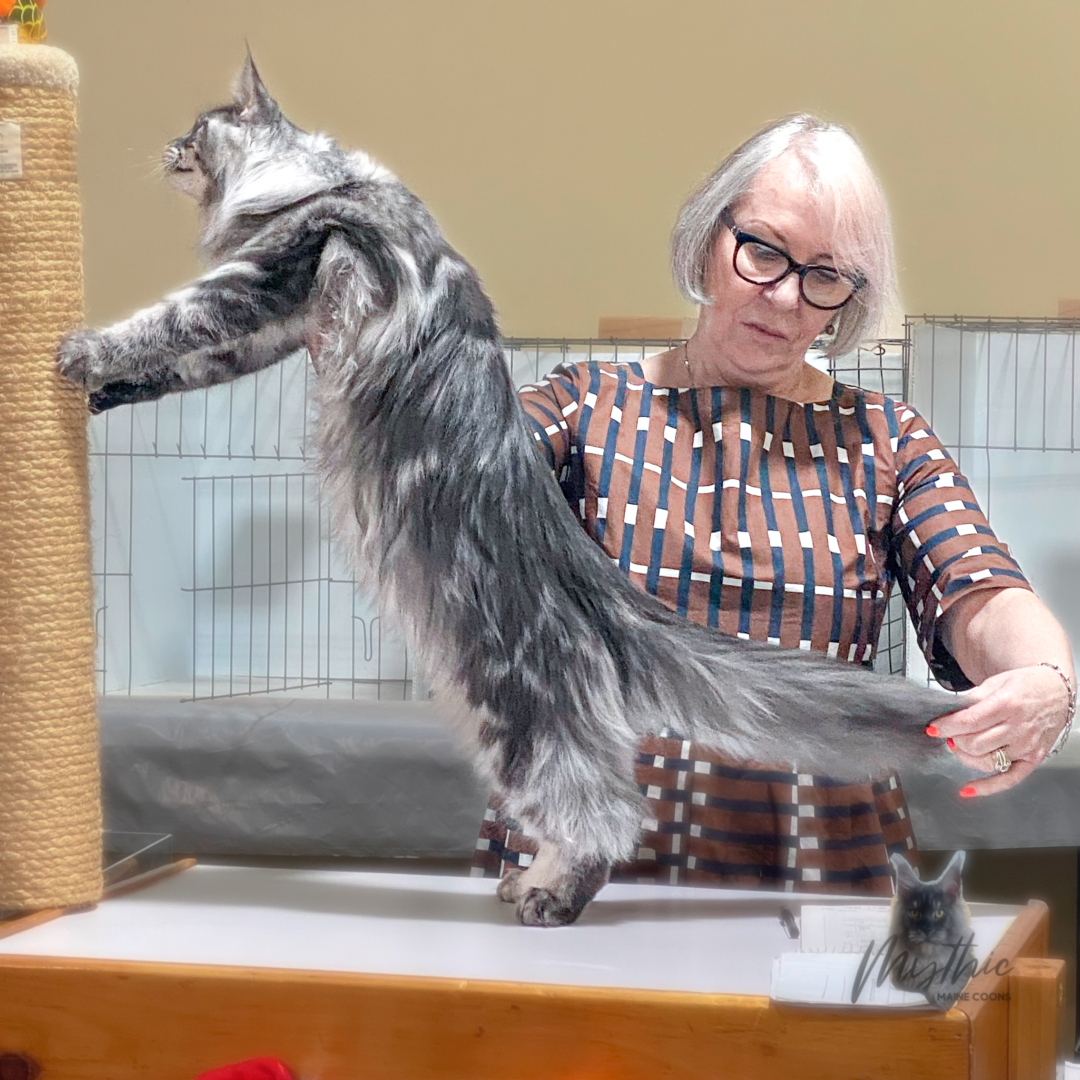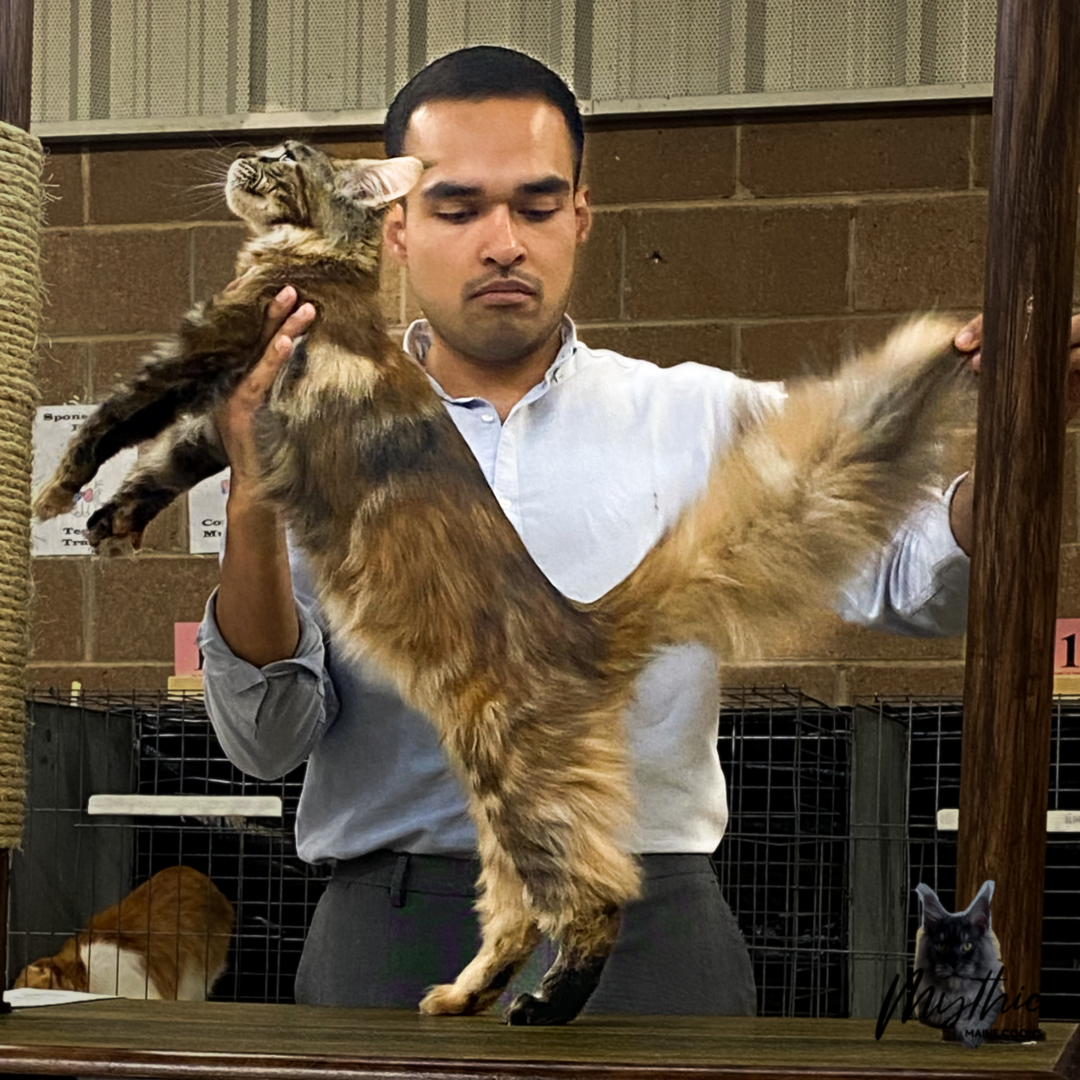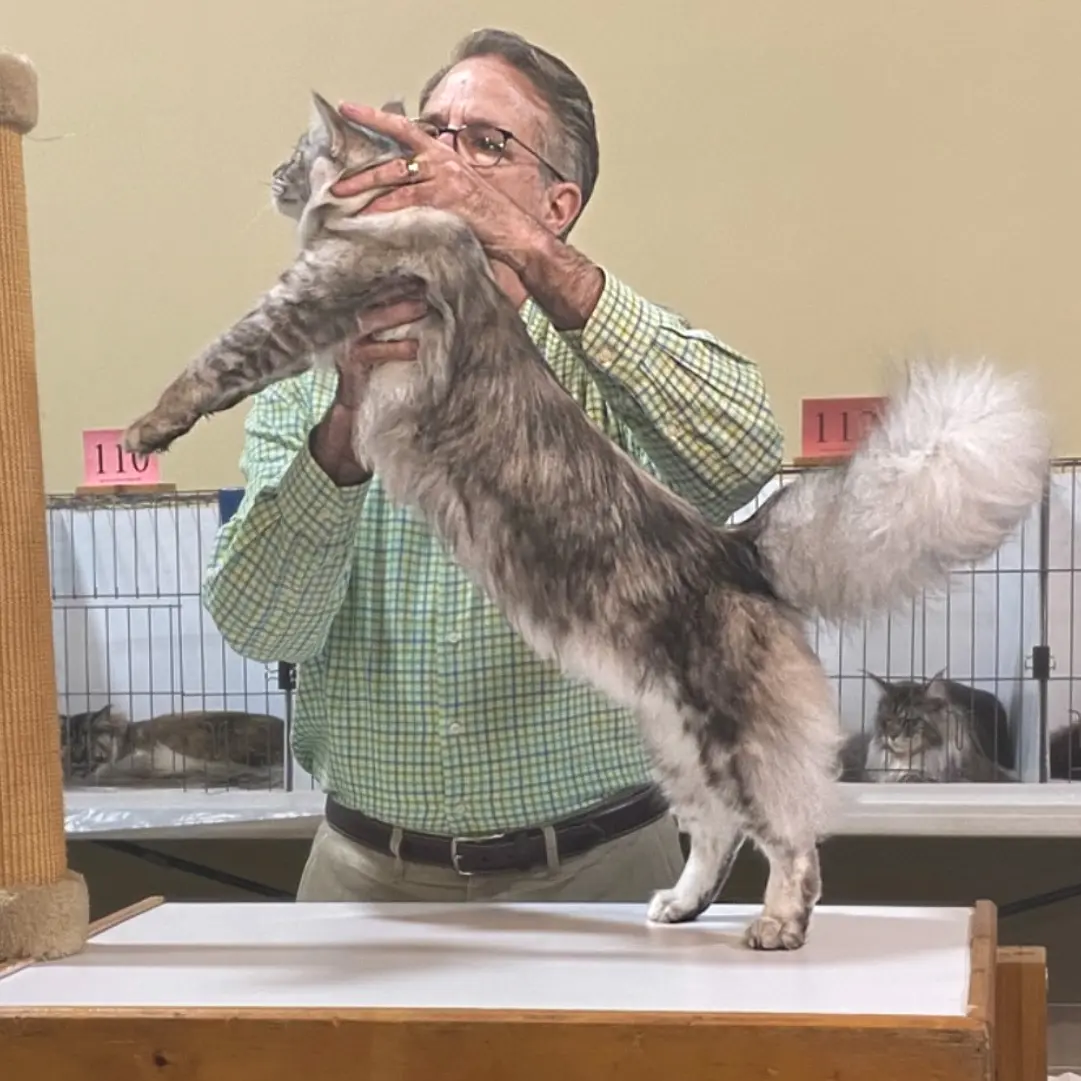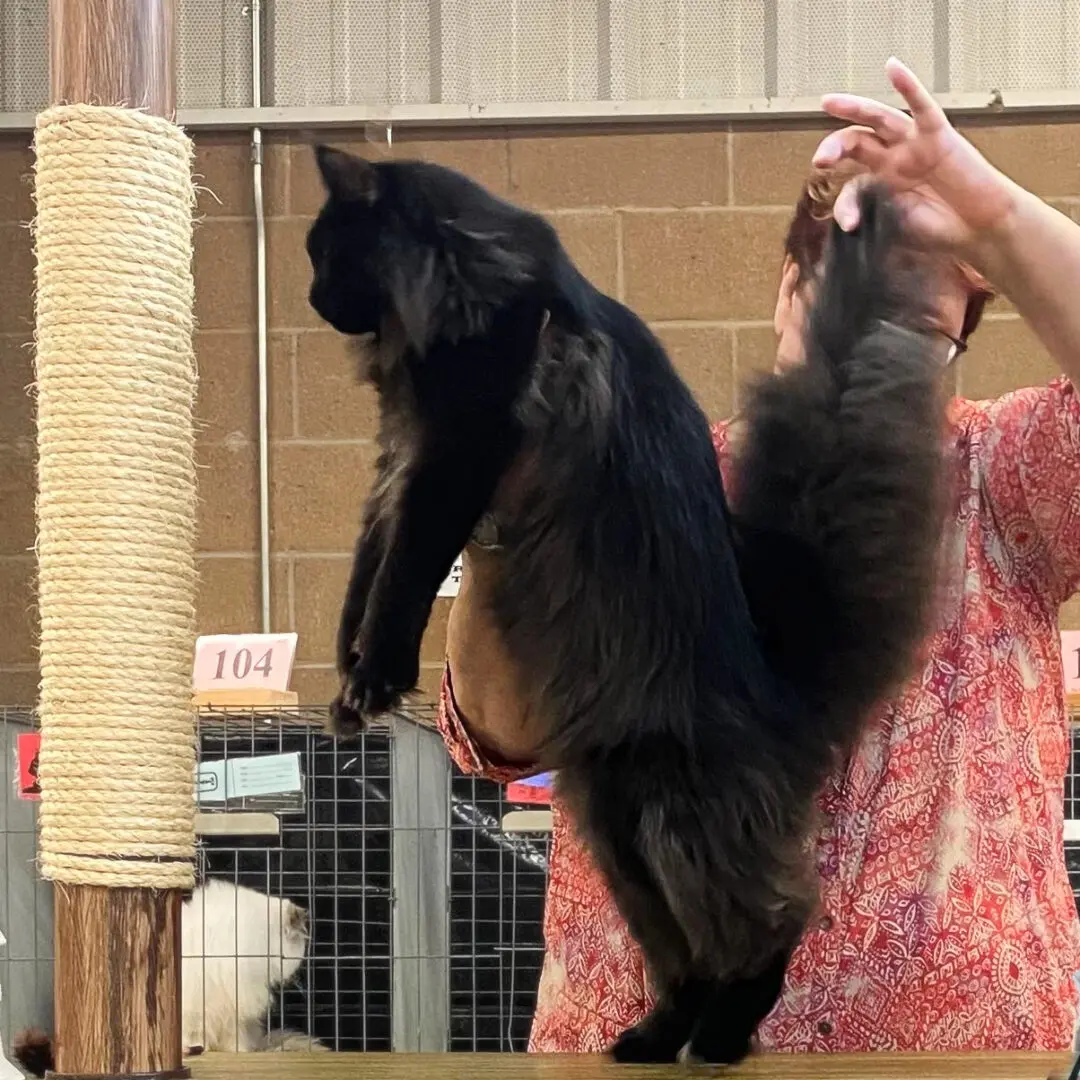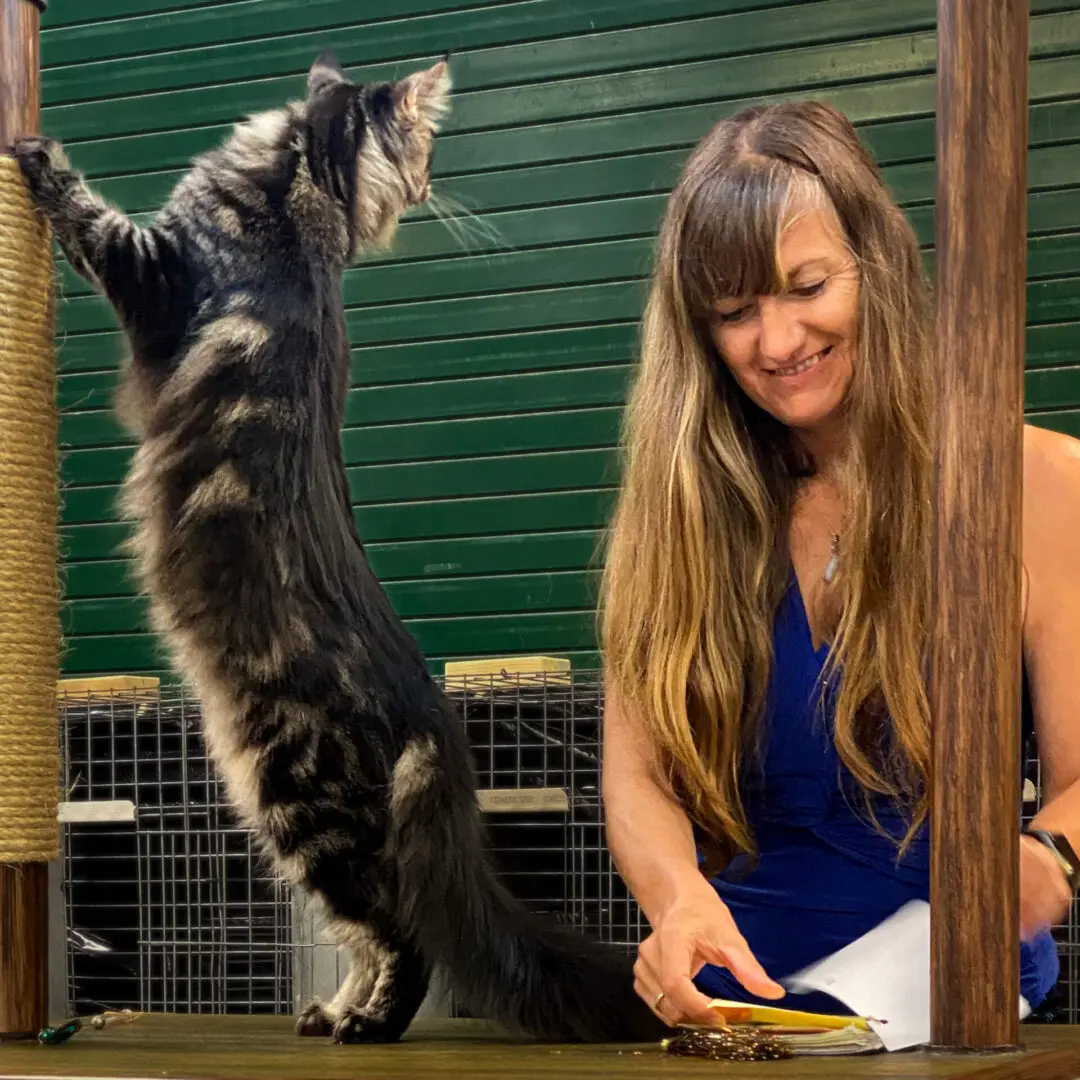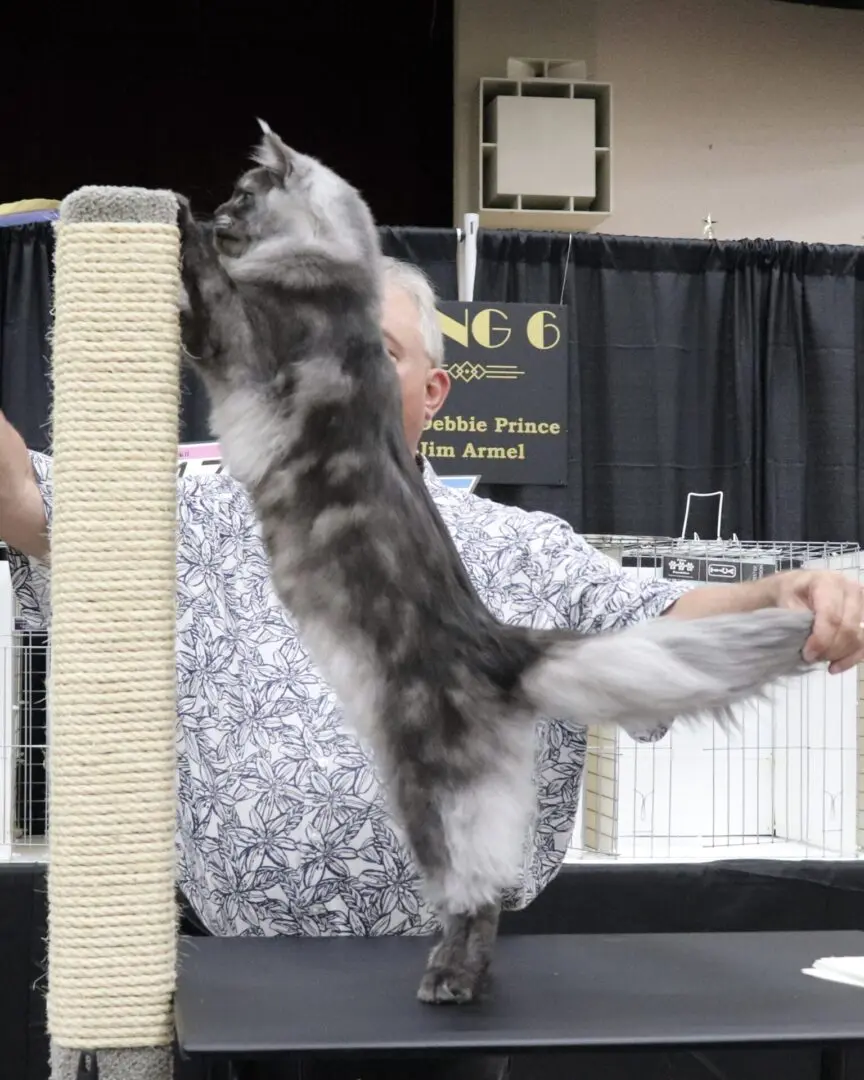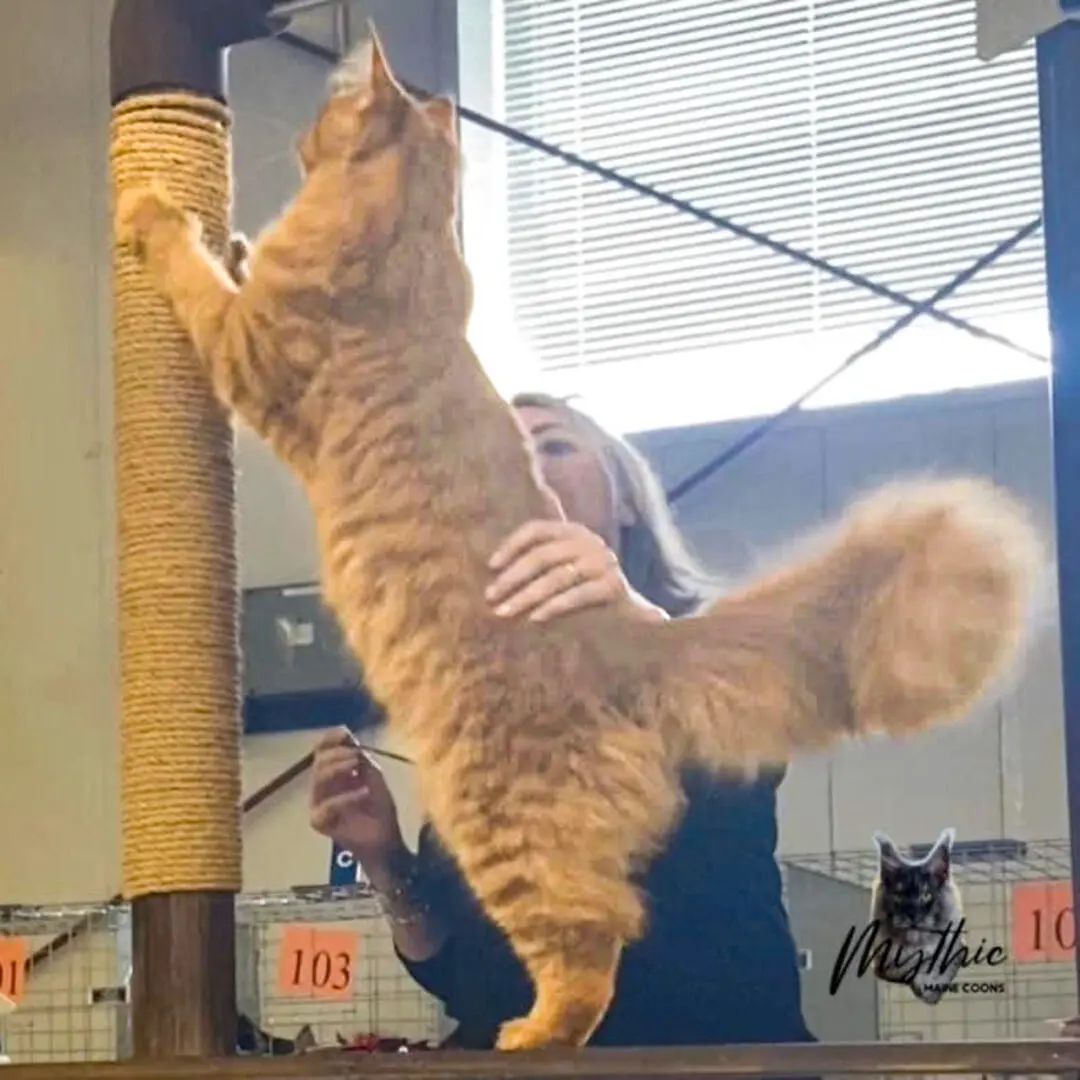 Born into superior bloodlines, our kittens are bred from Champion bloodlines and registered with The International Cat Association (TICA). Our Kings and Queens regularly compete during each TICA show season. Each of our royal cats have achieved, or are in the process of achieving Championship titles. Two of our cats have achieved the title: Best Maine Coon of their color in the world and one: Second Best Maine Coon of their color in the world.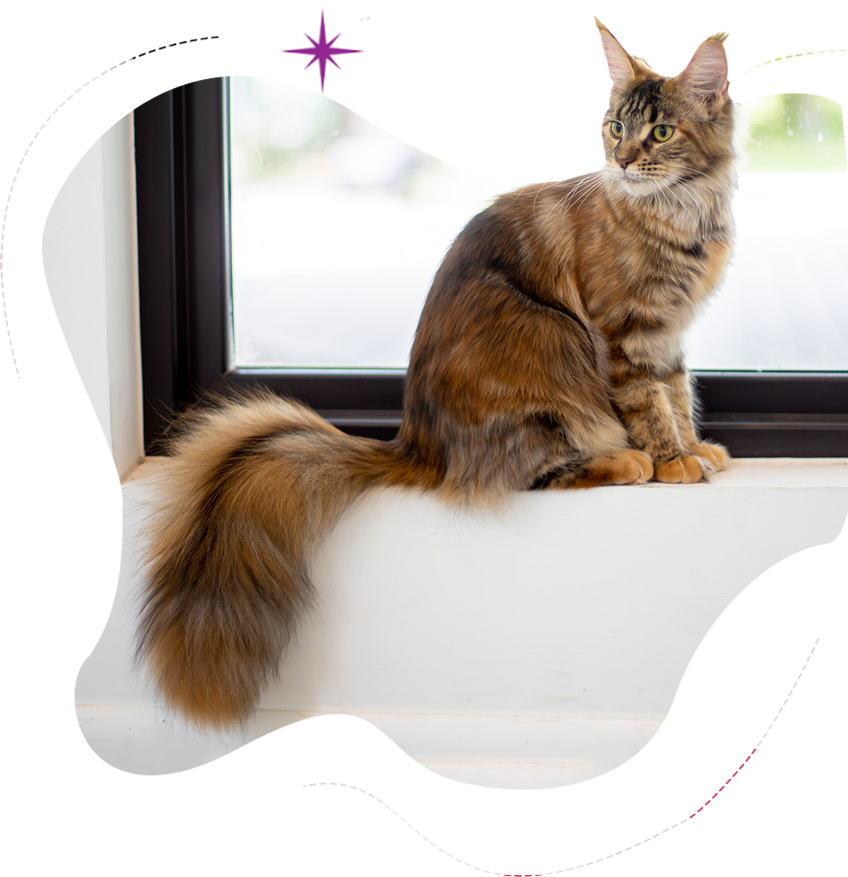 Our Cats & Kittens are part of the family
We have optimized our home to be the best environment for the early lives of our Maine Coon kittens. Each litter is first raised with its mom in the nursery. This is a separate, calm, clean, and warm area. The kittens stay there until they are 6-8 weeks old. After which, the kittens and their mom are free to roam the rest of the house.
The kittens are introduced to the children and the family golden retriever at an early age. By the time our Maine Coon kittens leave for their forever homes at 14-16 weeks old, they have been carefully socialized to grooming, bathing, the vacuum, thunder, trash bag pops, loud game nights, the vet, and many more necessary experiences. This ensures that they will feel confident and secure with any situation that they may encounter in their new homes.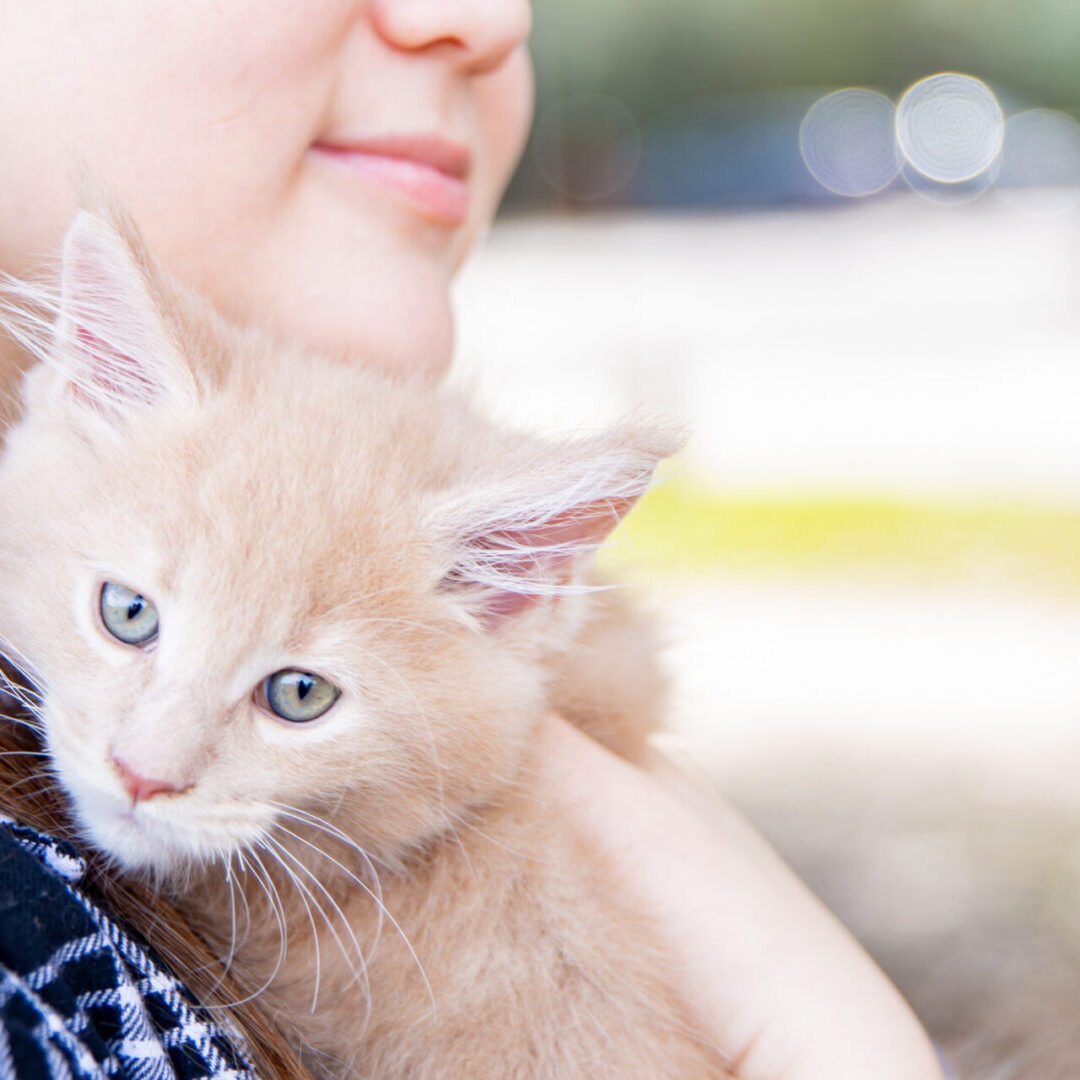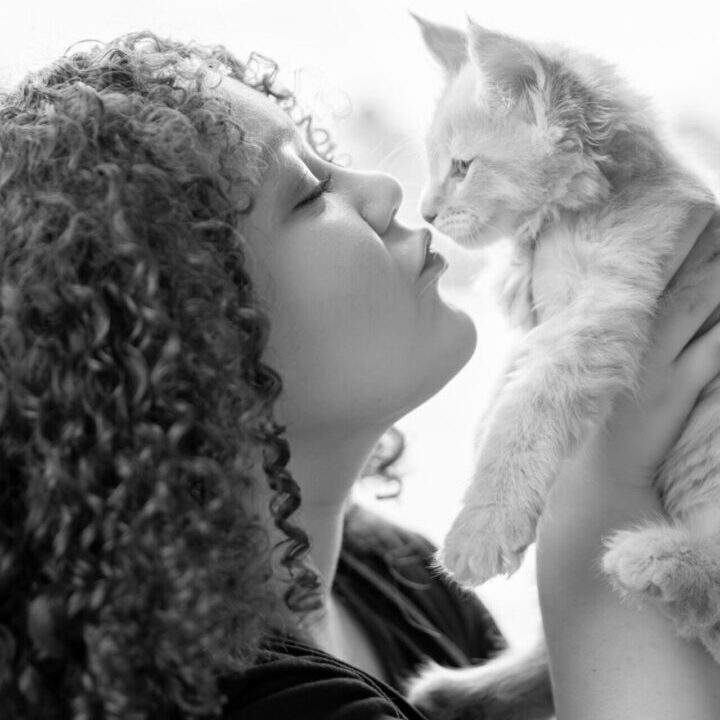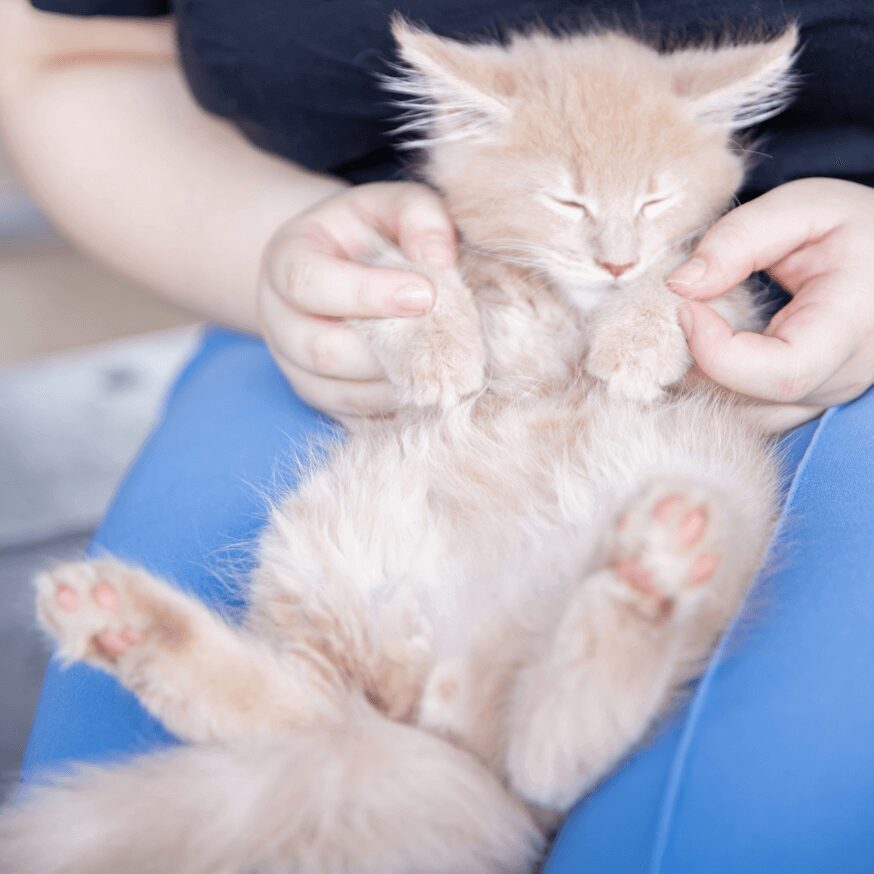 Maine Coon Characteristics
BEAUTIFUL, GENTLE, GIANTS

Maine Coons are often referred to as "gentle giants". Even though they are the largest domesticated cat breed, they are also the sweetest and most affectionate cats in the world.
Maine Coons are extremely intelligent and can be trained to do tricks and play games. Explore our FAQs to learn more about Maine Coon kittens, how to care for them, and many other useful facts. Find out if adding one of these big bundles of joy to your home is right for you.
Learn more about our adoption process to see how to adopt a Mythic Maine Coons kitten.
We believe in upholding the breed standard. Some Maine Coon breeders breed for extreme looks, such as overly large muzzles, skinny slanted eyes, and exaggerated ear tassels. They are not focused on maintaining the original look of the Maine Coon breed.
The International Cat Association standard for Maine Coons states "overall balance and porportion are essential to the Maine Coon and no one feature should dominate the eye's attention over any other."
Our goal when breeding Maine Coons is always to produce Champion, show quality cats that uphold the breed standard. For this reason we take our cats and kittens to the show ring often.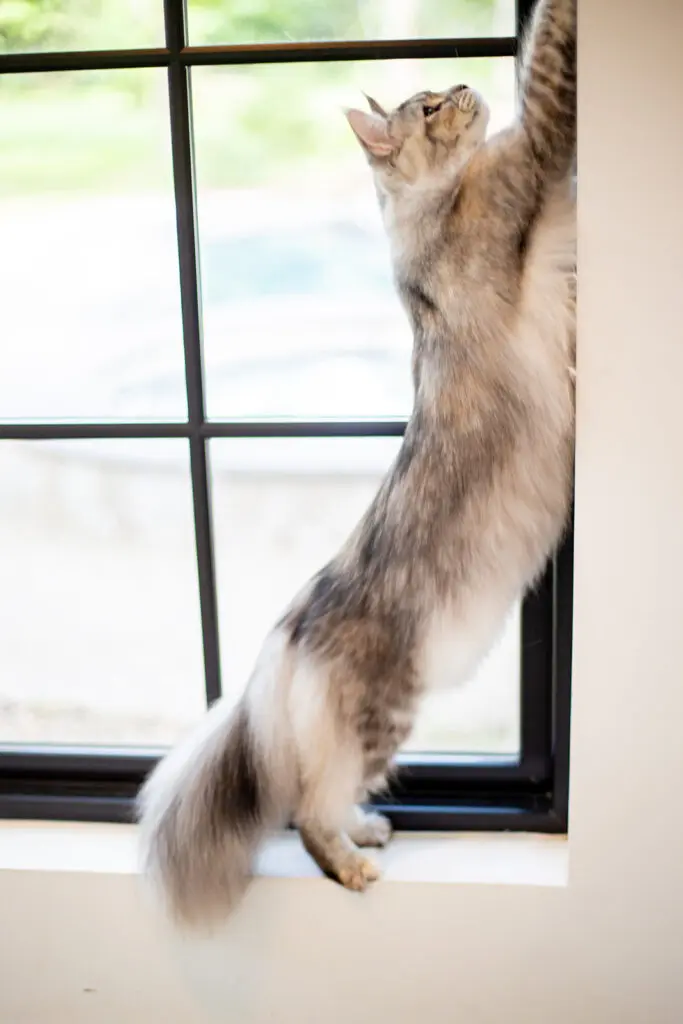 Tyler Robinson
(Owner of Bowser)
[Austin, Texas]
"If you want an authentic purebred and pedigreed Maine Coon - they are the real deal. I've not seen any other Maine Coon breeders in the South Regions - possibly the entire U.S. - come close to the caliber of Mythic Maine Coons! Friendly, Passionate, and Professional from the very beginning, during the waiting period, and after the go-home date! They truly care about the health and quality of life of the Kings, Queens and Kittens from the time they're born and even after they have left their breeder home to their forever homes. Fast and thorough communication, beautiful pictures of the kittens every step of the way, Go-Home packages, the cats even get a "show-style groom and prep" before you pickup your new kitten - and their brand has a very pleasant and professional online presence. I've wanted a Maine Coon for nearly 15 years and finally got my 1st one - I could not have had a better experience than the one I've had with Mythic Maine Coons. 10 out 10 , 5 Stars, A+ ...when I'm ready for my second Maine Coon, it's a no-brainer that I'll be reaching out to them again!"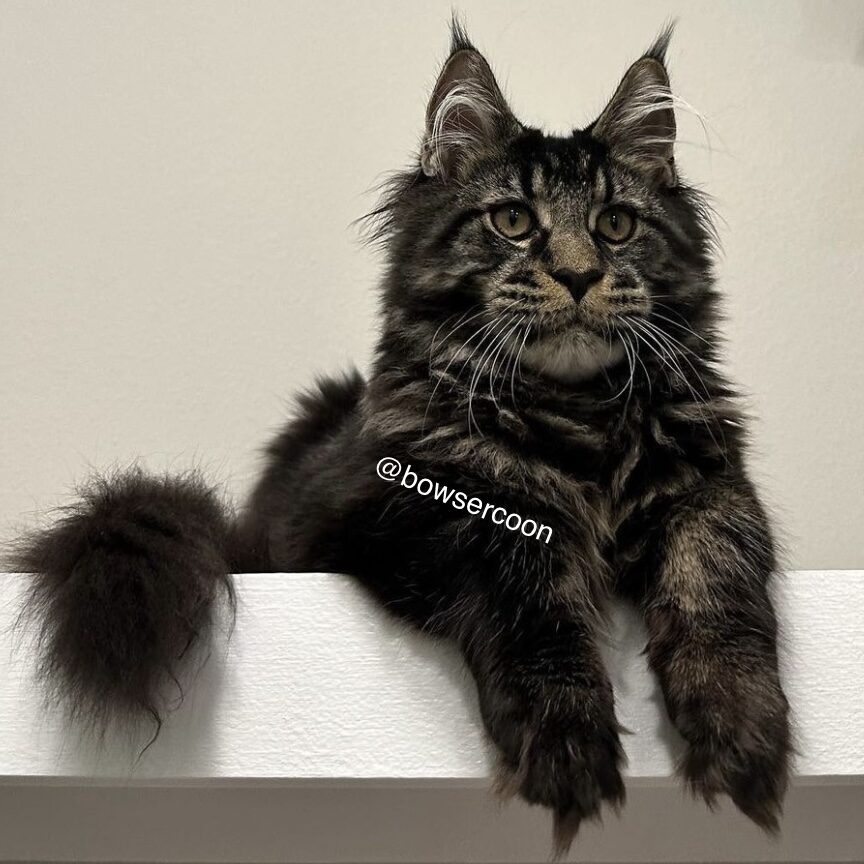 Proper Steps For Breeding
When the time comes to choose breeding pairs, we take great care to choose the best King and Queen combinations. We consider each of the parents features and genetic makeup in our breeding choices in order to produce the best kittens possible. We study each of our breeding cats' pedigrees, always avoiding any inbreeding in our Maine Coon lines. Our goal is to create the best Championship-worthy Maine Coon kittens possible.
In our Maine Coon breeding program, we use only Maine Coon Queens with impeccable personalities that are well suited to raising and socializing perfect Maine Coon kittens.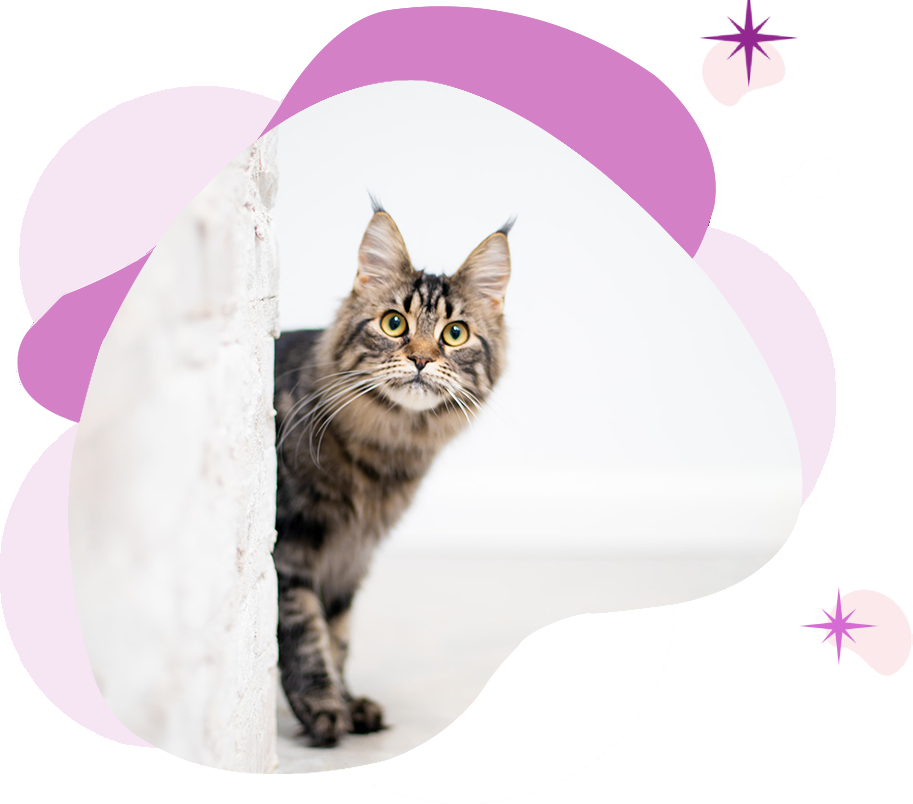 Carefully Raised and Socialized Kittens
One of the most important aspects of breeding and raising Maine Coon kittens is temperament. It is extremely important to us that you take home a healthy, well-socialized, happy, confident Maine Coon kitten.
The proper socialization and behavioral development of our kittens is of the utmost importance. A kitten's mother is one of the greatest influences for its socialization. She teaches them to use the litter box, have proper manners, appropriate play behavior, and much more. For this reason, our Maine Coon kittens stay with their mothers until they are 14-16 weeks old. Every day, we work through a routine with our kittens to prepare them for family life. We practice handling, baths, grooming, nail clipping, teeth brushing, ear cleaning, and more. This allows them to leave us completely confident in the hands of humans.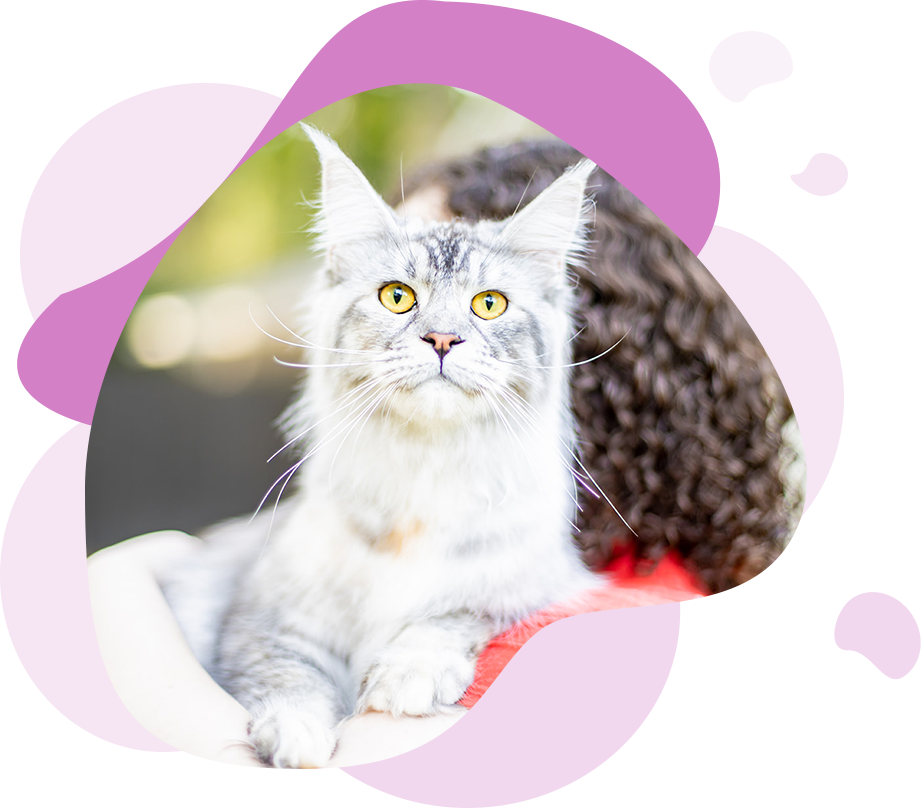 All Mythic Maine Coons Kings, Queens, and Kittens receive a daily serving of the high quality NuVet Plus® Feline Powder supplement.
This is a nutrient-rich formula that surpasses mere vitamin replenishment. Instead, NuVet provides full-spectrum nutritional support that focuses on boosting the immune system and overall health.
We highly recommend continuing this amazing NuVet supplement to ensure your kitten maintains a quality life full of vigor, vitality, comfort, and energy.
We have partnered with NuVet to give you the opportunity to order their supplements with our code 680685.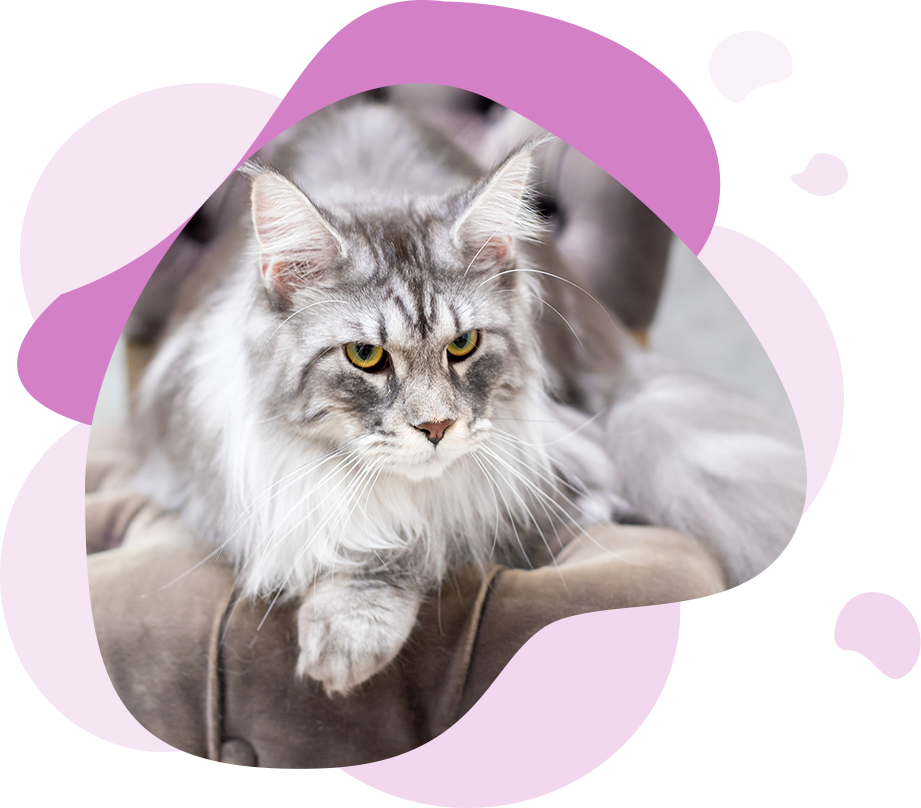 Every one of our Maine Coon cats and kittens is purebred and of the highest quality.
Our Kings, Queens, and kittens are all registered with The International Cat Association (TICA). 
Each one of our Maine Coon kittens goes home with their TICA Certificate of Registration, a laminated pedigree, and much more.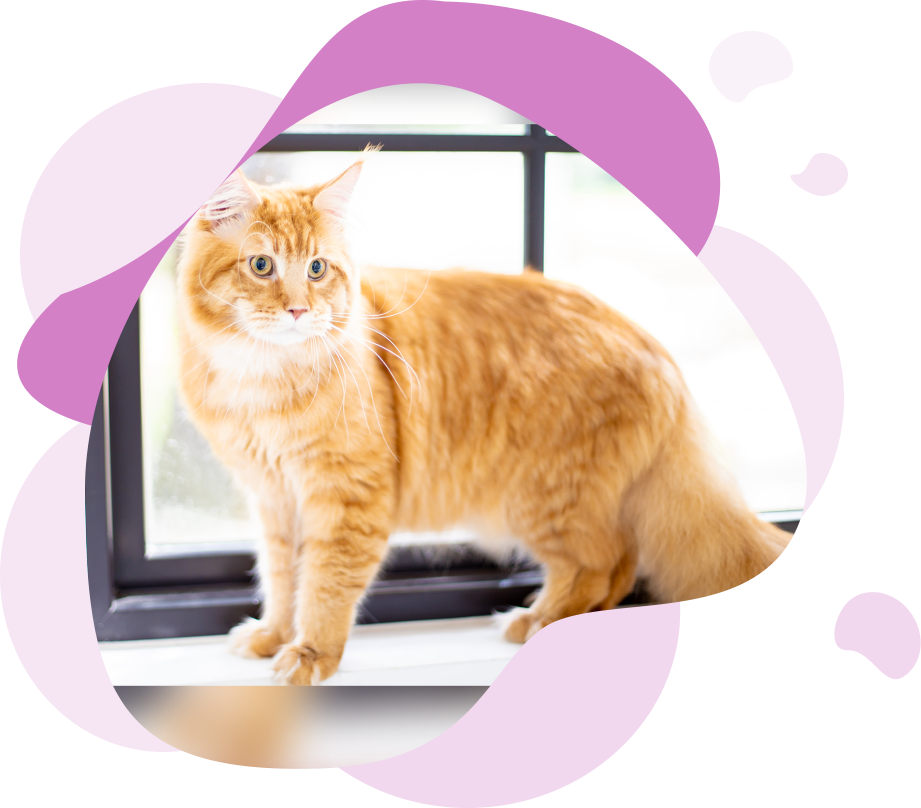 Genetic Testing & Echocardiagrams
We genetically test all of our breeding cats for 40+ feline diseases and conditions through Optimal Selection, the leading brand in genetic testing. These include HCM, SMA, PKD, PKDef, and many others. Some are specific only to other breeds and are therefore not included in our Health Guarantee. We do not breed cats that carry any potentially harmful genes including HCM. However, DNA is only able to test for one gene that causes HCM, and there have been several genes linked to causing this disease. For this reason, an Echocardiogram is performed on each of our breeding cats annually to also screen for HCM. 
An Echocardiogram is completed every year by a licensed Feline Cardiologist on our Maine Coon Kings and Maine Coon Queens. This ensures the long term health of our cats' hearts and also allows us to screen for HCM. The health of our cats and kittens is our number one priority here at the Mythic Maine Coons cattery.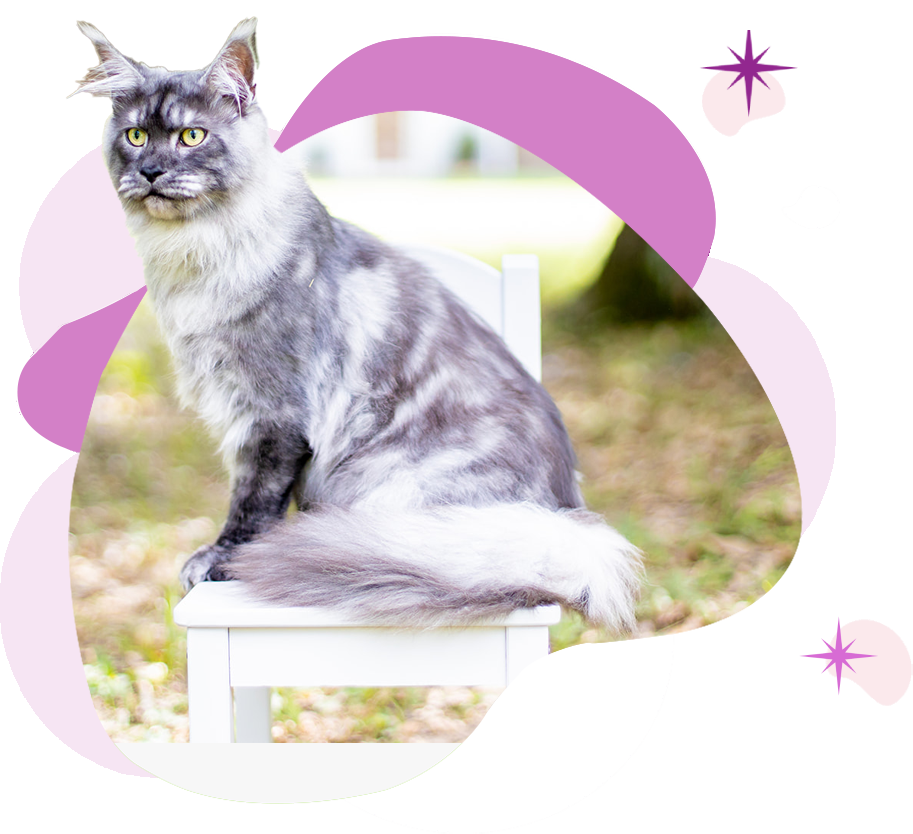 2 Year Genetic Health Replacement Guarantee
We offer a 2 Year Genetic Health Replacement Guarantee for any Mythic Maine Coons kitten that suffers a loss of life as a result of any genetic diseases or conditions we test for that pertain to Maine Coons and can result in loss of life.
Below is a full, extensive list of the diseases  and conditions covered under our 2 Year Genetic Health Replacement Guarantee:
Acute Intermittent Porphyria
Autoimmune Lymphoproliferative Syndrome
Congenital Adrenal Hyperplasia
Congenital Erythropoietic Porphyria
Cystinuria
Dihydropyrimidinase Deficiency
Factor XII Deficiency
Glycogen Storage Disease type IV
GM1 Gangliosidosis
GM2 Gangliosidosis
Hemophilia B
Hyperoxaluria type II

Hypertrophic Cardiomyopathy (HCM)

Lipoprotein Lipase Deficiency
Mucopolysaccharidosis

Polycystic Kidney Disease (PKD)

Progressive Retinal Atrophy (rdAc-PRA)

Pyruvate Kinase Deficiency (PKDef)

Spinal Muscular Atrophy (SMA)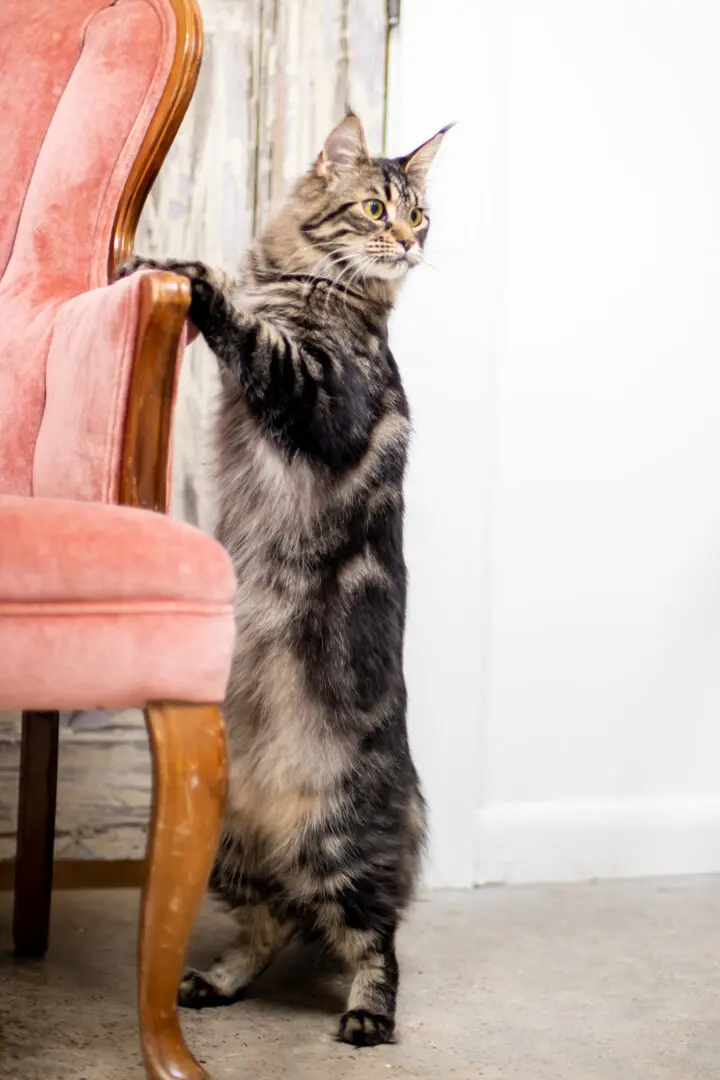 Mythic Maine Coons cattery is located in Spring, Texas. This is an optimal location as it is only 30 minutes from Houston, TX and the George Bush Intercontinental Airport (IAH). We are centrally located between Austin, TX, San Antonio, TX, and Dallas/Fort Worth, TX. These cities are about 3 hours away.