Maine Coon Kittens for Sale
We have kittens all year round! We now offer a larger window of time that our kittens can go to their new homes. Our kittens will go to their new homes spayed or neutered at 14-16 weeks old. You can choose your pick up/delivery date anytime during their "Go Home Window" as long as the kitten is fully recovered from their spay/neuter surgery. We will communicate with our kittens' future families on an individual basis to determine the best time for the kitten to leave our home and become part of yours. Feel free to check out our Nursery to see our young kittens. Join our Waitlist for priority choosing. Visit the Upcoming Litters to see our future plans.
Litter I
DOB: 4/27/23 - Go Home Window: 8/3/23 - 8/19/23
Iris
creme tabby Female [AVAILABLE]
Irene
Red Tabby Female [UNDER EVALUATION for Cattery]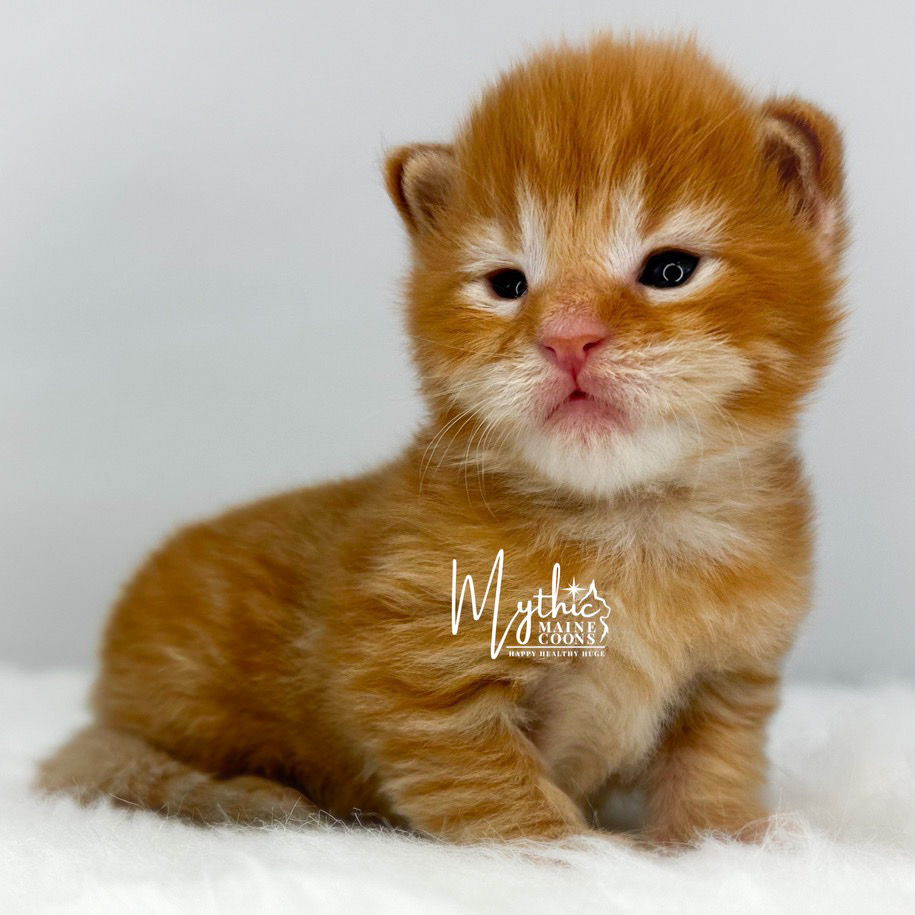 Inti
Red Tabby Male [UNDER EVALUATION for Cattery]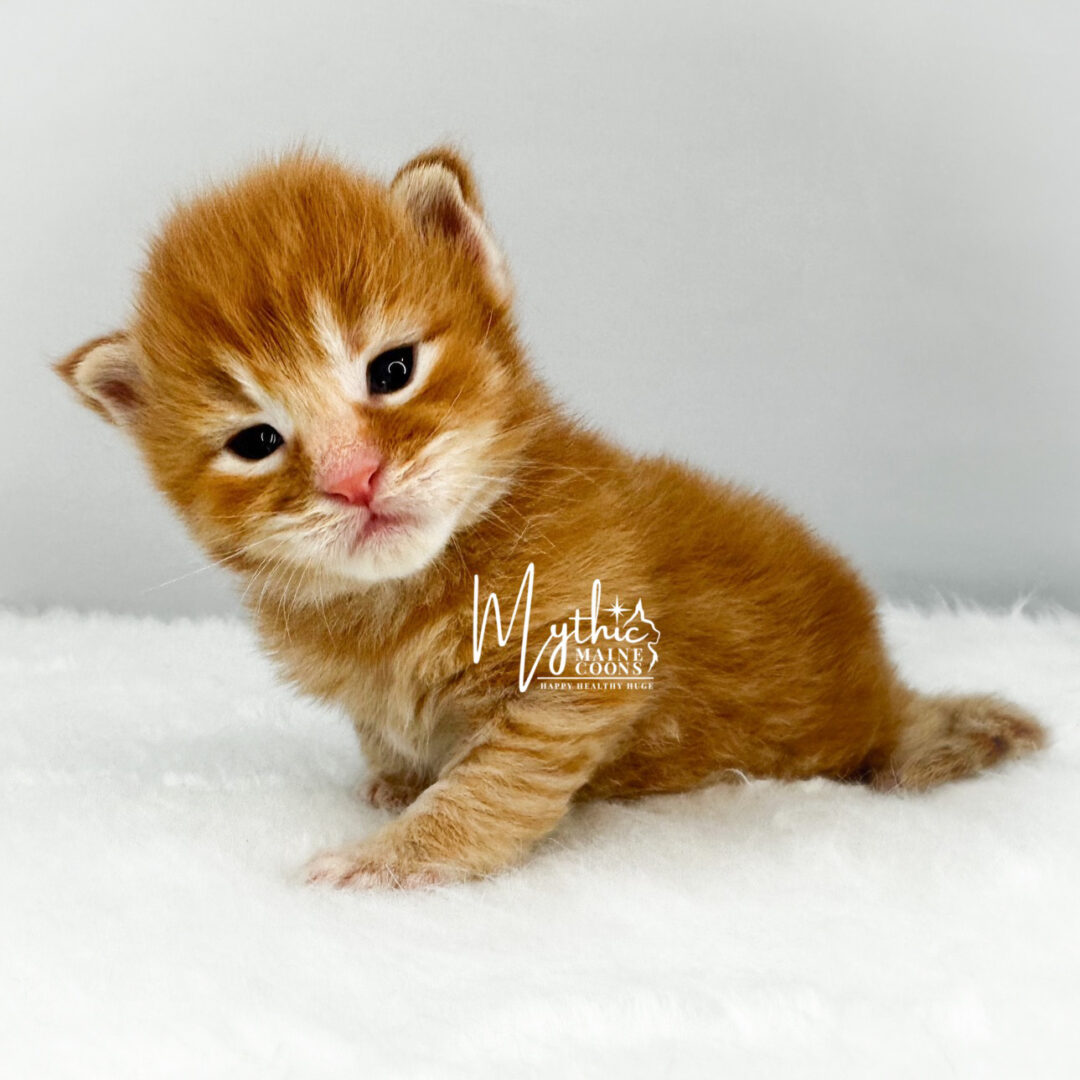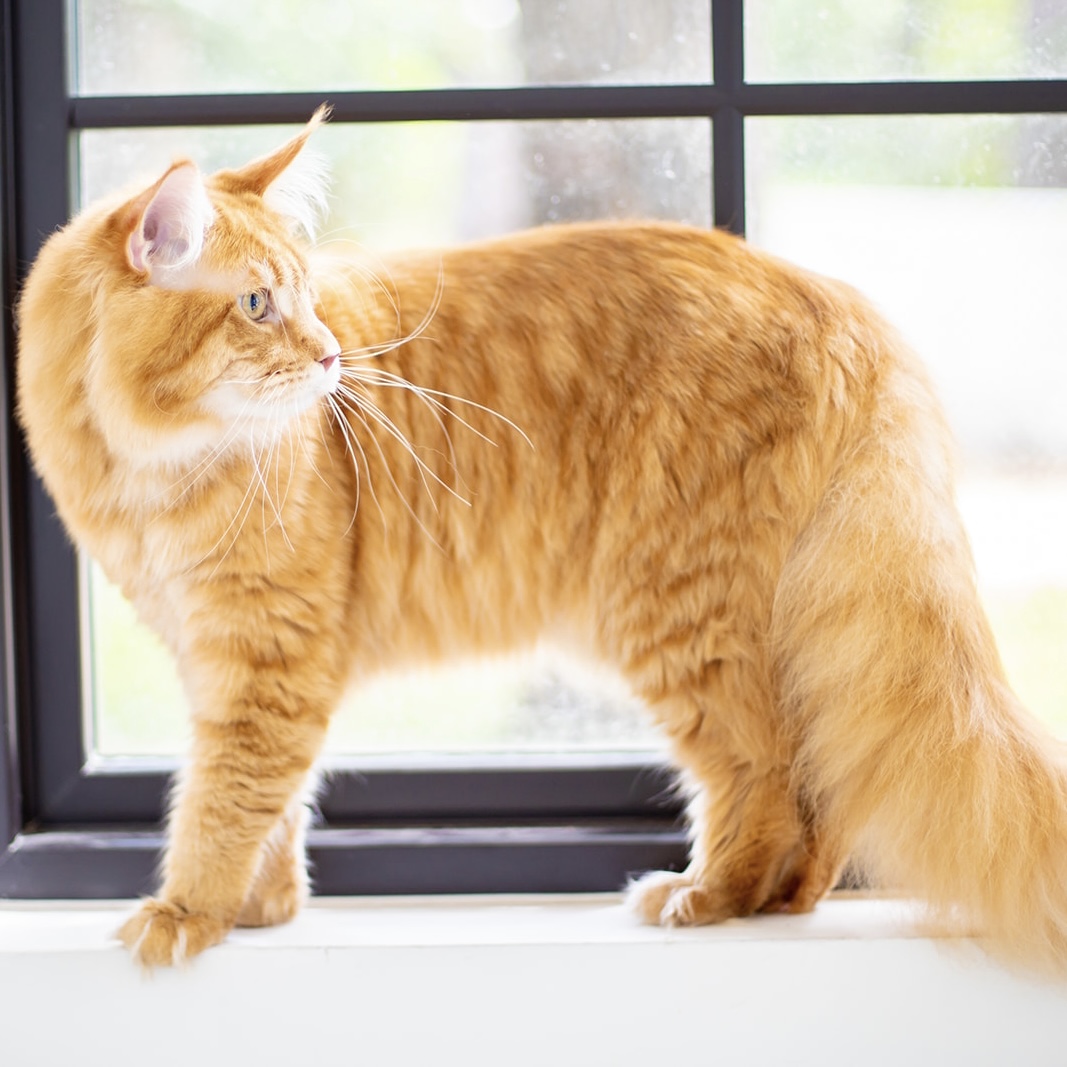 Queen Calypso
Future Champion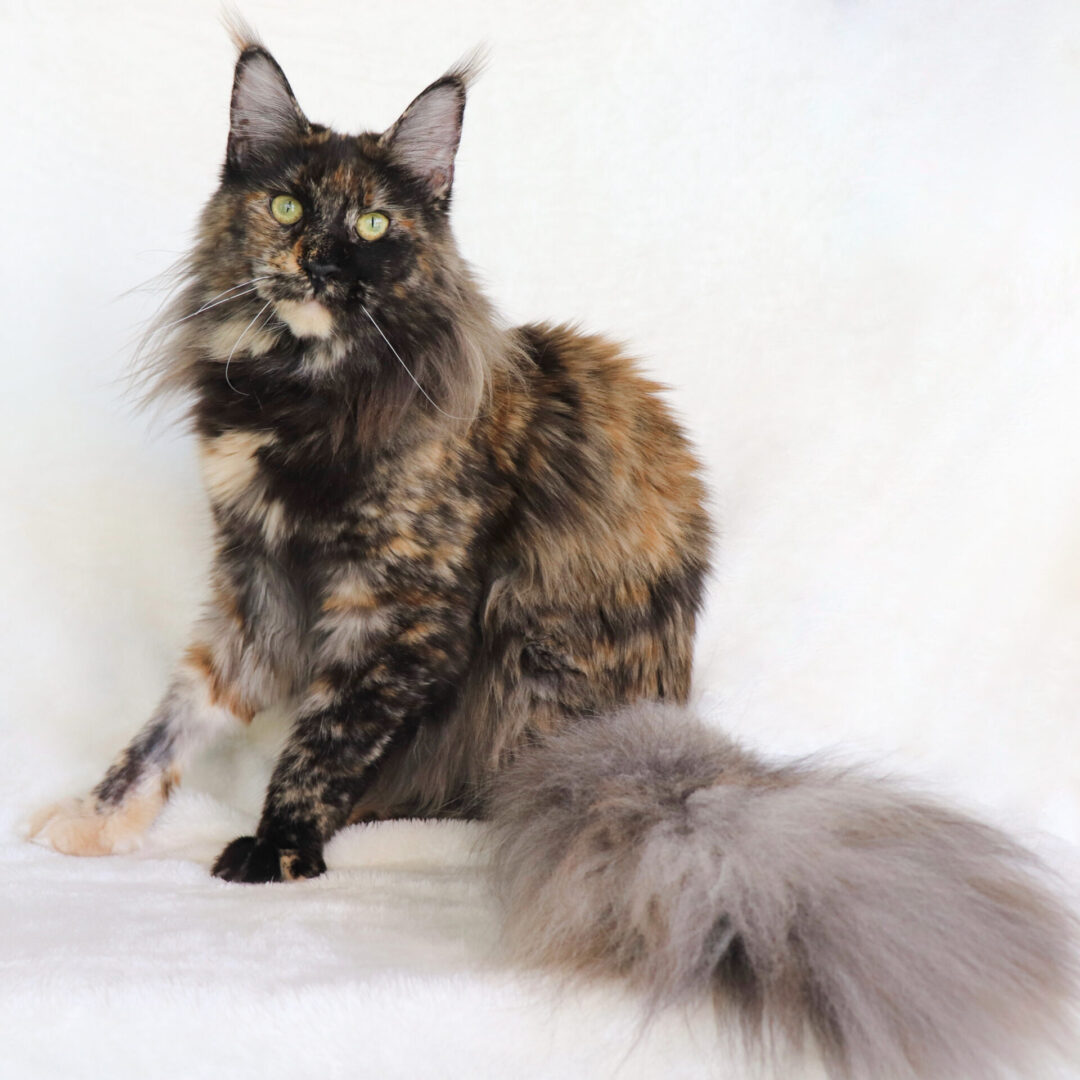 Litter F
DOB: 3/10/23 - Go Home Window: 6/16/23 - 7/1/23
Ferentina
Solid Black Female [AVAILABLE]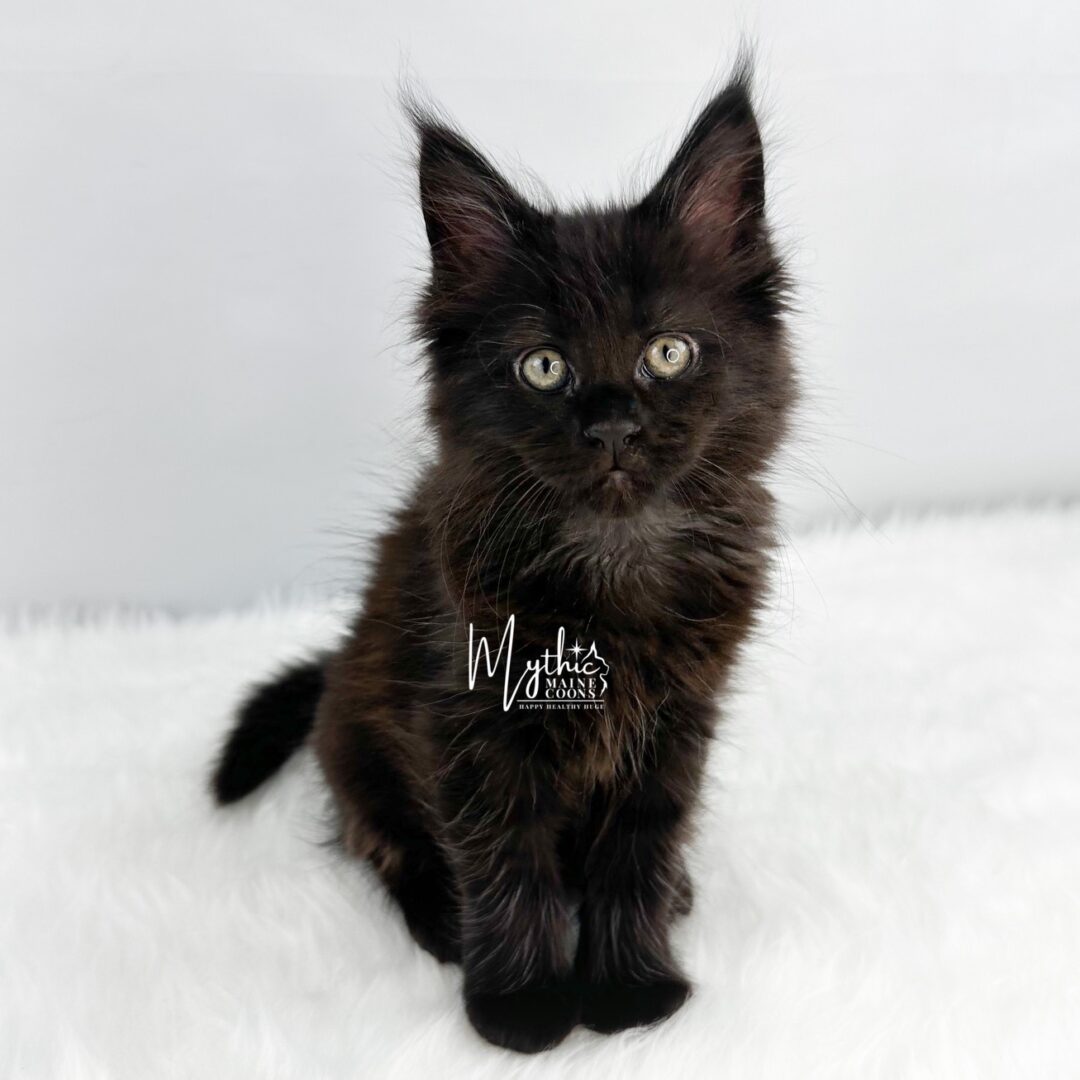 Flora
Solid Black Female [FUTURE QUEEN: STAYS WITH US]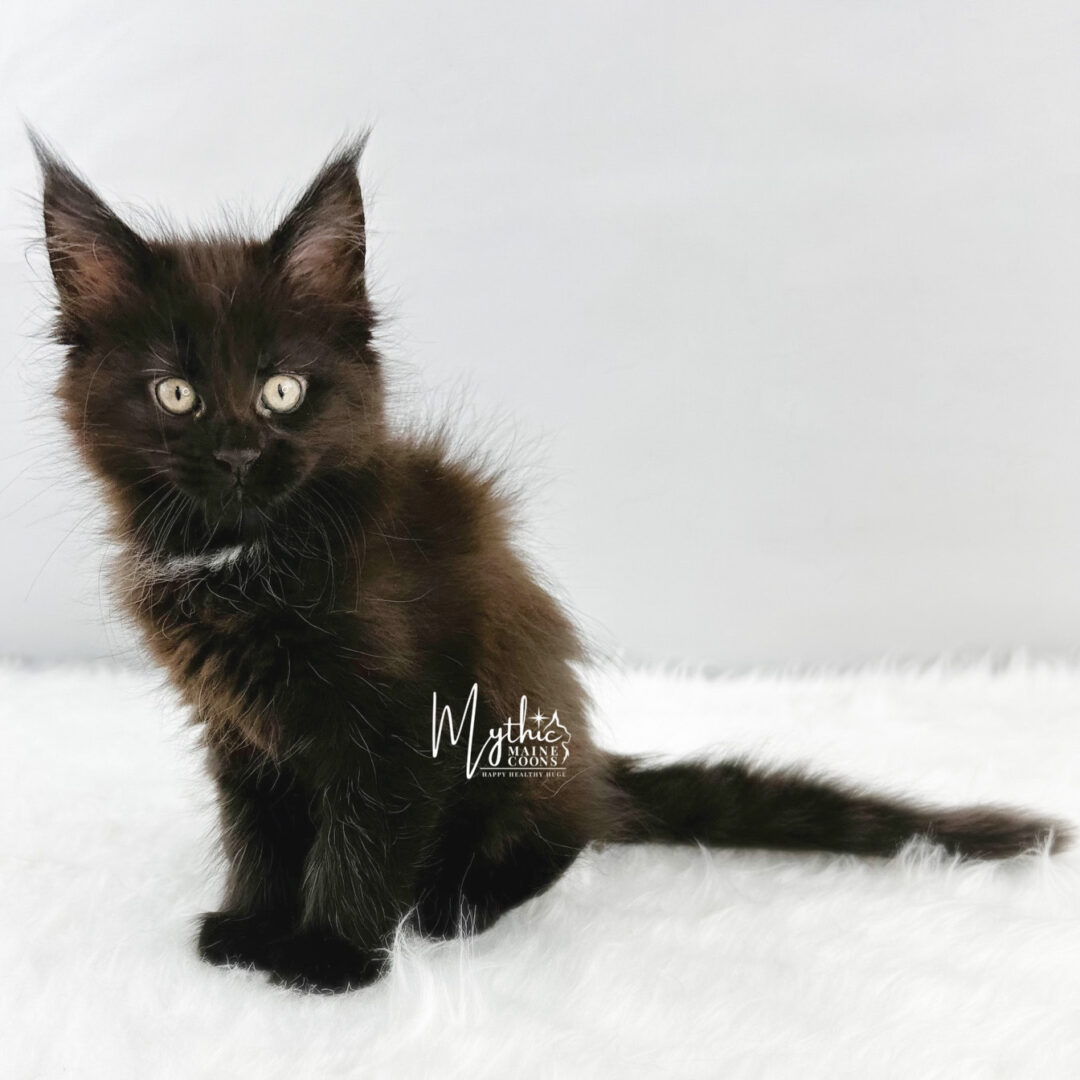 Fauna
Solid Black Female [RESERVED For Ellen in Connecticut]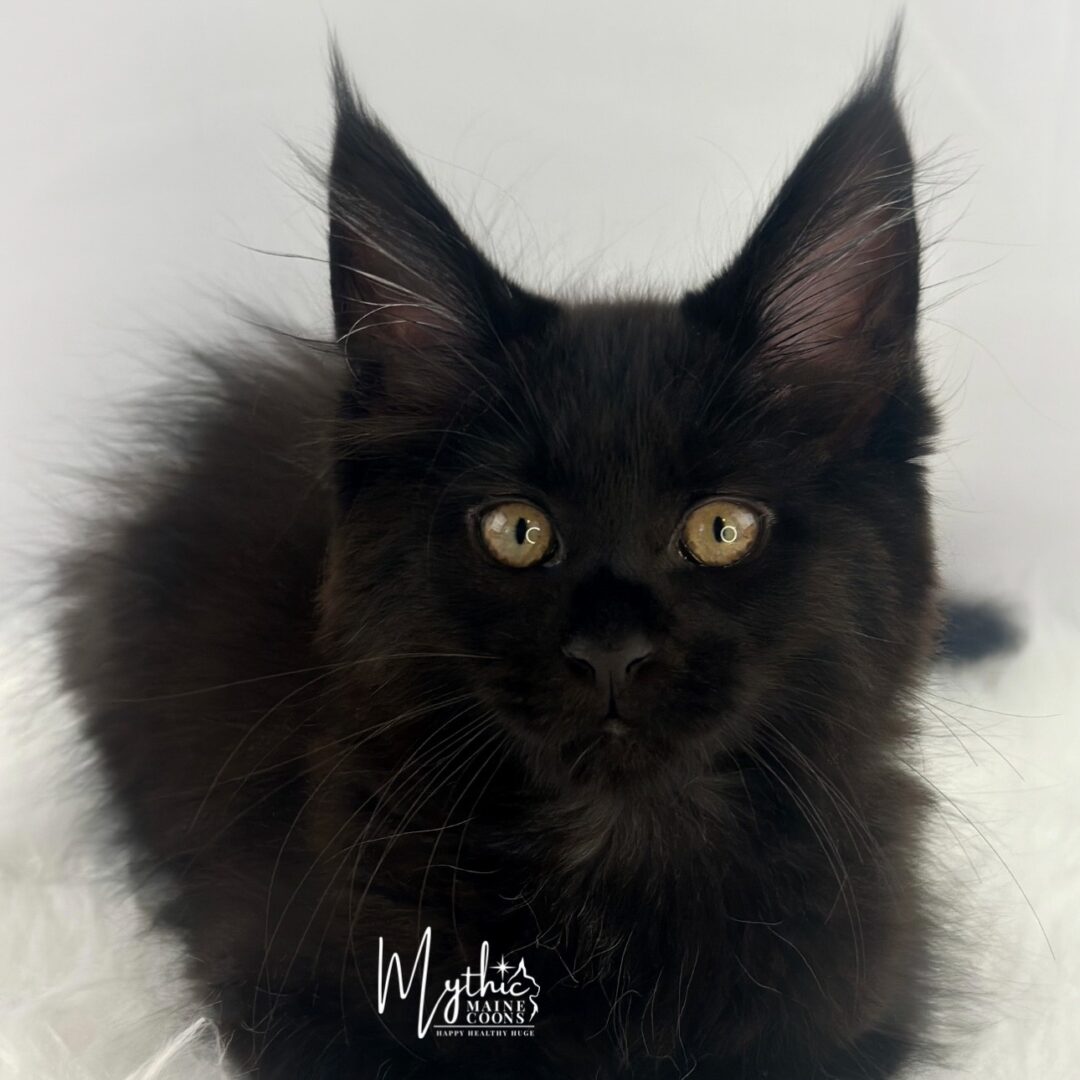 Favonius
Black Silver Tabby Male [RESERVED for Marsha in Texas]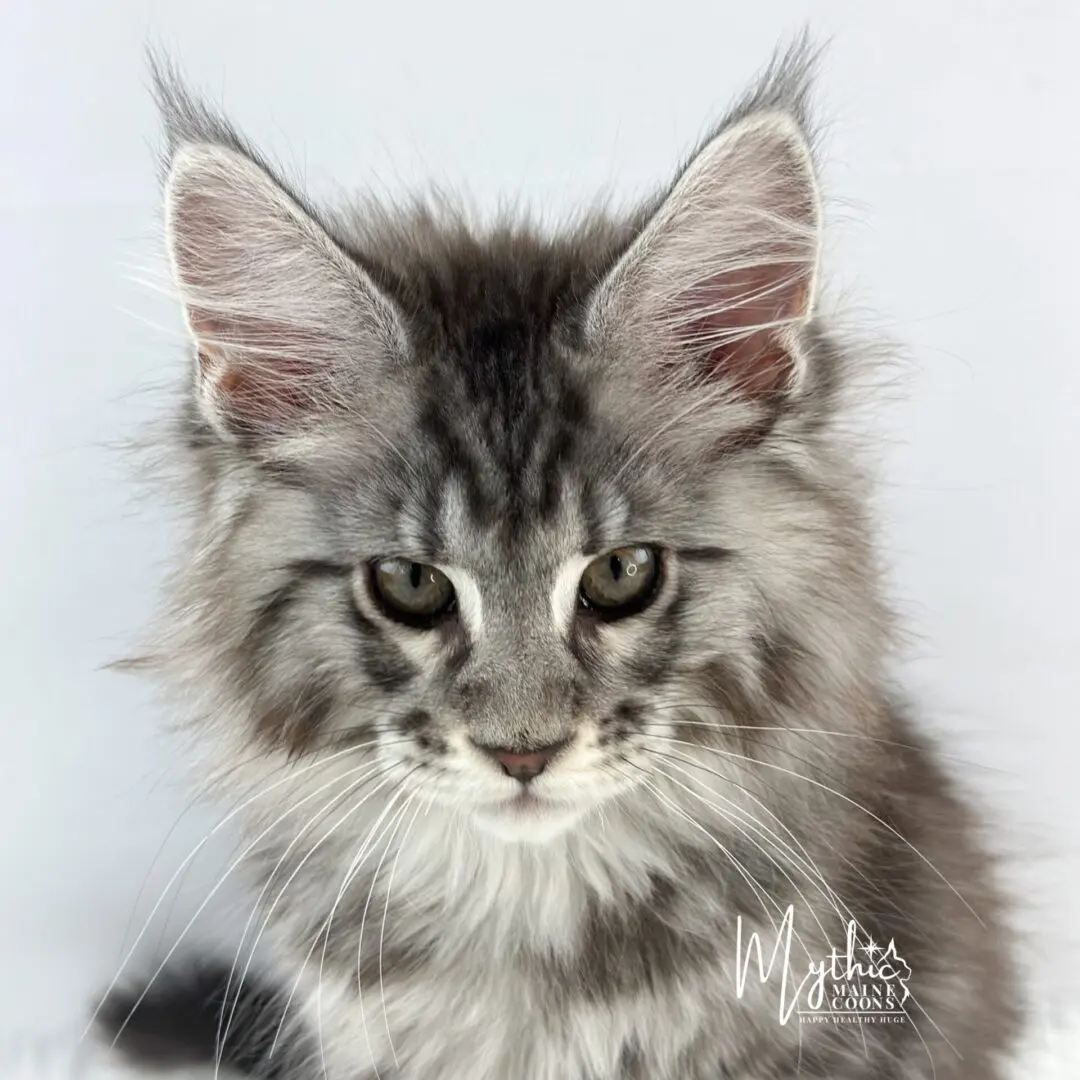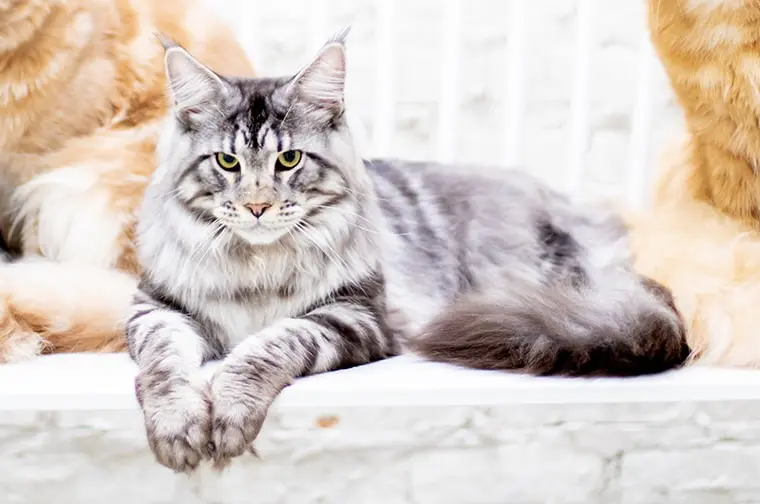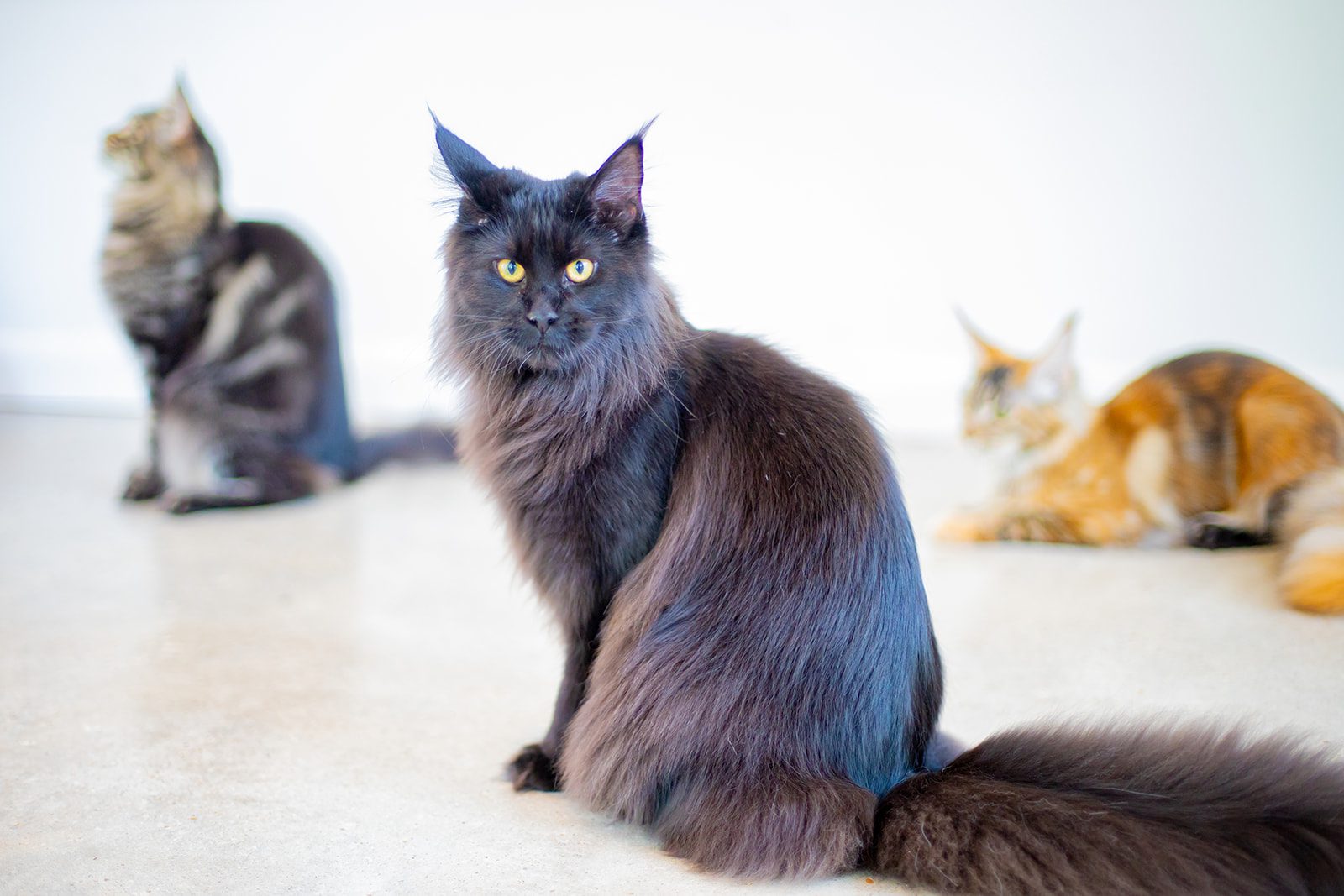 Litter G
DOB: 4/3/23 - Go Home Window: 7/10/23 - 7/24/23
Gaia
Solid Blue Female [FUTURE QUEEN: STAYS WITH US]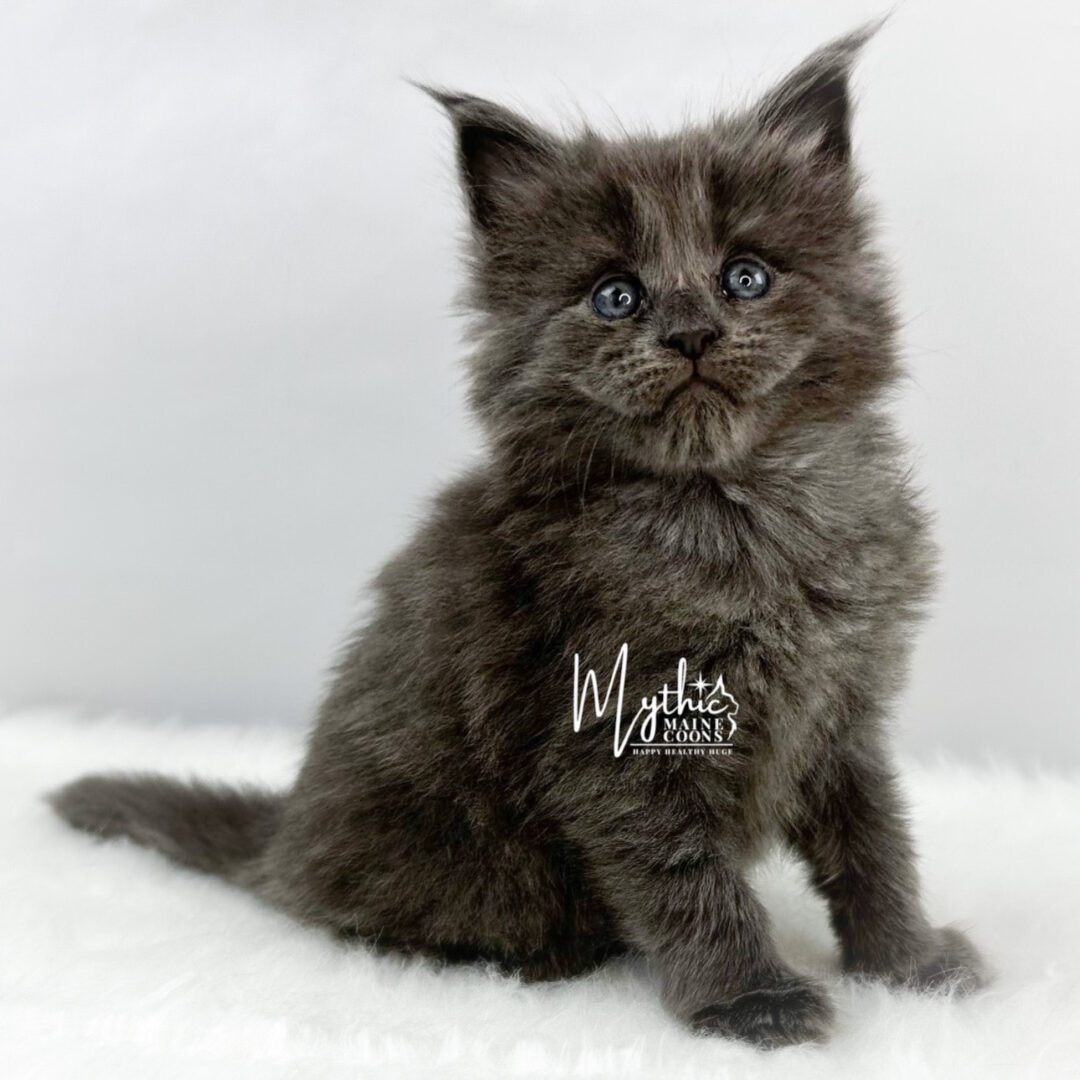 Gyges
Black Silver Tabby Male [RESERVED For Amanda & Patrick in South Carolina]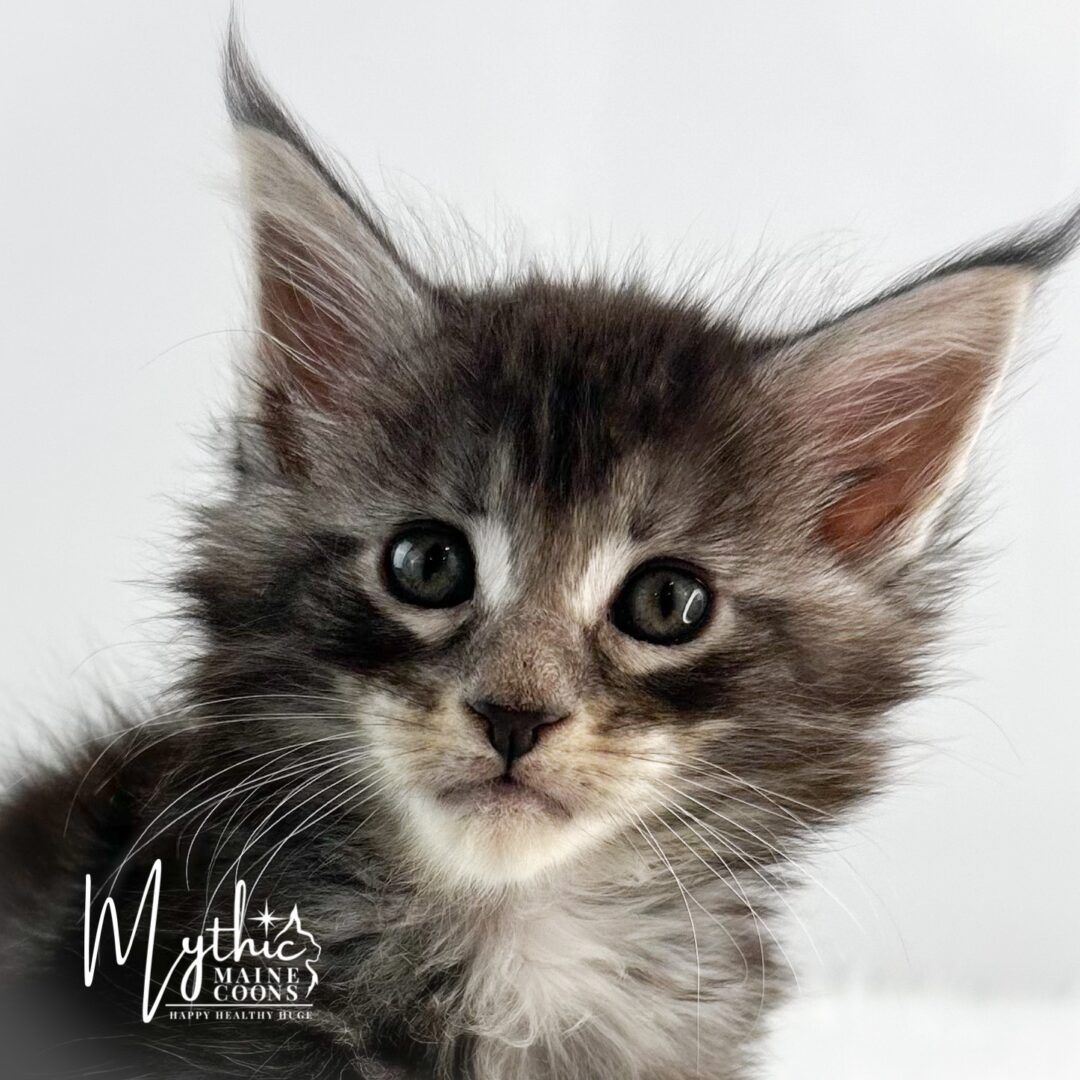 Geras
Brown Classic Tabby Male [RESERVED For Amy & Marlana in Louisiana]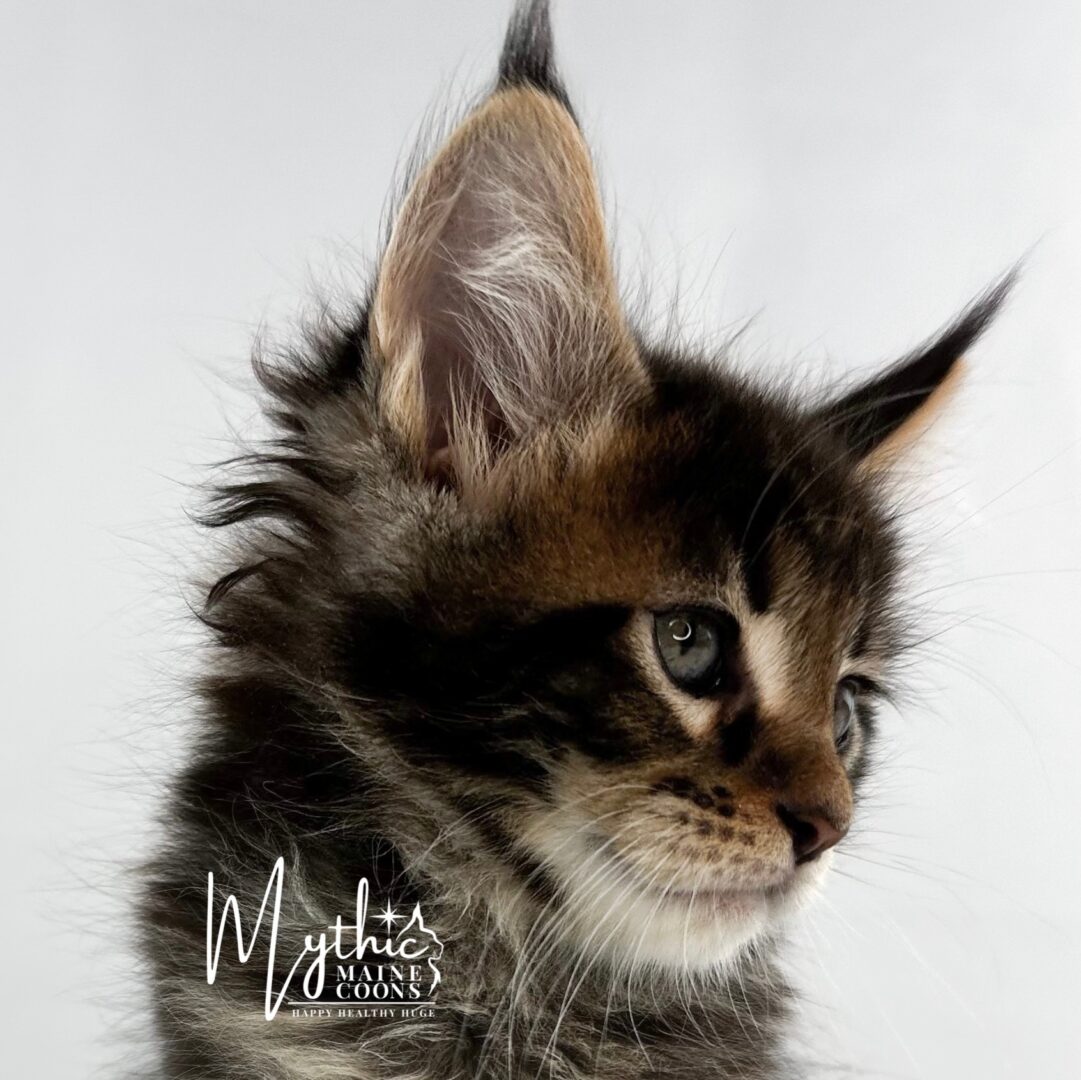 Geryon
Black Silver Tabby Male [RESERVED For Barbara In Texas]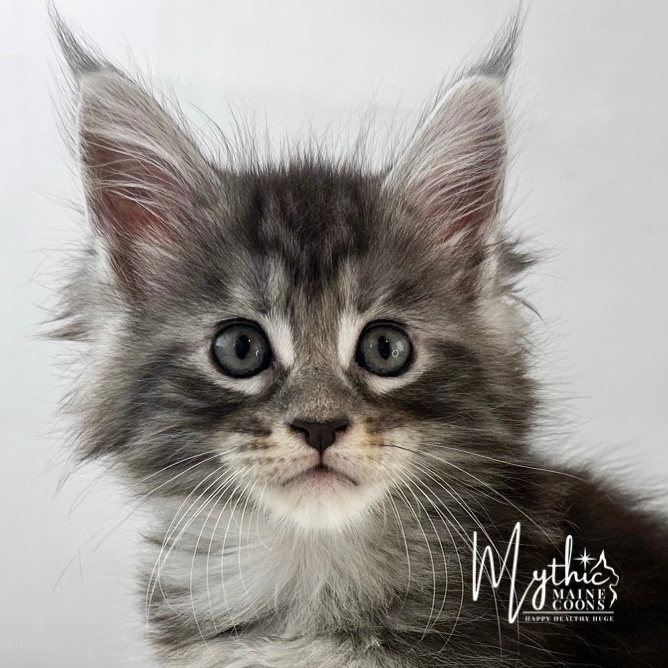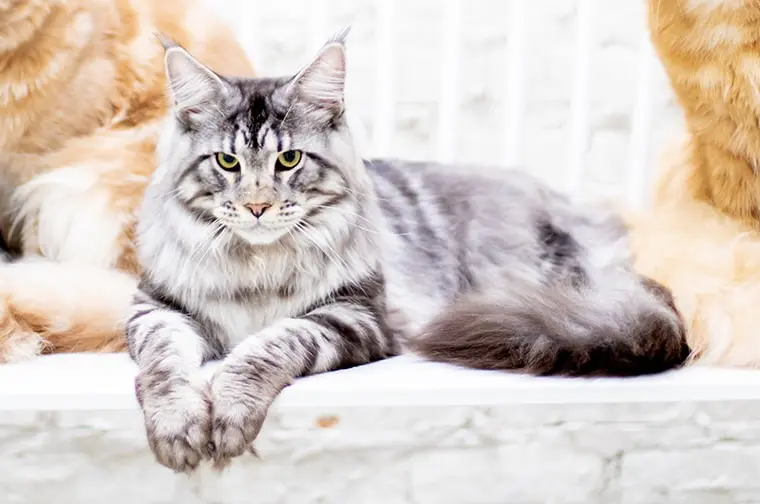 Queen Persephone
Champion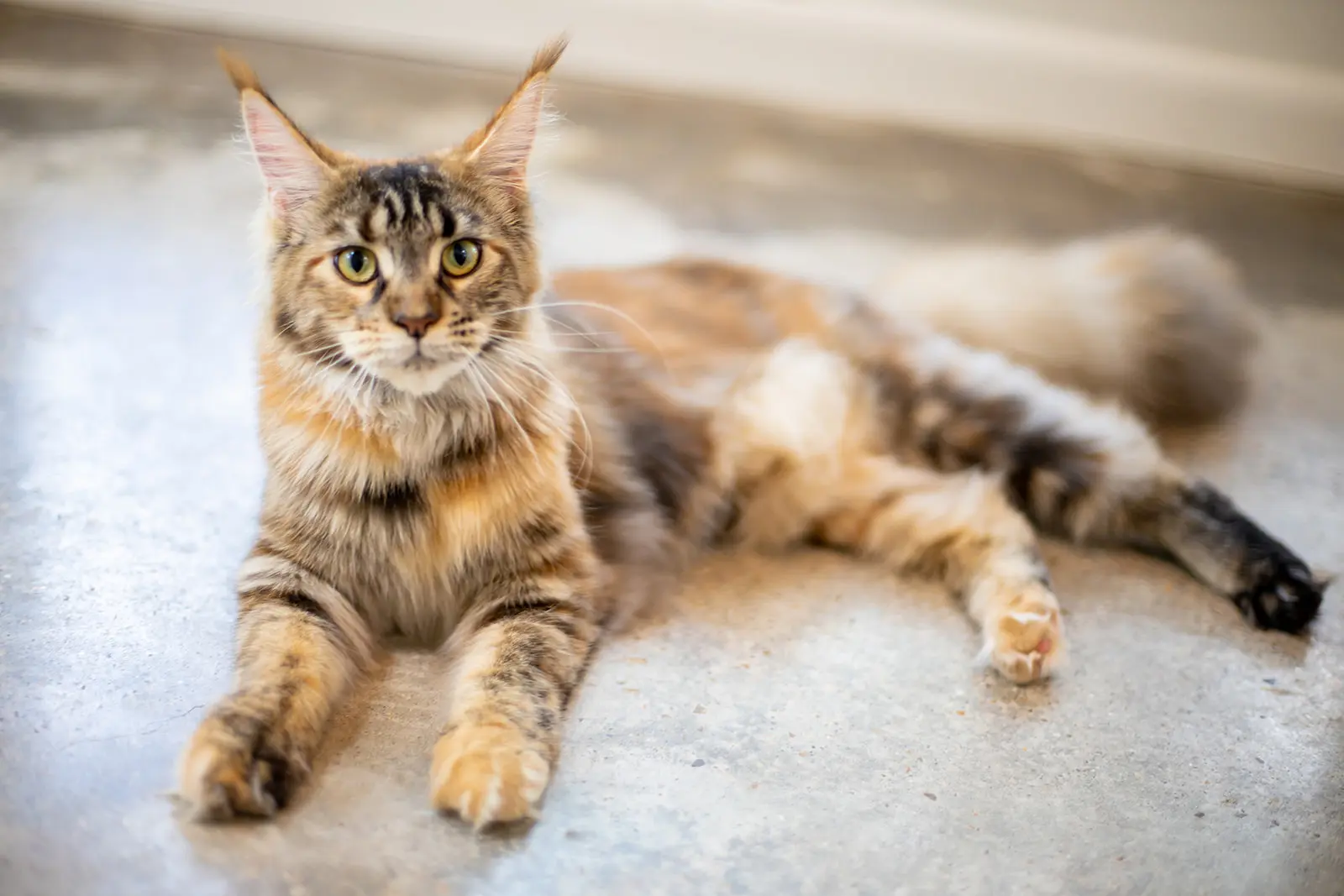 Litter H
DOB: 4/21/23 - Go Home Window: 7/29/23 - 8/12/23
Hercules
Black (High) Silver Classic Tabby Male [RESERVED For Brian in Texas]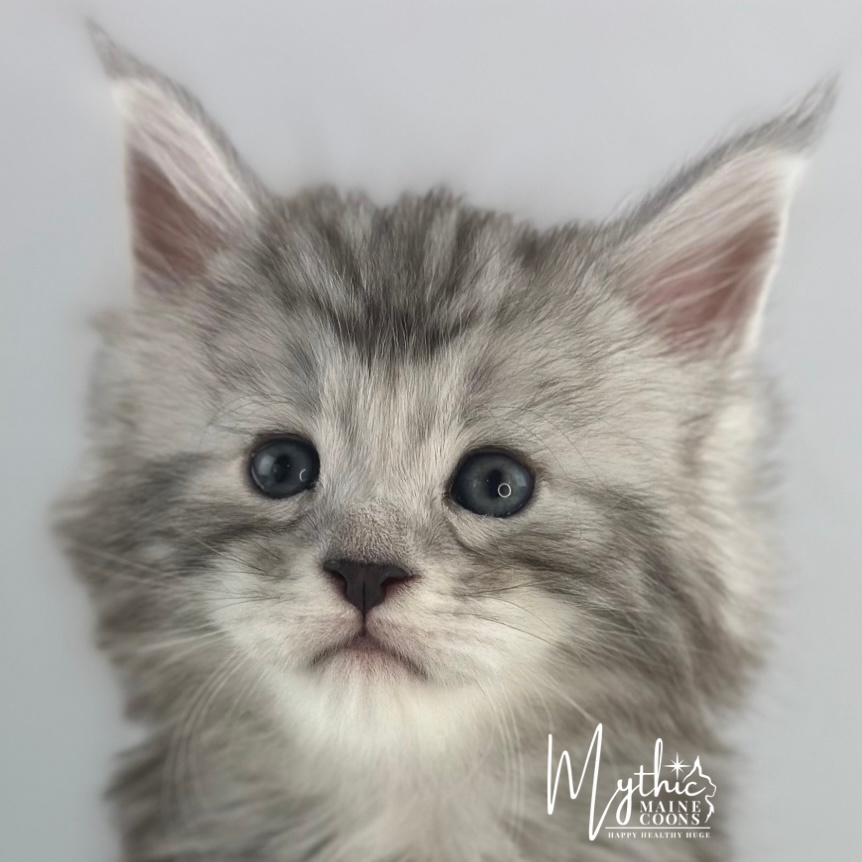 Hermes
Black Silver Ticked Tabby Male [RESERVED For Brian in Texas]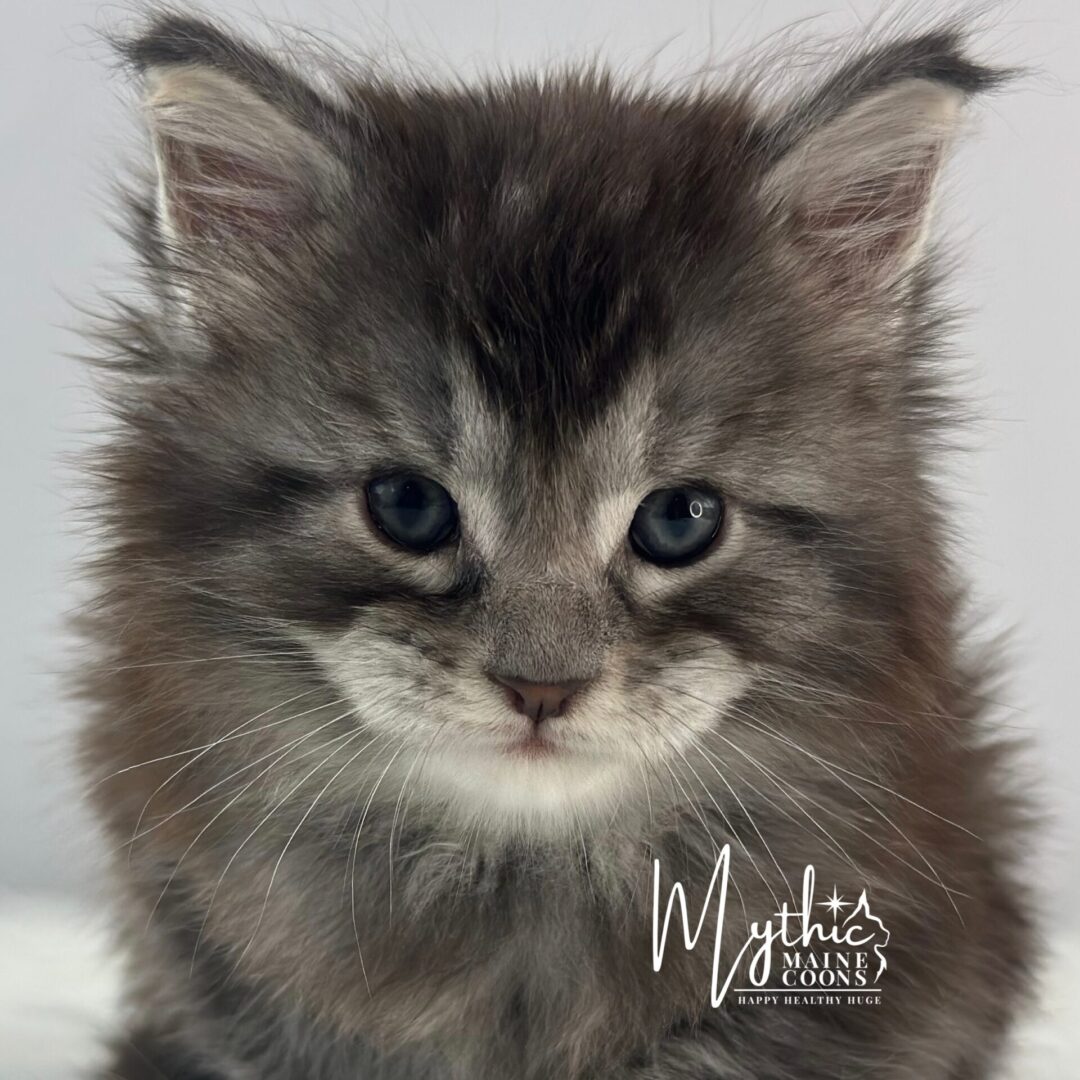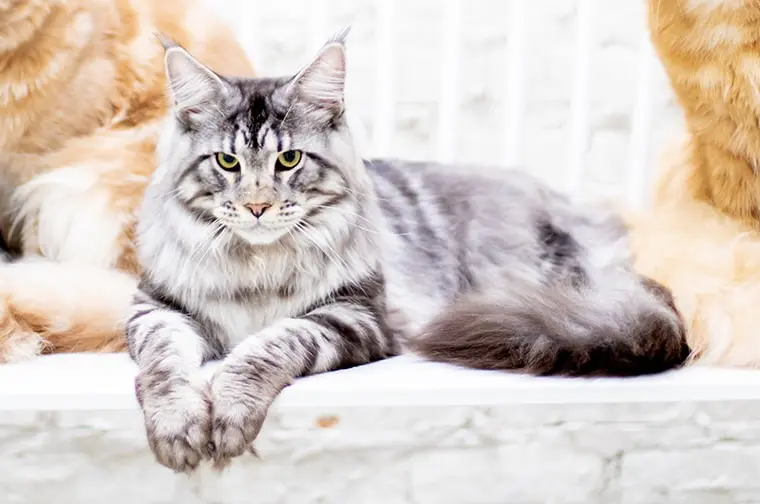 Queen Selene
Triple Grand Champion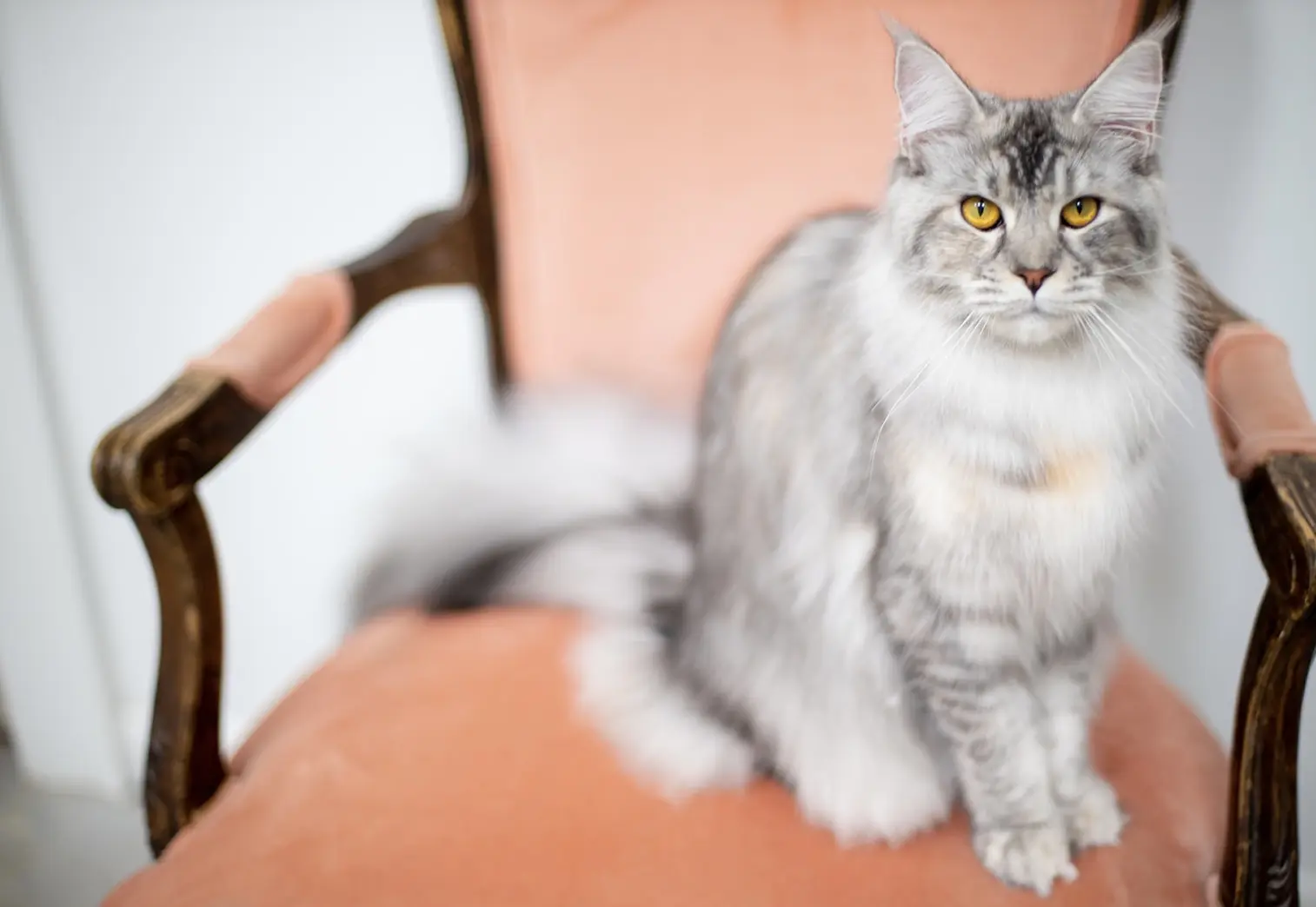 $3,500 - $5,000
(Price is determined by Color, Gender, Size, & Parents' Championship Status)
WHAT IS INCLUDED IN YOUR MAINE COON KITTEN PRICE:
A healthy, happy, socialized, well-balanced, beautiful, big Maine Coon kitten from Mythic Maine Coons

Constant communication while your kitten is here, making the wait feel shorter

Two-Year Genetic Health Replacement Guarantee 

A 3 generation TICA pedigree for your Maine Coon kitten

Registration papers for The International Cat Association (TICA)

Veterinary care and routine preventative treatments from birth until your kitten comes home with you

2-3 sets of FVRCP vaccines (depending on which week your kitten goes home)

Rabies vaccination (At 12 Weeks)

Health and medical records for your kitten

A Fecal Test Negative for all parasites

Spay/neuter of your Maine Coon kitten

Microchipping (Free Lifetime Registration)

Nail trim, ear cleaning, and show-worthy bath and blow dry before pick-up

A kitten package that includes supplies to help with the transition to their new home

A Royal Canin Kitten Food Starter Kit for easy transition

A Custom Embroidered Pet Carrier With The Mythic Maine Coons Logo *NEW!*

Natural and professional-style photos sent directly to you through text, Instagram, or Facebook message

Lifetime support for you and your kitten from us. Anytime. About anything.

Personal (In Cabin) Delivery of your kitten to the airport of your choice by the breeder (Melody or Nicole) if needed for pick-up. 

Zero Waiting Period Trupanion Insurance (Monthly Fee)
KITTEN DELIVERY
~From Our Hands to Yours~
Can't travel? That's okay. We believe at Mythic Maine Coons that the best delivery option for you and your kitten is for us as the breeders to personally deliver your kitten to you. If you choose to have your kitten delivered, either Melody or Nicole will fly your kitten, in cabin, to the airport of your choice. As your breeder/flight nanny, we will monitor and comfort your kitten the whole way. You will also receive several updates throughout the day for your piece of mind. You can have confidence that your kitten will arrive having had the best travel experience possible and come directly from our hands to yours. If you choose this delivery option, you will simply cover the cost of the ticket plus a $250 fee for our time.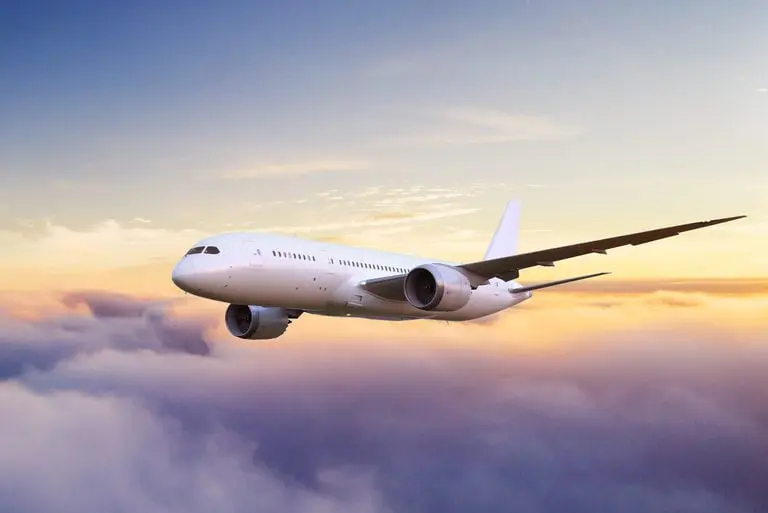 MAINE COON KITTEN GROWTH STAGES
Birth - 3 weeks
NEONATAL
When Maine Coon kittens are born they can barely move. Their eyes are shut and they are completely dependent on their mother. At around 5 days old, they will begin to open their eyes. This is also the time when they start to gain between 10g to 30g each day.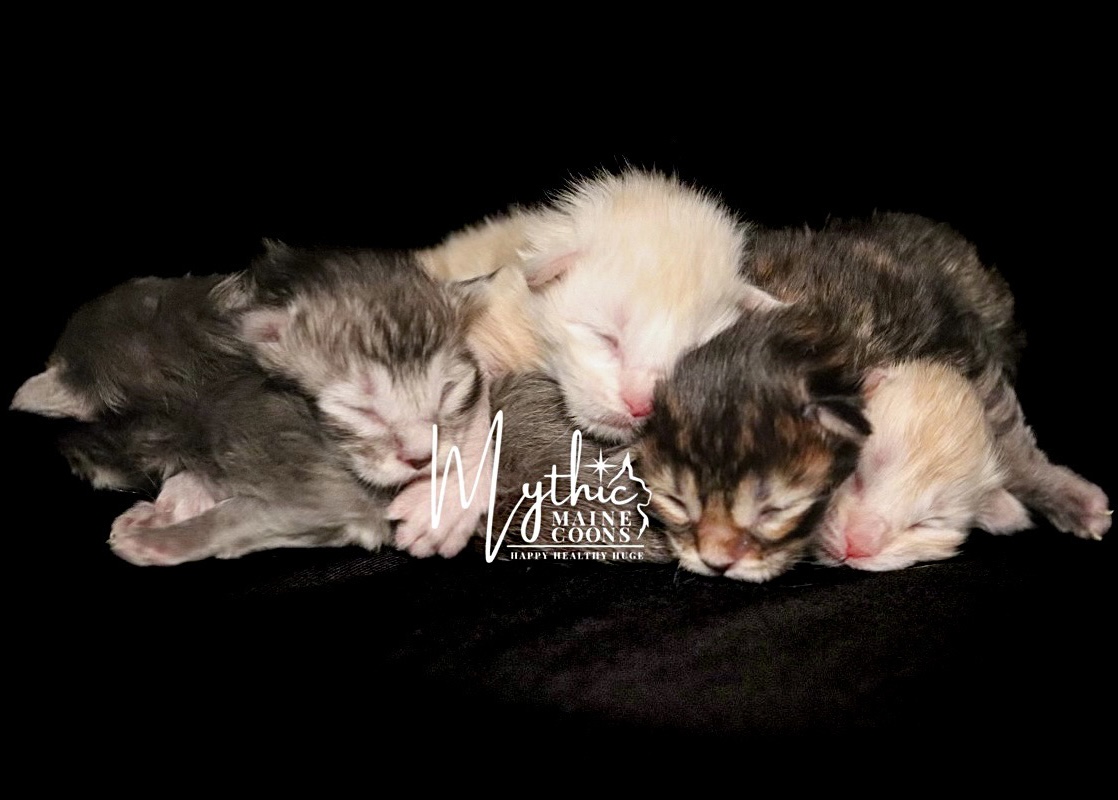 4 - 8 weeks
WEANING
By this time, their sense of smell is fully mature, and hearing is well-developed. Maine Coon kittens begin to depend less on their mother for milk and start to eat wet and dry food on their own. They develop adult sleeping patterns, motor abilities, and social interaction. Key social skills develop through interaction with litter-mates and their mother.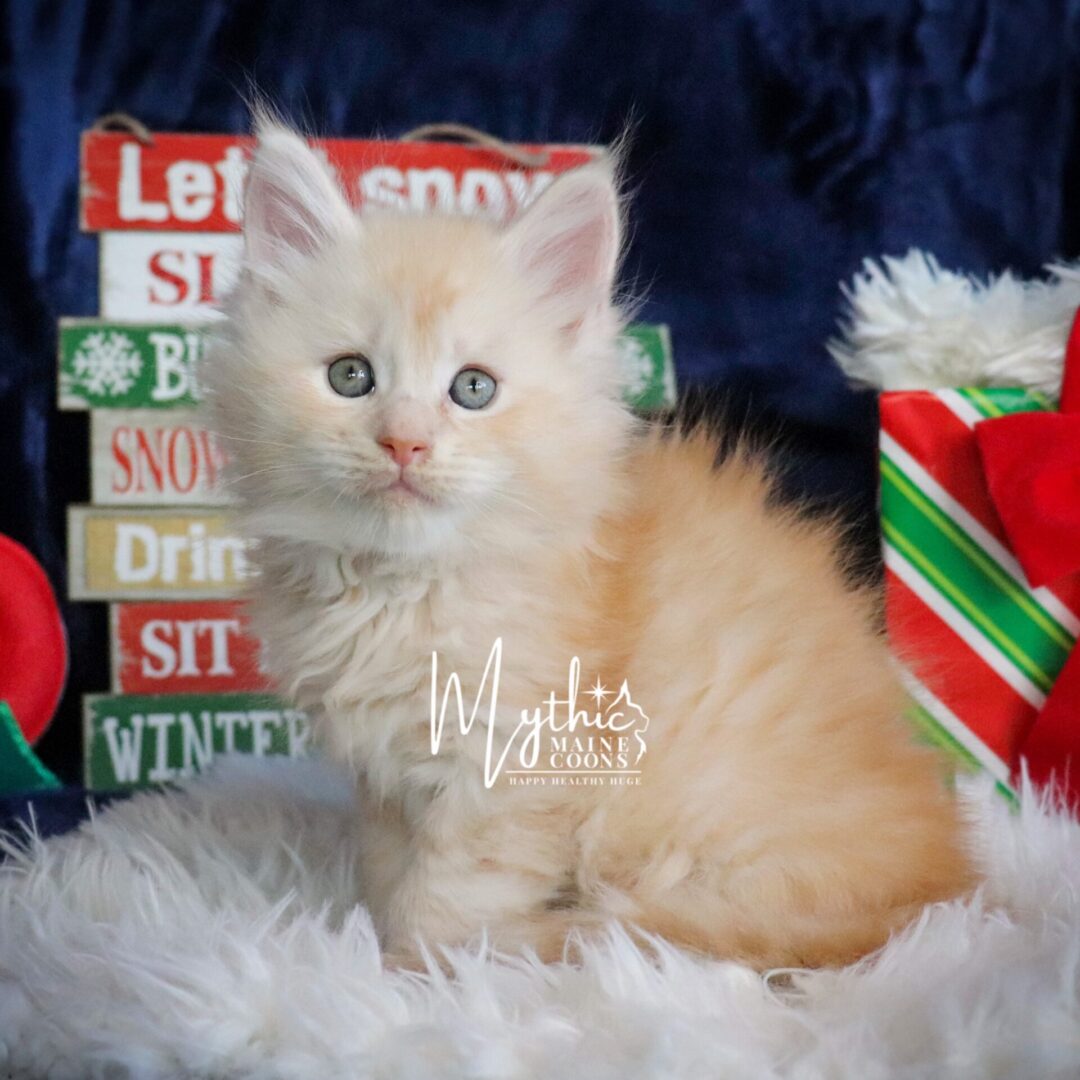 2 - 4 months
INTENSE GROWTH
At this stage, Maine Coon kittens begin to understand their position within the household and may start to form a number of social behaviors depending on their experiences and training, i.e., socialization. During this time, it is extremely important to practice grooming, bathing, nail clipping, handling, and anything else they need to be accustomed to in their adult lives.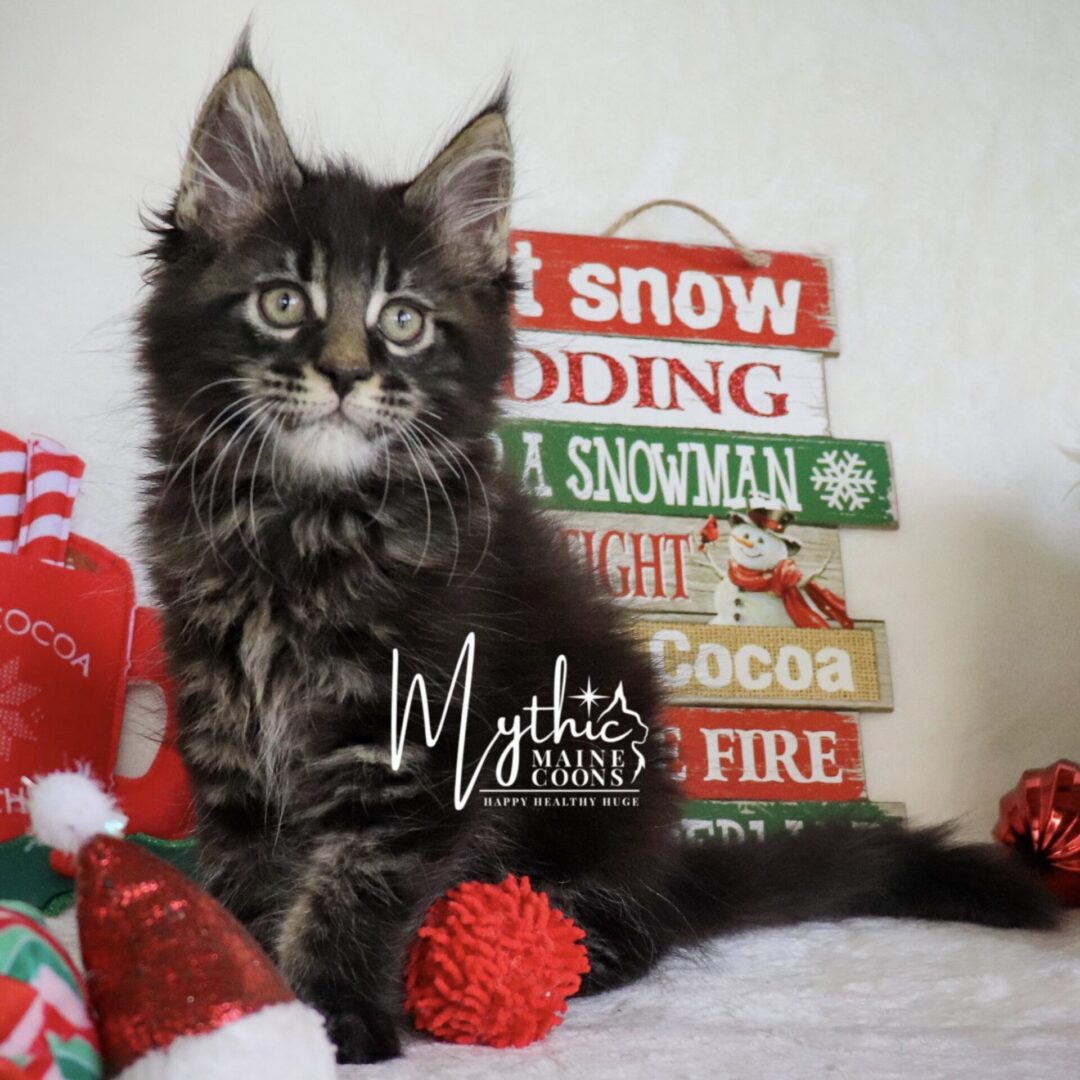 4 months +
SUSTAINED GROWTH
Your Maine Coon kitten will begin to develop 30 adult teeth. While in most breeds, the kitten will have reached 80% of their adult weight at this stage, the growth period is different for Maine Coon kittens. They do not reach their full weight until about 3 years. After which, they continue to fill out in muscle and coat for about another 2 years. This equals a growth period of about 4-5 years.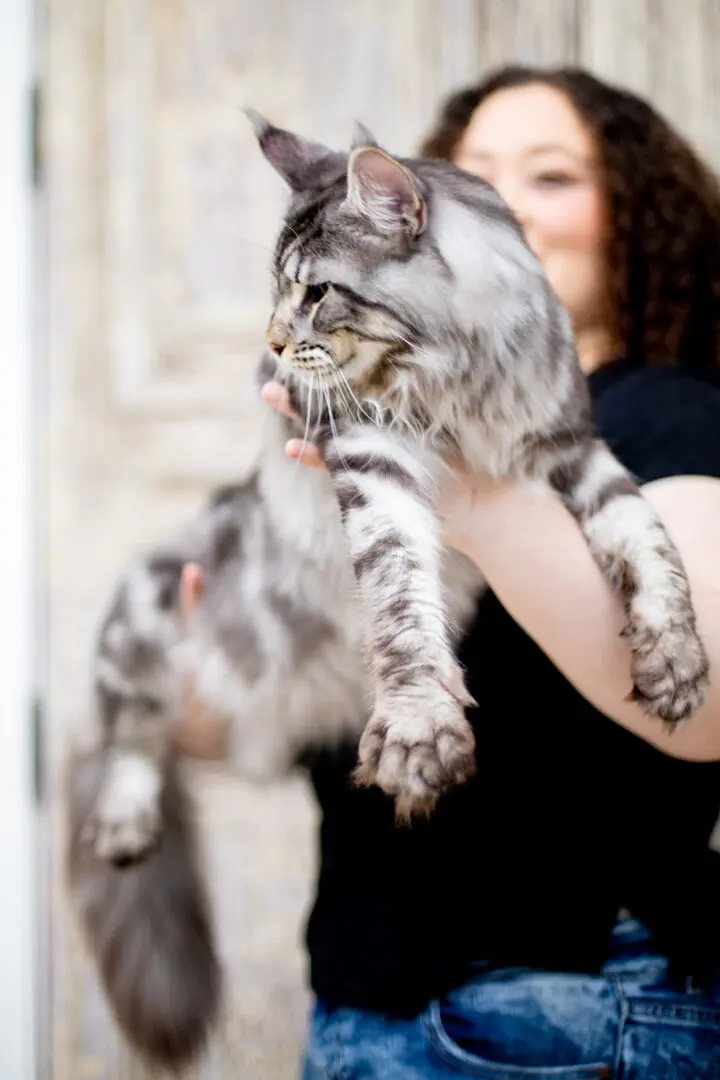 MAINE COON KITTEN SOCIALIZATION
Socialization should start as early as possible to avoid any unwanted behaviors and help them develop into confident, even-tempered adult Maine Coon cats. While kittens are often seen to be independent, it's important to guide their behavior early on in life, set simple rules, and encourage sociable habits.
In the first few weeks of your Maine Coon kitten's life, everything is new. Effective socialization helps them to understand new surroundings and approach different people, places, and situations without fear. It also helps them to form healthy behaviors that will impact the rest of their lives. Socialization is a core developmental stage, and without it, your Maine Coon kitten will struggle. Effective socialization helps them (and you) in a number of ways:
Removes the fear and nervousness of new experiences

Makes them feel at home in their new surroundings

Helps them to get used to other people, animals, and places

Teaches them which behaviors are right and wrong

Keeps them more curious and inquisitive in adult life